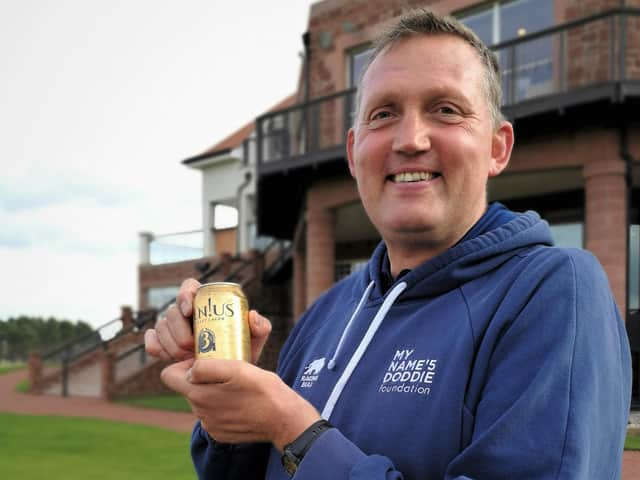 2022 was a challenging year for this relatively new kid on the brewing block – but now they're back with a bang, and with a new IPA that promises to be full of flavour but low on calories.
After a fabulous boost from Dragon's Den, Covid caused a global shortage of aluminium forcing a switch from distinctive gold cans to brown bottles, which meant key accounts lost and Amazon search rankings plummeting.
Now, five years on from its launch in Glasgow, 2023 is destined to be a year of growth, according to co-founders Jason Clarke and Charlie Craig.
Brewing has now moved from England to Scotland, with a new lighter craft beer option that cuts down on alcohol and calories without compromising on flavour.
It's a beer for those who love great taste but are health and fitness conscious – Gen!us Craft Lager and Gen!us IPA are both 3% ABV and have fewer calories than an apple.
And with the aluminium shortage now canned, the craft lager is back in its distinctive gold can, alongside a new Gen!us IPA, to meet the ever-growing demand for lighter, healthier beers.
What hasn't changed is the firm's commitment to CSR (Corporate Social Responsibility), and support for the My Name'5 Doddie Foundation with five pence from every Gen!us beer going to the Motor Neurone Disease foundation set up by the late Scottish rugby giant Doddie Weir.
Genius Brewing also supports numerous charity events in aid of Doddie's legacy, all for very personal reasons.
"I played rugby with Doddie at school, then later played against him. When we launched our brand we were looking for a good cause to help … the public announcement of his diagnosis came around the same time," said Jason.
"My wife lost her dad to Motor Neurone Disease. He died when she was just seven years old; so choosing Doddie's foundation felt very personal.
"We've been Official Fundraising Partners of the My Name'5 Doddie Foundation since 2018, donating 5p from every Gen!us beer. We also support as many MND fundraisers and events as possible, such as DoddieAid. Even though Doddie is sadly no longer with us, our support for his vision of a world free of MND will go on."
Challenges and the future
Jason added: "After three years of growth, doubling our turnover every year, 2021 threw a huge curve ball which knocked us sideways. Lockdown had seen our ecommerce rocket to become a major sales channel but having to move to bottles required more expensive packaging and higher courier costs which hit margins. The new bottles required a new product listing on Amazon which tanked our search ranking. It was like starting from scratch."
Charlie said: "The sudden switch to bottles also delayed our brewing schedule. A resultant stock shortage saw us lose listings with several UK wholesalers and Spar Scotland. And then we had to change brewers, too. It was a perfect storm.
"The Gen!us brand is not based on provenance, it's about quality and our 'Smart Drinking' health ethos. That said, as a Scottish business, we'd always had an eye on brewing in Scotland and so we're delighted to have built a new brewing partnership with Williams Brothers in Alloa, producers of award-winning craft beer."
The Gen!us brand is probably most well-known for its high-profile support of the My Name'5 Doddie Foundation but has also garnered a loyal following after an appearance on Dragons' Den in 2021, together with a very active social media profile, and sponsorship of Scottish sports teams such as the Grange Cricket Club, and Stirling County and StewMel rugby clubs.
With 70% of drinkers proactively trying to lead healthy lifestyles and last year's challenges now behind them, Genius Brewing feels very positive about 2023. A January relaunch in Spar Scotland is well timed for DoddieAid and the upcoming 6 Nations rugby, while plans are underway to launch in draft in the summer.
Charlie added: "Attitudes to alcohol have changed which is driving the trend for healthier drinking. [JM6] [JC7] [JM8] 2023 is going to be an exciting year in our journey to become the UK's number one light craft beer brand."
Want to try Gen!us for less? There's an extra special offer for customers until February 19, 2023. Simply use the code SCOTSMAN15 to enjoy 15 per cent off 12 and 24 packs. Find out more and enjoy a taste of Scotland's lighter craft beer at https://geniusbrewing.com/