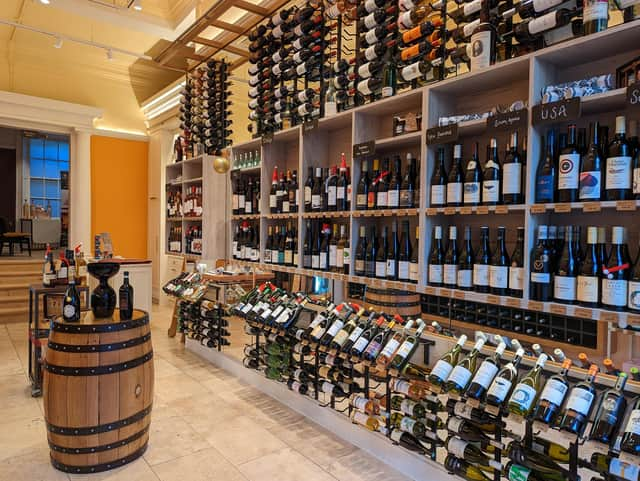 This boutique wine and spirits store in Edinburgh's New Town has recently been relaunched, but boasts a proud history going back generations.
Nowadays you'll find Cockburns at 48a Frederick Street, Edinburgh, but the name and origins date from 1796 when brothers John and Robert Cockburn set out to supply their circle of high-class friends and associates with the best wine and spirits from around the world.
Since then wines from across the globe have been brought to the warehouses of Leith – and now to the New Town shop – and have attracted some very well-known customers, among them are Sir Walter Scott, a regular client and friend of Cockburns in the early years; Charles Dickens and even King George IV on his visit to Edinburgh in 1822 – for which they added a Royal Warrant to the name.
Today Cockburns continue the tradition of excellence and conviviality, supplying the very best of global wine and spirits from the wine store across Scotland and the UK.
We asked manager James Paulin what wines he would recommend and he explained it's all about personal choice and tastes.
"When people go into a supermarket to buy wine there's nobody to ask," he said. "Here, we will talk to customers and get them to try something that we think they'll like and we take it from there. It will depend on their likes and dislikes and their budget."
The wine store offers tastings and will regularly showcase different wines so there will always be something new to try, someone experienced to guide you through and plenty of wines you won't be able to find anywhere else.
Whether you're a novice wine-drinker keen to find out a bit more about different grapes, regions, tastes and different types of wine or a seasoned wine-lover who is keen to discover new vineyards or producers Cockburns can provide the expert knowledge, and range of stock, to help you.
The Veneto region of Italy is famous for its Prosecco, but it is an excellent wine region for white and red wines.
Santi – which means holy or blessed – is a winery on the far western side of the province of Verona and was founded in the ancient village of Illasi in 1843. This is just one of many wineries who supply direct to Cockburns.
These are very drinkable wines – perfect with or without food, and very easy on the palate.
All wines at Cockburns have very clear and straightforward tasting notes to help even the novice winedrinker know what to expect.
James talked us through three different wines from the Santi winery to get you started and give you just a little taste of what you can expect.
Santi's white Lugana Folàr is described as complex and squeaky clean. It is a fresh maritime-style wine – think salted almonds, lime and toast with white flowers and pear on the palate. The term Folàr in the Verona dialect means "punching down", a winemaking process generally reserved for red wines and used in the production of this Lugana. At £13.99 a bottle this will impress for a lot less than you'd expect.
Cockburns call the Valpolicella Ripasso Classico Superiore from Santi, "a big hug in a bottle." At £15.99 a bottle it is a complex, characterful wine which those that like Valpolicella wines will love – in the glass you'll get fresh berry fruit and Morello cherry jam tastes, swathed in vanilla. It's warm, direct and balanced on the palate with a spicy, toasty finish – delicious.
If you want to push the boat out, try the Amaronedella Valpolicella Classico. This 2017 wine is £31 a bottle and would make a real statement for any special occasion. Amarone's are famous wines for "laying down" and have been revered through history. This one is a clean, more modern style of Amarone – redolent with dried fruits and white pepper. One to save or savour.
Visit in person or online
Customers will get so much from visiting the shop – advice, tasters and opportunities to explore and learn so much about wines and spirits from across the globe. There is also a comprehensive selection online and wines and spirts can be delivered by Cockburn's own vans across Scotland's central belt or shipped across the UK.
Because they import directly from wine makers they offer unique wines, and a personal connection to the people and places that make these wines.
So if you've ever wanted to broaden your wine-drinking experience, or you know exactly what you like, you'll find a friendly, personal service at Cockburns.
Visit the shop at 48a Frederick Street, Edinburgh or the website.