For those finding lockdown particularly stressful, the Instagram videos from new business, Aemilia, are a meditative treat.
Watch them and the order and meticulous neatness of their pasta production line is soothing in a chaotic and unpredictable world.
There's sweet potato agnolotti being cut at perfect intervals with a cutting wheel. The sheets of golden tagliatelle are sliced, unfolded, and shaken out, like Rapunzel's hair.
Each tortellino, after being swiftly wound round a finger tip, has to have the circumference of a 5pm piece, while farfalle have humbug stripes.
It's like a savoury Italian version of Willy Wonka's factory. Or maybe we should call him Gugliemo Wonka.
These creations will all be portioned into brown boxes, with labels featuring looping calligraphy, and slipped into branded paper bags, along with cylinders of sage butter, wrapped in cloth and tied with string, pots of ragu and slabs of focaccia.
Their cargo will be dropped off from their commercial kitchen at Coulston Estate to homes in Edinburgh and East Lothian, as part of this increasingly successful lockdown business.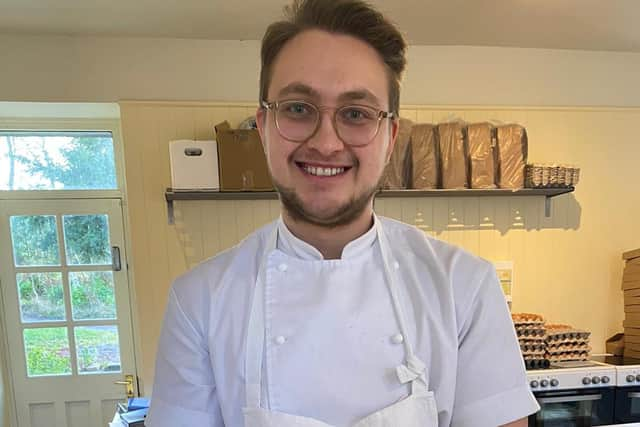 It's owned by a twenty-something couple, Giada Betti and Kipras Preidys.
Kipras (otherwise known as Kip) is originally from Lithuania, with experience at a number of Edinburgh's fine-dining restaurants. When this chef was only 18 years old, he was responsible for running his own evening service at Fraserburgh's Lighthouse Museum, before moving to the capital.
"I felt like the North East of Scotland is not a huge foodie destination so I moved to Edinburgh attracted by all the different opportunities available in the city, " he says.
His wife, Giada, comes from Imola in Italy's Emilia-Romagna region. Her background is also in hospitality, and she met her future husband in a restaurant kitchen.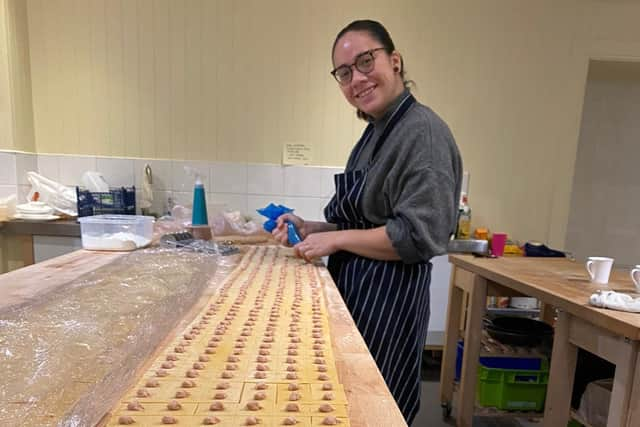 The idea for their project came to them just before covid hit.
"We were on holiday in Imola and Bologna before the pandemic," says Giada. "When we came back we weren't working and found ourselves at home with so much time on our hands - definitely something we weren't used to in hospitality. We usually make fresh pasta at home and, back in May, we thought why not try and sell it? It was time to finally work for ourselves. After testing the market by delivering within a five mile radius, the response was amazing".
Now they deliver weekly – to Edinburgh on Wednesday and Thursday, and East Lothian on Friday and Saturday".
They originally named the business Made by Kip, before briefly pausing, but they've recently relaunched and re-branded to Aemilia.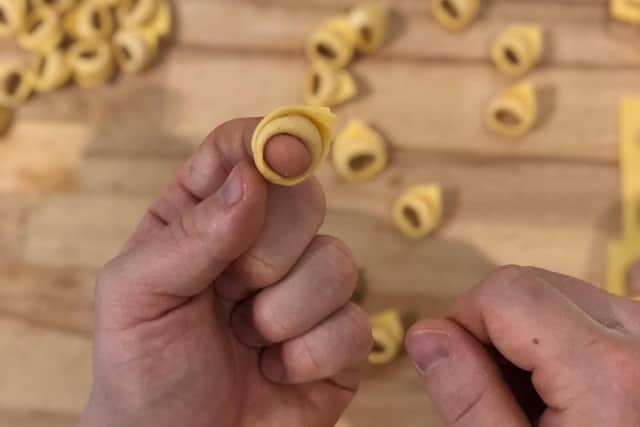 "The name was always on our minds, " says Giada. "Via Aemilia is the main road that crosses the region of Emilia-Romagna and as they say "every road leads to Rome", so we thought it would be a perfect name to represent where everything started".
When they kicked off Made by Kip, back in May 2020, they were doing no more than 35 deliveries per week, but in January this year, with their new name and fresh enthusiasm, they're up to 60.
"We start at 4.30am in the morning," says Giada.
They're not only making vast swathes of pasta, but also slow cooking their own sugo and sauces, which might range from a simple ragu or sage butter, to cream, caramelised onion and mushroom.
All that carb and butter makes for the ultimate comfort food.
As Giada says, "Nothing can beat a freshly made hot bowl of tortellini in brodo during these cold days".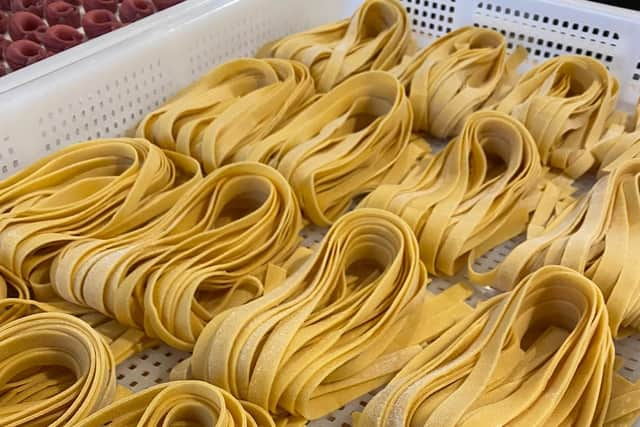 The most luxurious and most popular item on their newly launched website is the winter truffle uovo in ravioli - "a twist on the famous dish from Imola, a runny East Fortune farm golden egg yolk with ricotta and Perigord winter truffle. Served with truffle butter and Parmesan". While, the most humble and familiar dish, also a best-seller, is probably a tray of good old crowd-pleasing lasagne, with verdi pasta sheets spilling over the edges of the tray.
For those who've only tried the dried stuff, fresh pasta is a real treat. Few people make it themselves, as it has a reputation for being complicated.
"It's not part of the culture here, " says Giada. "In Italy is just something that I grew up with. It does take skill and art to be able to produce it. You have to be patient, as it can be repetitive to do the same movements over and over again. Dry pasta is produced by machines, it's a completely different product. Ours is very personal, something close to our hearts - it's what we love to eat and share. Just today, a 78-year-old customer told us he had never tasted fresh pasta before and he absolutely loved it."
After working for a few years in kitchens and rarely getting to meet the diners at the front of house, the couple have enjoyed the (socially distanced) interactions that having your own business brings.
From dropping bags on people's doorsteps, to the feedback on social media, which has given them incentive to think about desserts that they can add to the menu.
"We love seeing the happy faces when we deliver, and the pictures of families enjoying our pasta," says Giada. "It's especially good for Kip, as he was always back in the kitchen and never getting to experience the front of a restaurant, so it's overwhelming to see and hear the amazing feedback".
A message from the Editor:
Thank you for reading this article. We're more reliant on your support than ever as the shift in consumer habits brought about by coronavirus impacts our advertisers.
If you haven't already, please consider supporting our trusted, fact-checked journalism by taking out a digital subscription.