Edinburgh International Festival: Geoff Sobelle on his sell-out success FOOD and why 'there's something about theatre and fine dining that go hand in hand'
Rosalind Erskine speaks to absurdist theatre artist Geoff Sobelle about creating his sell-out show, and how immersive theatre can give us all food for thought.
At the end of my interview with theatre artist Geoff Sobelle, which was for our food and drink podcast Scran, he said: "To all your listeners out there … get home safe now." It was a comment that seems fairly inconsequential, unless you are, as I am, talking to him after his show FOOD.
In which case, the sign-off gives off an eerie vibe. Sobelle has returned to the Edinburgh International Festival this year, after a successful run in 2018 with Home and 2014 with The Object Lesson.
FOOD involves about 30 people sitting around a huge table, which is decked with a white table cloth, while Sobelle, for the most part, acts as the waiter.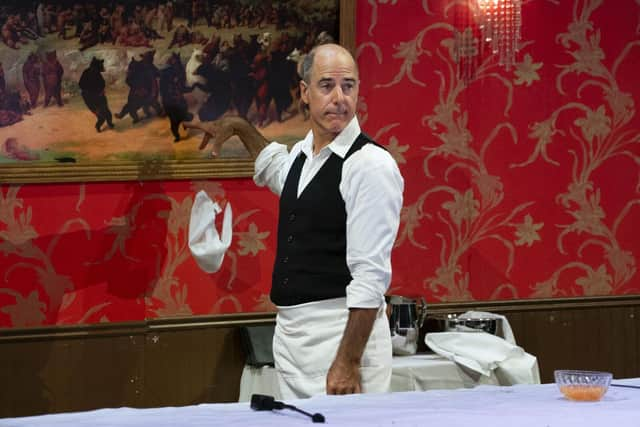 It is billed as an immersive performance that offers a meditation on how and why we eat. It is a theme Sobelle has always wanted to explore.
He said: "I've always wanted to do something on food, and there's often an egg in my shows. There's something about an egg that is theatrically very interesting, because you know exactly what it is when you see it. It's sort of a live ammunition. It's like having a gun on stage, it's like that thing is gonna break or if it doesn't, it's a little disappointing.
"And when it breaks, it's a bit of a tragedy. There's something about food on stage that's endlessly interesting."
Sobelle said he used his performances to take ordinary, everyday things and give them another dimension. With FOOD, there is commentary on the grotesque nature of overconsumption, and how people consume now compared to the past and what the future may be.
He explained his themes and why food was a natural next choice of topic, adding" "The last two pieces I've made have been about very banal, ordinary subjects. One was called the object lesson, and it's just about things, and the last one was called home. It was your domesticity, and house versus home, and what it is that makes a house a home.
"These are shows, where you tease out something that is very, very ordinary, and you find something kind of extraordinary, or you shine some new light, or you figure out how to make this very familiar, very pedestrian thing, kind of odd or strange.
"So with food, it was a kind of natural thing. Certainly, there's a thing about food and ritual, and about sitting around the table and breaking bread together. Whether that's around a breakfast table, or fine dining, and in this instance, is about fine dining, because there's something about the theatre, and even something like an international theatre festival, and fine dining that, to me, go hand in hand.
"There's a certain expectation of a certain kind of tablecloth, a certain kind of music, a certain kind of cutlery, and a kind of pressure that goes with that, and a certain kind of demeanour and what you wear. And I think that goes hand in hand. It's about culture, or high culture.
"So I'm also interested in the theme of high culture, low culture. I'm really interested in what's going on behind the kitchen door. I've worked in restaurants and I've been around food and dining a lot in my life, but I'm interested in the class difference, what's happening racially, what's happening financially, what's happening between the clientele and what's happening behind the [scenes in the] kitchen."
While the audience do get involved with this show – even those not at the table – Sobelle doesn't really see this as audience participation. He said: "I don't think of this really as like a play or a performance with audience participation. I just think that we're all in the room. So the thing in this show with the audience is what they bring to the space, especially in a few moments [at the start]."
Those attending FOOD can also have their dinner beforehand, safe in the knowledge they won't need to eat anything during the performance. "We do work with food – we're not feeding all these people – but even working with any kind of real food onstage has its own demands," Sobelle said. Instead there are some real dishes and some props, which evolve as they start as an idea.
Sobelle said: "I can't divulge too much. They [the props] have to go through a process of discovery and figuring out playing around with it. And I'm still tweaking things all the time. I probably always will."
Sobelle, who is an actor by trade, became interested in physical theatre and set and light design when putting on his own shows years ago. He doesn't see his works now as plays or dramatic works. Sobelle said: "I try to bring together physical theatre and design that the event or the storytelling, whatever you want to call the performance, is as much about those things, as it is about, say, the subject matter or the words.
"I don't really don't think of these as plays, they're not really dramatic works. The thing I'm most interested in is human behaviour and people. I have a background in magic, and that also informs a lot of the stuff that I do. Things such as the detail and a kind of reality versus absurdity or surrealness."
After our chat I, along with others in the audience of an early showing of FOOD, did indeed get home safely, but with plenty to digest.
FOOD runs until August 27 at The Studio in Potterrow. It is sold out, but Sobelle is taking the production on tour to New York later this year. To hear this episode of Scran, just search Scran wherever you get your podcasts.
Comments
 0 comments
Want to join the conversation? Please or to comment on this article.