Edinburgh International Book Festival and Scotch Malt Whisky Society: founders talk books and drams to mark 40th anniversaries
The pair share the changes in their respective institutions
To mark the organisations' 40th birthdays, The Scotch Malt Whisky Society (SMWS) founder and author, Pip Hills, and Edinburgh International Book Festival (currently running until August 28th) founder and agent, Jenny Brown, got together to talk literature and whisky. We asked these long-term friends a few questions.
How does it feel for both the SMWS and EIBF to be turning 40?
Pip: I think Jenny and I can feel pretty pleased that our enterprises have turned out as they did. I don't expect Jenny had any idea that her Book Festival would still be going, let alone be a huge success. I know I had no such intention with the Whisky Society: it was really just a bit of fun with my friends.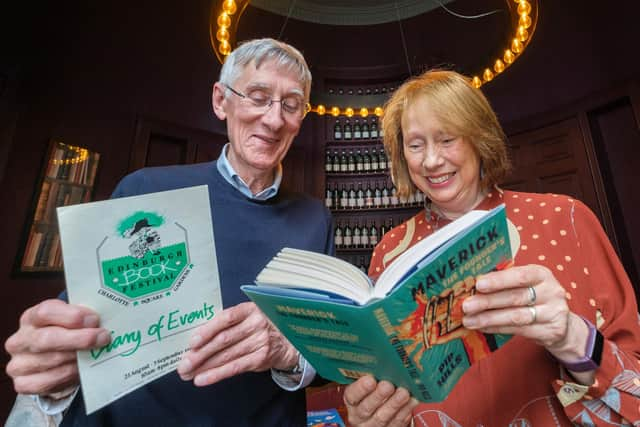 Jenny: It's quite incredible, as the Book Festival set out to be a spectacular one-off celebration of books and writing at the Edinburgh Festival. At the time there was only one other book festival in the UK (Cheltenham), so it felt pioneering. There had been research showing that around 60 per cent of the population felt intimidated about crossing a bookshop threshold – which is why it was held in tents, to give an informal, carnival atmosphere.
Why was 1983 such a good vintage?
Pip: A combination of time and place: Edinburgh was a lively town and there were a lot of people who, like us, had the self-confidence to begin things, without worrying too much about whether they would make us money.
Jenny: There was little competition from other festivals (now there are 50 in Scotland alone, though Edinburgh remains the biggest). There was no culture of going out to hear an author talk about their work. We managed to have a stellar programme that first year – 120 writers including John Updike, Anita Desai, Anthony Burgess, William McIlvanney, Alasdair Gray and, for children, Raymond Briggs and Shirley Hughes.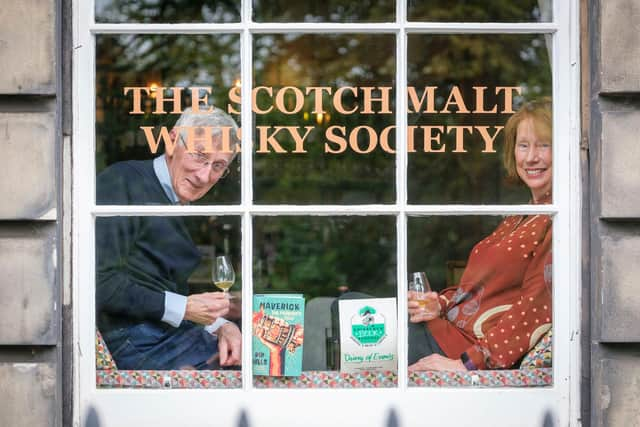 Did you try to shake things up?
Pip: I can't honestly say that I had any intention of shaking things up. I knew next to nothing about Scotch whisky, except that the stuff my syndicate was getting from Glenfarclas was better than anything we'd ever tasted. And everyone agreed with us: so I reasoned that if we were to bottle it, we wouldn't need to advertise and people would seek us out. They did, and that was fun too.
What are the major changes to both organisations over the years?
Pip: With nearly 40,000 members and worldwide reach, the society is much bigger. The important thing is what hasn't changed: it's still a lot of fun. And the quality hasn't changed either: it's still the best distilled liquor on the planet.
Jenny: After being established as a biennial event, the Book Festival went annual in the 1990s. Then in 2021, the venue changed from the long-established Charlotte Square Gardens to Edinburgh College of Art and in 2024 will move to its new permanent home in The Futures Institute. The location may change, the programme may be bigger and more international, but the fundamentals remain – a celebration of the written word and ideas, all authors receive the same fee, whether they be Novel prizewinners or debut novelists, and there's a chance for audiences to join in discussion. And a third of the events are for children.
It's much more professional than those early days – we used to be plagued by power cuts (which plunged Douglas Adams and Maya Angelou into the dark during events), flying ants were a problem another year and we had to call in Rentokil. One of the highlights was actually a no-show – Hunter S Thompson's failure to turn up at the last minute, despite his publishers laying on every inducement possible in Scotland, from golf to grouse. His black-leathered fans turned away meekly at the box office, muttering that they had never expected him to come anyway. Many of the best moments happened offstage, the meeting of authors for the first time, such as Angela Carter and Jan Pienkowski, surrounded by a host of children, in front of the huge frieze they created that morning. And two memorable handshakes: one, captured by the Guardian photographer, was between Amos Oz and Ben Okri by the statue of Prince Albert. The other was the encounter, over breakfast in the Roxburghe Hotel, between two stars of the very first festival in 1983. One proffered his hand: 'Updike? Burgess – we have corresponded.'
Tell us about your relationship
Pip: Jenny and I have been pals for more than forty years. I met her initially, through my business at the time as a tax accountant: most of the people engaged in creative enterprises in Scotland at the time were clients.
Any Scottish fiction authors who've written about whisky particularly well?
Pip: Neil Gunn wrote Whisky and Scotland which was published in 1935. It was, in so far as it was sensible, a diatribe against the wicked distillers who had deprived the Scottish nation of its finest drink, single malt whisky. Naturally I relate to that. And of course Compton Mackenzie's Whisky Galore must be the best-ever fictional story about Scotch whisky. (Not that it was entirely fictional, either.)
Jenny: Somehow fictional detectives seem to be especially enthusiastic whisky drinkers, perhaps because their authors are too. Ian Rankin makes detective Rebus a whisky fan – he seems to be first a Bells drinker, then Highland Park. Iain Banks wrote a nonfiction book all about whisky, Raw Spirit. Doug Johnstone wrote about whisky in Islay in his novel Smokeheads. I'm sure Val McDermid's protagonists like whisky, apart from DCI Karen Pirie who seems to prefer artisan gin.
The new edition of Maverick: The Founder's Tale is available now via www.smws.com. It was released to celebrate the society's 40th anniversary.
Comments
 0 comments
Want to join the conversation? Please or to comment on this article.