Edinburgh Eating In review: Soi 38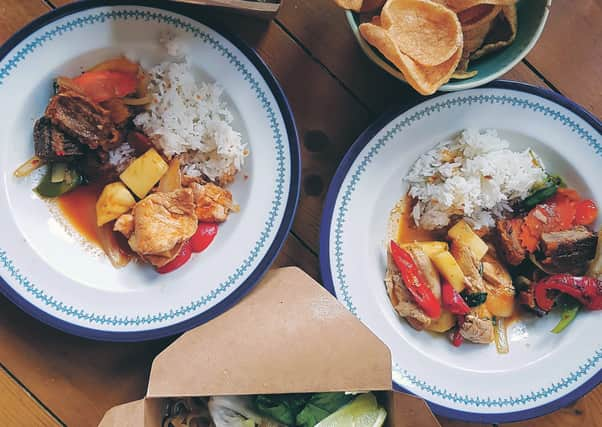 The collage of printed menus spelt TAKEAWAY.
It was hard to see inside, because there were so many of them taped to the window.
I'm finding it tricky to rate restaurants' ambience, when I can't physically visit them.
Thus, before ordering from this Thai restaurant, I cycled up to Clerk Street, past the Meadows, where I came over all wabi-sabi, since cherry blossom season is over.
Above number 38, there's colourful signage to match the street food vibe and inside the tiny space, chairs and stools were neatly stacked, with a few shadows cast by a staff member out back.
From outside, this looks like a casual place. Can't say I've noticed it before, though it's over a year old.
Ambience, though, with no souls there, is tricky. Let's go for a reasonably positive seven.
We ordered their food, which is available from 1:30pm to 9:30pm, through Deliveroo.
Most of our saucier dishes came in plastic bags, like goldfish that we'd won at the fair, as well as cardboard boxes.
The gaeng kho subparod (£7.20) had an excellent jus, simmering with red curry paste heat, which crept up on you in a sneak attack, and was softened by a glug of balmy coconut milk. There were bits of chicken in there, pineapple chunks and peppers. We thought we might also see beef, prawn and tofu, as they'd been listed on the menu, but I think maybe they'd just forgotten to put an "or" in there.
Our pad kra pow (£8.90) had another good sauce, though a garlicky caramelised one. Unfortunately, its main ingredient of "crispy pork belly" hadn't worked out too cracklingly. Perhaps it had lost its crunch on the journey. Still, we masticated our way through the fibrous cubes, which came with slices of pepper, onion and carrot discs, cut in a frilly-edged shape like beer bottle tops.
We also had a little box full of the excellent kee krong moo tod (£4.60) – soft and nibbly deep fried pork spare ribs, which were varnished with a honey barbecue sauce and topped with crumbled peanuts.
As far as sides go, the sticky rice (£2) was a little too solid for me. It had gone into rigor mortis territory. The soft coconut rice (£2) was better. I'd like to visit this place in person sometime, to see what the food is like sans transit.
No puddings, so we had something I prepared earlier. When I say me, I mean Mimi's (www.mimisbakehouse.com).
They've been selling up a storm on social media, with cake boxes that sell out faster than you can say, "My dentist is shut so soon I will resemble Old Man Steptoe".
I'd regretfully lost out on a few others, including a Netflix Tiger King themed set, but I'd eventually bagged the Mimi's Favourites Box, £20 (add on £6 DPD delivery for most of the UK, though it's double that if you live in the Highlands).
The gateaux stork arrived at our door with a baby blue box, which contained six brick-sized traybakes.
We halved each, and used them to maintain our new cake-a-day habit.
The only one I didn't get to try was the Malteser slice, which was scoffed by the bad yin to my yang while I was out.
I thought about turning him upside down, and shaking him until it fell out, but we'd vacuumed the carpet relatively recently.
He said it was a goodie, but his favourites of the half dozen were the Oreo slice and the densely packed Jammie Dodger one, with white chocolate, bits of the biscuit on top and loads of that particularly gluey strawberry jam, which tastes of childhood.
I enjoyed the Scottish rocky road, hewn from Tunnock's Wafers and Snowballs, and topped with shortbread dust, and the caramel fudge number.
Our classic Mars Bar krispie, with three inches of snap, crackle and pop, saw us into the weekend.
Anyway, petit fours aren't going to help us survive these long days, but the burly wares from Mimi's might.
I won't bother casing them out for ambience, since you get indigestion if you exercise on a full stomach. n
How much? Dinner for two, excluding drinks
Comments
 0 comments
Want to join the conversation? Please or to comment on this article.