Does Scotland have any cat cafes? Here are where you can find specialised cat cafes in Scotland in 2023
Here are some of the best cat and dog cafes in Scotland which offer you a venue where you can sup a cuppa with a cat, kitten or cute puppy by your side.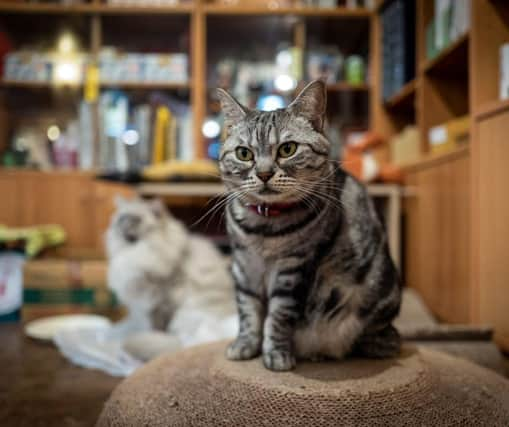 Cat cafes have become one of the most popular new phenomenon's since 1998, when the first ever kitty coffee shop opened in Taipei, Taiwan and eventually became a global tourist destination.
Maison de Moggy (Edinburgh)
The first of its kind in Edinburgh, Maison de Moggy is located at 17-19 West Port, which is around a six minute walk from the Royal Mile.
Based on the original Japanese concept of a cat cafe they offer delicious cakes, coffees and loose leaf teas in the company of many rare cat breeds that roam the property. The area is very cat friendly, with the entire cafe built to create a stimulating, stable and environment that benefits their wellbeing.
What customers have said: Rated 4.5 out of 5 stars on TripAdvisor, visitors have recommended the hot chocolate and have commended the way the cats are looked after, stating the felines all look very happy.
Purrple (Glasgow)
One of the most popular countrywide, Purrple is Glasgow's very first cat cafe and is very popular with the locals. Located at 2 Trongate, the cafe has a central location and is a stones throw away from the popular shopping streets of Argyle Street and Buchanan Street.
Opened in 2017, the cafe is home to over 30 cats and offers tea and coffee, milkshakes, ice cream, savouries & cakes and various vegan options. You can also become a member of the Purrple Cat Café Club, which offers members special promotions on food and drinks, discounts on merchandise and more.
What customers have said: Rated 4 out of 5 stars on TripAdvisor, the Purrple cat cafe is rated highly for its "friendly and knowledgeable" staff, while customers have recommended the mac and cheese as their best food option. However, booking in advance is recommended.
Chihuahua Cafe (Edinburgh)
Are you looking for a cafe with some cute dogs instead? Then try the Chihuahua Cafe located on 15 Frederick St.
If you like a cake, coffee and a chihuahua this interactive animal experience will offer you exactly what you are looking for. Bookings are recommended if you want to hang out with these cute chihuahua dogs and pups.
What customers have said: The cafe has a perfect 5 out of 5 rating on TripAdvisor with customers recommending the cafe due to its amazing staff and its treatment of their "much loved" animals that roam freely in the venue and are happy to pose for photos.