Distillers One of One Auction returns to Scotland - with lots including a 50 year old Brora
The charity auction that sees totally unique, old and rare whiskies put up for sale will return to Scotland this month. Rosalind Erskine previews of some of the most eye-catching lots.
The last few years have seen some incredible whisky sales, from 80 plus year old Macallan to a cask of Ardbeg going for £16m. We've also seen the largest whisky bottle being sold and the oldest whisky being found (which will be subsequently put up for auction). If watching, or indeed buying, old, rare and complete one-off whiskies is your thing, then the upcoming Distillers One of One auction is a feast for the eyes and, undoubtedly, tastebuds. The auction was last in Scotland in 2021, and raised over £2m for Scottish charities from 40 lots of exceptional whisky.
Run by Sotheby's and Distillers One of One, it will take place on 5 October at Hopetoun House, just outside of Edinburgh. This year there will be 39 lots, including whisky and experiences on offer, with all proceeds being donated to The Distillers' Charity - the Youth Action Fund - which is transforming the life chances of young people in Scotland aged between 16 and 25, by helping them to develop knowledge, confidence, resilience and skills to set them up for life and work.
The Youth Action Fund - established by The Distillers' Charity with the support of Inspiring Scotland as a vehicle to distribute funds from the One of One Auctions - has assembled a panel of complementary charity partners, each providing expertise and experience in achieving sustainable employability outcomes for young people from disadvantaged backgrounds. It's this charitable arm that's the backbone of the auctions, and one that shouldn't be forgotten in the excitement of selling such rare liquid as the impact this money has transformed lives.
Grant Gordon OBE, Chairman of The Distillers' Charity, added: "Our vision, when we created the Youth Action Fund, was to make a strong social impact, transforming lives of disadvantaged young people, supporting them to acquire life skills and confidence needed to achieve employability. Since the Youth Action Fund was launched following the first One of One Auction in October 2021, over 1,000 young people have benefitted from the funds raised, resulting in 603 young people achieving an employability outcome, helping transform their lives."
Lots to look out for
Among the 36 companies participating in the auction this year, are 12 "Member" donor brands, each donating a unique, never to be repeated lot. Appealing to the world's leading collectors and whisky connoisseurs, each of these unique lots celebrate the heritage, craftsmanship, artistry and innovation of the world of Scotch whisky.
This year's Member donor lots include the Gordon & MacPhail Recollection Showcase, set to be highly sought-after with an estimated auction value between £80,000 - £160,000. This includes five bespoke 70cl decanters, housed within a handcrafted elm and oak cabinet, with ultra-rare whiskies from lost distilleries, including Islay's Port Ellen's 1979, 55.7 per cent, 43-Year-Old single malt, the oldest expression of the whisky ever released by Gordon & MacPhail.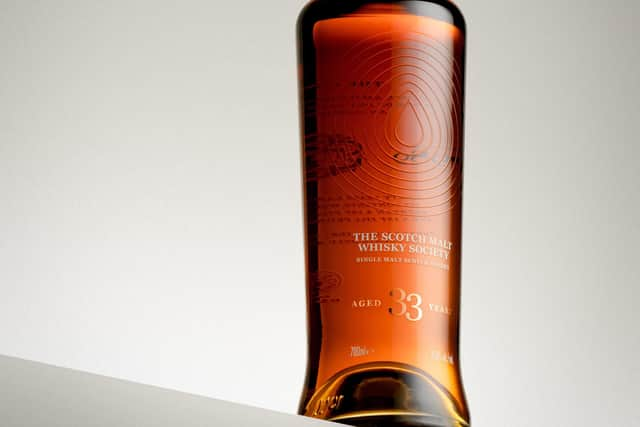 Meanwhile, Loch Lomond Group's Littlemill showcases the final drops from Scotland's oldest licensed and now lost distillery, with a trio of whiskies presented together for the first time, in Littlemill Decennia - a story of the ages, featuring a single one-off bottle from the final casks of Littlemill's 70s, 80s and 90s reserves. Decennia, estimated at £20,000 - £30,000, includes a 1977 refill American oak hogshead, a 1984 original fill refill bourbon barrel, and a combination of refill American and European oak from 1990, all with a traditional Littlemill Oloroso sherry cask finish.
Another intriguing lot is The Morrison Scotch Whisky Distillers One of One Collection, a unique collection of three exceptional whiskies from iconic distilleries; Bowmore, Dalmore and Macallan, all distilled in 1990. Estimated between £8,000 - £16,000, the decanters are housed within a specially crafted and engraved natural oak display case, featuring a built-in drawer with travel decanter stoppers and a personally signed letter from Director, Brian Morrison. Campbeltown Distillery, Glen Scotia, is offering a 49-Year-Old, with liquid taken from a 1973 cask, the oldest remaining Glen Scotia reserves, matured exclusively in American oak. Presented in a 70cl Glencairn decanter made of 30 per cent lead crystal, it will be displayed in a bespoke wooden case, hand painted with original artwork from Glen Scotia's artist-in residence, Alice Angus.
The Scotch Malt Whisky Society's lot is called The Only Drop. This one-of-a-kind bottle sees a 1989 spirit from a Speyside Distillery matured for 30 years in an Oloroso Sherry Butt, then divided between a first fill Oloroso hogshead and a first fill Pedro Ximénez hogshead. Ahead of the auction, three years after the liquid was spilt, they will be reunited to create a one of a kind one bottle, estimated to sell for up to £10,000. Finally there will be the chance to buy Brora Iris, a 50 year old single malt that's expected to fetch between £250,000-£500,000 at the auction. This ultra-rare spirit, crafted by distillers at Brora five decades ago, is the oldest Brora Single Malt that has ever been bottled. Brora Iris is presented in a 1.5litre decanter and suspended within a one-of-a-kind handcrafted stone sculpture and has been donated to The Distillers One of One Charity Auction by Diageo.
Casks and experiences will also be available, and more information (plus online bidding) can be found at the Distillers One of One auction website - sothebys.com/distillersoneofone
Comments
 0 comments
Want to join the conversation? Please or to comment on this article.