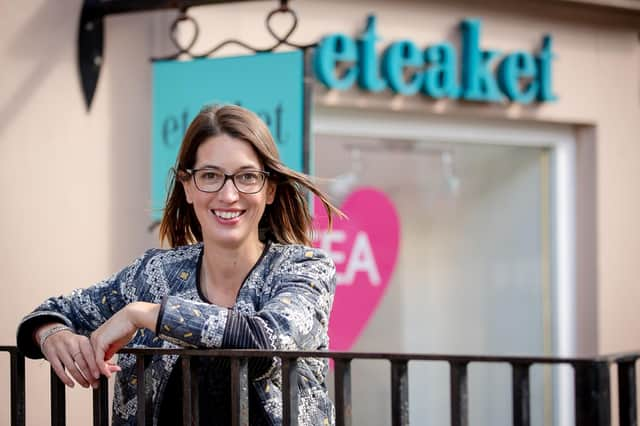 Erica Moore of eteaket
I start my day with a cup of tea in bed followed by 20 mins of meditation. I've had to train my kids to give me time for this. I'll usually eat porridge and try to do some sort of movement, whether it's an online yoga class or a wee dook in the sea (I'm lucky enough to live in Portobello). I made up an acronym for my morning routine to help the habits stick: REALM (Rooibos, Exercise, Affirmations, Learning and Meditation).
I love to work on creating and developing new ideas and blends in the morning. I find pausing for a cup of green tea (like our Dragonwell Delight) and doing some breathing exercises while it's brewing helps me to calm my mind and re-balance enough to get the inspiration flowing.
I try and pause for lunch with my family (one upside of all working from home alongside home schooling). We're all living off massive pots of soup during lockdown. I aim to fit in a little walk along the beach with the kids, which often involves stopping for tea and hot chocolate at the Little Green Van on Porty prom.
I always build some time into my day for learning and developing my knowledge, whether that's business or wellness related. I've got umpteen online courses on the go but I love non-fiction books, so I can easily refer to them when needed. My go-to place is the brilliant Portobello Book Shop (when they're open). Their space was designed by Splintr - the same designers that helped us with our Rose Street tea shop.
Around this time, I'm often hosting eteaket's online workshops. It's a privilege to be able to connect online with our customers from all over the world. During lockdown, I'm running live complimentary tea meditations on Zoom every Thursday at 1pm. If I'm not hosting a workshop, I'll most likely be working with wholesale customers to help them get the most out of their tea offering. We also have regular team meetings to check-in and share ideas.
For dinner, we've been experimenting with veggie dishes that we can cook with the kids. I'm developing another habit around this time to practice an end of workday routine. I've got yet another acronym to make it easy: DEPART (Disconnect, Edit my to do list, Plan my evening, Action points for next day, Reflect and Tidy).
In the evening I finally get the chance to binge watch 90 mins of Absentia with my husband (I secretly want to be FBI agent Emily Byrne).
I'm generally tucked into bed at this time. I've started sleeping away from my phone which has been a game changer. I keep to fiction books at night otherwise I'd never be able to get to sleep (The Abduction, which is written by my friend, fellow ex-lawyer, A A Chaudhuri, is an awesome read).
A message from the Editor:
Thank you for reading this article. We're more reliant on your support than ever as the shift in consumer habits brought about by coronavirus impacts our advertisers.
If you haven't already, please consider supporting our trusted, fact-checked journalism by taking out a digital subscription.