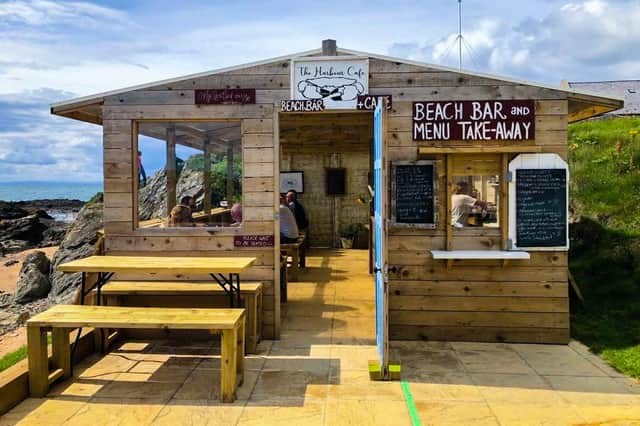 The Harbour Cafe, Elie
I wake up, unless one of the three children has woken me earlier. When I'm lying in bed I often take a few deep breaths and smile. Then I put my feet on the floor and slowly get up. I was told a few years ago that this is a good way to start the day and have done it ever since. I pull back the curtains and look straight out to the sea.
I start the day with a hot lemon and ginger and do a five-minute yoga stretch. The kids are running around and I make sure the porridge is on and the honey is out. I have a shower and put my thermals on because the kitchen is freezing at this time of year, say goodbye to everyone and head out. First stop is Pittenweem Harbour to fill our buckets with fresh langoustines and have a chat with our fisherman Billy to catch up on the fishing news. I always love this part of the day as it reminds me of why we are using all the small local boats to buy the very best, freshest local ingredients. Then it's onto Bowhouse, where we pick up our beef from Sophie and salad from East Neuk Market Garden. It's all organic and grown on the estate next to the cafe.
I arrive at the café, sort out the prep list, make the coffee and turn on the heater. I love working with my husband Jack as we get to talk through lots of business and family things with no distractions. There is a relaxed vibe in the kitchen and normally we listen to podcasts or music while we work.
We take it in turn to make lunch, which is normally some form of soup.
We try to leave at this time so we'll to get back for the children's tea. We always get a great welcome coming through the door and I like to spend a bit of time hearing about their days before bath time and getting them ready for bed. Often we will play a board game of some sort before it's time for lights out. I'll also try and fit in a quick shower or bath when I get back as I like to wash off the day and settle into the evening. I round things off with a small medicinal whisky or maybe a glass of wine and write down a list of things to do for the next day and any ideas I am working on. Sometimes we will have samples of new wines to try, which we will do before dinner.
Dinner on a work day is normally pre-made. It'll always be something super easy.
We make it to bed, having put the two spaniels and our cat away. Normally I'll read a few pages of my book before falling asleep.
The Harbour Café at Home delivers their signature dishes to homes across the UK.