Circus artist, Billie Wilson-Coffey, on her day performing in Circa at the Edinburgh Festival Fringe
The contemporary circus act are performing at the Edinburgh Festival Fringe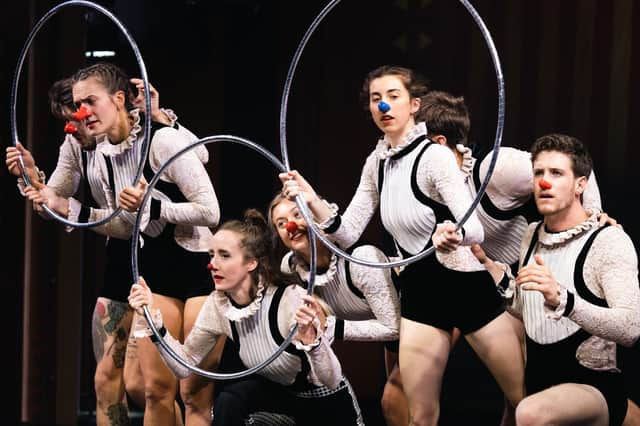 Billie Wilson-Coffey (bottom left) and Circa Pic: Adrian N. Bell
I wake up in the morning and shuffle to the kitchen to put the kettle on. Then I'll lean out of our kitchen window to take in some nice fresh air. If I curve my head around to the left, I get a view of Arthur's Seat, so that is always a good start to my day. My breakfast usually involves eggs, mushrooms and avocado, layered on bread or a bagel.
I leave my place before work with enough time to get a coffee at Cult Espresso at Newington, as I'm likely to bump into a fellow Australian there, also enjoying a good coffee.
We check in as a company, to begin warm up. Everyone's technique looks a little different, depending on whether you are carrying six people on stage or if you are a contortionist. I mainly focus on shoulder rehab, plus getting my legs and ankles warm for the skipping kangaroos number in our show.
It's changeover time onstage: There are seven acrobats, five massive red balloons, four large inflatable sharks, 14 small balloons, and two prop tables with juggling clubs, paper planes, musical instruments and many more tiny props. The show changeover time is like a professional F1 pit stop - each person from the team has their job to do. My job is setting the props to one side while others are building the stage, rolling out mats, taping the floor, refocusing lights and sound checking microphones. We have it down to a fine art now.
Everything is usually complete on stage, so we have 10 minutes to warm up any tricks we need. We usually build a few 'three highs' (three people stacked on shoulders) and do tumbles to feel warm and ready for the show. Meanwhile, children waiting in line are getting their faces painted as animals, so they're ready to recognize their corresponding animal in the show.
Doors open to the beautiful theatre. We do our final preset and put on our costumes. Then we come together as a company backstage, quickly talk through any changes to the show and focus up.
Show time! It's 50 minutes full of circus, imagery, music and wonder, appealing to all age groups but particularly enchanting for families. House of Oz a relatively small venue, so we really are up close and personal with the audience, which is delightful. At the end, we pack up as quickly as we set up.
I am usually sipping on another coffee in Outback – the gorgeous secret garden bar and kitchen behind House of Oz. I flick through the Fringe show bible for a performance to watch in the evening and I'll find something to eat for dinner along the way.
I'll finish the day by wandering the beautiful old streets before curling up in bed to do it all again tomorrow.
Wilson-Coffey performs in Carnival of the Animals by Brisbane-based performance company Circa Contemporary Circus at House of Oz in Newington, daily at 3pm until Sunday 28 August, www.edfringe.com
Want to join the conversation? Please or to comment on this article.