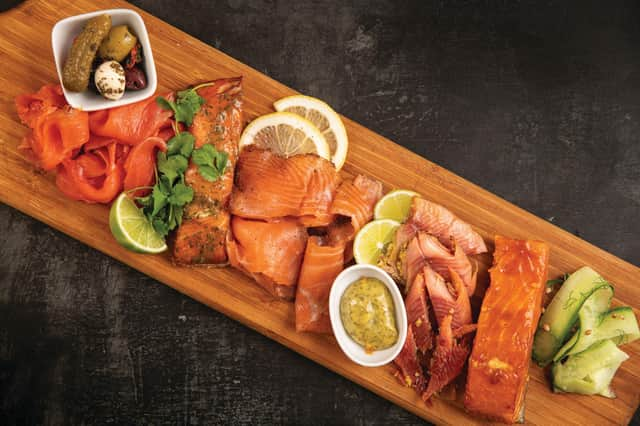 Image: Paul Watt Photography
It is known for high-quality traditional products – hot and cold smoked salmon, as well as smoked trout and mackerel – but the company also produces delicious smoked cheeses and butters.
Their products are enjoyed all year round but – particularly in Scotland – smoked salmon is now a firm favourite staple of the Christmas menu.
This festive season, Belhaven Smokehouse has added exciting new products to its range. Manager Marie-Clare James says the fresh introductions are Christmas-themed variations on its hand-cut and hand-smoked favourites.
She says: "We've developed a Christmas-spiced treacle-smoked salmon, and an orange and cranberry variety.
"We start in August coming up with ideas, with our smoking wizard, Mark Tear, playing around with tastes and flavours – and one of the joys of working here is that we are a small team so we all get involved in tasting."
Treacle is a traditional flavouring for smoked salmon, as it has long been used as part of a curing mix, but it is very sweet. Adding Christmas spices counters this and the result is a sumptuous well-balanced flavour. Orange too has been used for its citrus curing properties, but pairing it with cranberry adds a deep festive note.
Marie-Clare explains how they ensure new products are what the market wants: "We create trial batches, and ask our customers to taste and give us feedback.
"We work with companies such as the Renaissance Club and Muirfield, and we supply the Balmoral Hotel so engage with the chefs there about which new products they like.
"With the smoked butter, for instance, we saw it as a 'cheffy' finishing butter which works with cooked fish – and it does – but the Balmoral team also pointed out it is so good that it tastes great, just spread on really good bread."
This Christmas, Belhaven Smokehouse is offering individual gift items or tasting platters of a selection of the very best of their produce, that customers can order from their website and collect from their premises in Beltonford, Dunbar, which is open from Wednesdays to Sundays.