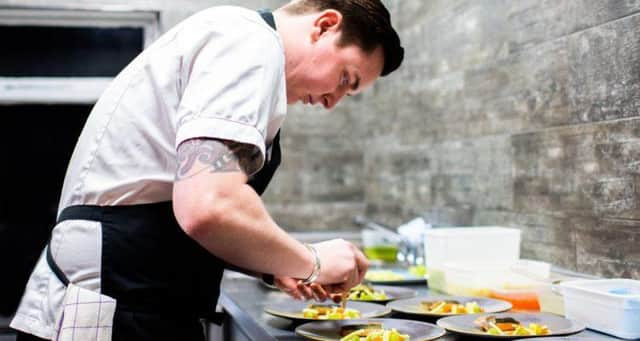 Dean was a finalist on Masterchef The Professionals in 2018.
During a chat with the Scotsman earlier this year, the celebrated chef revealed plans for his chippy, which is called Haarbour.
Now those plans have come to fruition, as Haarbour, located on Alexandra Place, will open to the public from 12pm today, 16 October.
Speaking to The Courier, Dean said: "It has been a dream of mine for around four years, maybe a bit more. I was thinking about it before I did MasterChef: The Professionals and I remember when I first walked in to do the skills test, Marcus Wareing had asked about my background and what I had achieved.
"I spoke about Haarbour, and how I wanted to have this fish and chip shop that was more than just that and fused different styles.
"It evolved since Haar more and more and this image I had in my head is now real. Myself and my operations manager have just been walking around with tradesmen telling them what we want and it is so great to see it all come together the way it has."
To change the way customers order and wait for food, Dean has installed a new system. Despite looking like a classic chippy, where customers walk in, order then wait, Haarbour will have a buzzer system inspired by ski resorts in the Alps.
Customers simply place an order, take a buzzer then head off elsewhere to wait for their food. While now this works for social distancing, in the future it could mean nipping to the pub or a local coffee shop while the food is being cooked.
Born and brought up in Arbroath, Dean is a champion of local produce, saying: " I'm extremely proud of my home town, it is just an amazing place with lots of history.
"The seafood is great and not to mention the Arbroath Smokie, plus all the soft fruits from Angus, which are fantastic. It is just a smashing foodie place."
Because of this passion for local produce, Dean's chippy menu will feature homemade batter, seasonal fish and a nod to Dean's travels as well as a few dishes customers may have seen before.
One to look out for is a Korean style haddock made with gochujang and sesame tempura and chips with Dean's curry sauce, which features on the menu at Haar.
Forget sausage and haggis suppers with processed meat, at Haarbour the haggis is supplied from Minick of St Andrews, sausages from Henderson's and a burger made with beef from nearby Balgrove Larder.
All shellfish will be sourced locally and fish will be fresh from the North Sea.
To find out more about Haarbour, follow Dean on Twitter.
Before the global coronavirus pandemic, chef Dean Banks was due to open a second Haar restaurant in Edinburgh – a sister eatery to his St Andrews venture.
But this was put on hold and, like other businesses, Haar closed its doors in March amid the UK lockdown, and has remained closed since.
To keep busy and bring his restaurant quality food to customer's homes, chef Dean Banks launched Haar at home, a luxury box of seafood to be delivered, cooked and enjoyed from kitchens across the country.