Celebrate Chinese New Year (12 February) with our selection of Edinburgh and Glasgow restaurants
Soon it will the the Year of the Ox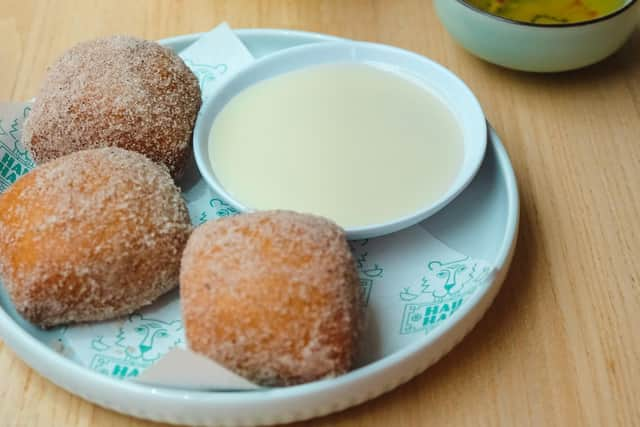 Chris Brodt
It's Chinese New Year on 12 February, so celebrate the Year of the Ox with a takeaway from one of these Edinburgh and Glasgow restaurants.
Named after the Cantonese phrase for "peckish", this new place serves British-style Chinese food influenced by the restaurants of Hong Kong. There's also a focus on natural ingredients, with no artificial colours, flavours or MSG and dishes include lemon chicken, satay, Chinese curry, spring rolls, spare ribs, sweet and sour, quarter duck with pancakes, salted chilli prawns, banana fritters and traditional man tau - Chinese doughnuts rolled in sugar and cinnamon (pictured).
Try this Tollcross venue's colourful jiaozi in a choice of ten varieties, from mackerel to cuttlefish and black fungus and egg. It's offers more than just dumplings, with dishes including authentic hong shao rou (braised pork belly). We reviewed it when it opened back in 2019 and gave it a very respectable 7/10. Currently, you can call them directly to order or via their website.
Order wares from this brand new business, which opened in January, through Deliveroo. They're specialists in baozi and offer 20 types of steamed bun - rainbow buns, pumpkin coconut buns, pork with Chinese leaf, rose red bean bun, beef with onion bun and a very intriguing sounding Chinese calzone. They recommend that you try them alongside one of their specialist "artisan coffees".
We would transform into a dumpling if we lived near this cafe, restaurant and noodle bar, which is currently offering takeaway through their website or Just Eat. As well as their namesake, available with fillings including pork and chives, chicken and other homely varieties, there's the Chinese breakfast dish congee and various steamed baozi.
Headed by award-winning chef, Jimmy Lee, this smart Cantonese restaurant is a bit fancier than our other picks. In normal times, you'd go here for a cocktail. Currently, they're open from Thursday to Sunday for takeaway (from their doorway) and delivery, 4pm-8.30pm, with dishes including duck with lychee and plum sauce and the popular chilli and salt chicken. There's also a decent gluten free selection.
If you like a bit of Sichuan pepper spice with your takeaway, the wares from this seven-year-old venue will warm your frozen cockles. Their dishes are marked to indicate the heat level, from a gently tingling number one to flames-coming-out-of-the-ears three (we dare you). For the more adventurous, when it comes to meat, there's steamed cod fish-head with curry or hot and chilli duck tongue. If those are a bit too challenging for you, go for the crowd pleasing shredded pork in Peking sauce with pancakes or roast duck with plum sauce.