Bross Bagels founder addresses financial strains amid administration reports
Larah Bross has spoken out after reports the bagel chain has gone into administration.
The owner of Bross Bagels has denied the firm has been put into administration, instead claiming the eatery chain has been restructured amid rising costs.
Reports emerged earlier this month suggesting Bross Bagels, which has four outlets in Edinburgh, had been put into administration. Suppliers, who had been chasing for payment, were notified of this via email.
However, according to the Edinburgh Reporter, owner Larah Bross has hit out against these claims, saying the business has been restructured and that a "massive breach of data protection" had occurred.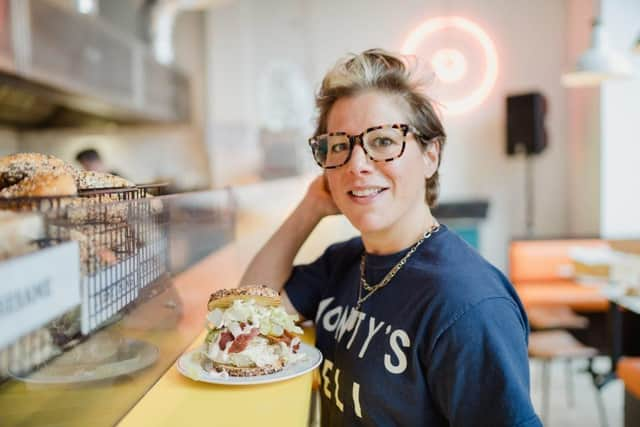 Committing to protecting jobs, she said: "I think everyone is aware of how hard it's been for the hospitality sector over the last few years and things continue to be tough, but we are working tirelessly just to keep ourselves trading. We have taken professional advice, and a restructure has allowed us to safeguard all jobs and the good news is that it's business as usual for bagel lovers."
Bross Bagels was founded in 2017 in Portobello. The business grew to open shops in Leith and Queensferry Street, which is now closed. In late 2020, Bross crowdfunded new premises on Portobello High Street.
The bakery opened following an initial crowdfunding phase, with almost £100,000 raised by Bross Bagels 'ShareHolers'. At the time of opening, Ms Bross said: "We've been able to start production in our brand-new bakery and launch this epic new menu thanks to our amazing ShareHolers – our bagel loving pioneers who have invested with us and spread a hole lot of love.
"We've raised a phenomenal amount so far, which means we've been able to significantly upscale our production to meet demand. We would love it if we could hit our target of £150,000 by the end of March so we can let even more people try out our new menu and complete the refurbishment of the bakery and outside garden in time for that glorious day when lockdown is lifted."
Bross Bagels has shops in Bruntsfield, Stockbridge and in the St James Quarter.
Ms Bross partnered with Alan Cumming in April to host a New York City Tartan Week Parade Hangover Brunch at the actor's renowned New York outpost, Club Cumming. The event was Ms Bross's second trip to New York in six months. She shared her bagels with more than 100 guests at an event within 'BagelFest' in November 2022.
The Edinburgh Reporter has reported figures from Companies House for Bross Bagels, and states: "According to Companies House, Bross Bagels Ltd latest annual accounts to June 30, 2022, showed the business had net liabilities of £546,339, compared to just £99,270 in 2021. Short-term liabilities – money due to creditors within one year – totalled £770,062, more than double the 2021 sum of £300,140, the largest of which was £402,944 due to 'other taxation and social security', while trade creditors at that date were due £157,270.
"Longer-term creditors, amounts falling due after more than one year, totalled £486,626, more than doubled the 2021 total of £212,698, and this includes a sum of £144,000 due to creditors who donated money through the ShareHolers crowdfunding initiative."
Comments
 0 comments
Want to join the conversation? Please or to comment on this article.