Barry Fish pop-up restaurant returns to Connect Festival
Private chef and caterer Barry Bryson is bringing his pop-up restaurant back to Connect Festival this month. He chats to Rosalind Erskine about what diners can expect, fine dining at a music festival and finding a permanent home for Barry Fish.
"Barry Fish is basically pop up seafood dining at a music festival, and if that doesn't sound entirely like it gels together, it didn't really to me to either," laughs chef Barry Bryson, "but it just kind of seemed to work quite well, when we were there last year. We wanted to bring good food to music festivals, of course, there's some fantastic street food that goes on at music festivals and no disparaging thoughts about that whatsoever. But this was taking things up a notch or two in terms of creating a tasting menu." Bryson, who has been working as a private chef and event caterer for over 20 years, has become the king of pop-up dining experiences and a chameleon of the culinary scene - long before these were fashionable, with recent residencies at Jupiter Artland, Chanel, Leith and of course Connect as well as working as a private chef. But Barry Fish, a play on his name but also the Scots word meaning great, has been his passion project for over a year now, and one he's toured in various locations while he scouts for a permanent home for it. He's delighted to have been asked back to Connect, but it's a no brainer as Barry Fish was a sellout success in 2022 with its menu of fish and seafood. This year Bryson has expanded the offering to include meat, and the name of the pop-up - Barry Fish and Fields - represents this. He explained: "We're looking slightly further than just a seafood menu, so we have options for people - a Barry Fish menu of fish and seafood or a Barry Fields menu which comprises meat or veg. We wrote the menus a few months ago, anticipating, as you do, what the weather will be like. I think actually on balance, it looks like it's a pretty good menu and we have begun preparations on it already."
Diners who have booked to visit Barry Fish at Connect this year can look forward to four courses that include well established dishes, such as the Barry Fish pastrami, as well as newer creations which include collaborations with local businesses and making the most of seasonal produce. "We've got a couple of collaborative dishes and a couple of classic Barry fish dishes," said Barry. "One of the dishes that's been on Barry Fish for the last year as I tour around various places across Scotland is the Barry Fish pastrami, with the nods to my cooking trips to Spain because it's served with Aqua Blanco - a sort of chilled almond gazpacho. We're going to be doing a nice look at Scotland at the moment. It's kind of wet and warm, so we've obviously got some mushrooms. So I'm going to make some truffle brioche with a warm mushroom custard and pickled mushrooms. I'm also working with Kip from Aemilia, the fresh pasta place in Portobello, because I wanted to do a collaborative Barry Fish pasta. Kip is going to make the tortellinis, which are going to be filled with fantastic Scottish langoustine. We're also going to work with Castle Game, a really small batch high end game producer to source the venison for the venison carpaccio. And because it's summertime, we're obviously going to make lots of classic nice sweet things. So we figured a torched lemon and tart with some wild berries and herbs would be nice. Tom, who works for me, his mum has grown some of the herbs and berries in her allotments that feature in the dessert. Between the collaborative aspects, the small batches, production, the homegrown produce and obviously the dishes that we've tested for Barry Fish before. This offering feels like a really good way of bringing all of those things together into one menu."
While fine dining and music festivals weren't obvious bedfellows a few years ago, the rise of quality street food and those that cater for different dietary requirements have opened the door to higher end food in settings such as festivals. People are willing to pay for quality and an experience, something Barry is aware of, although he's not a fan of the term fine dining, saying: "if there was one term in the world I wish we could remove, is fine dining not because there's anything wrong with it, particularly, but because at the heart of everyone's endeavours, whatever it is they're producing, there's just good food. And obviously, sometimes the better the food, the more processes, the more technique, the more skills that have gone into it - I think it creates the idea of it being fine dining - but Barry Fish in its format is accessible modern fish cookery. I think that the public is super onboard with small, artisan producers creating something that they really know has been done with skill and detail and with thoughts of season and location. And I think people are always interested in that. I feel that they are willing to maybe spend a bit more, because it's a special meal, it's a special day out. Not to ignore the economic situation that everyone faces at the moment. But having said that, I still think for certain things, people are gonna think it's worth it as it's adding on something really special to an already special day."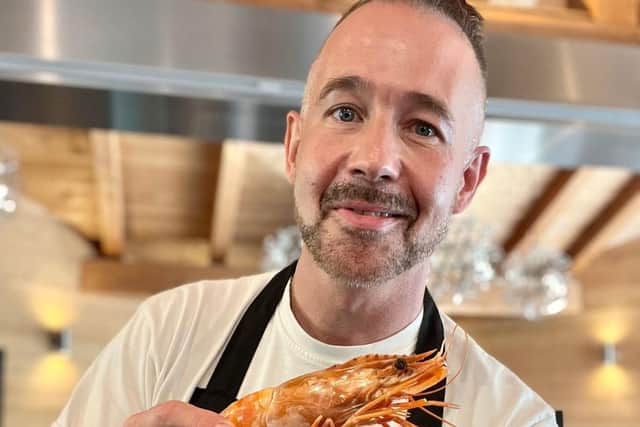 Although he'll be working hard serving up the tasting menu to customers, he is looking forward to seeing Primal Scream. "I'm on service the next morning so it's going to be a well behaved Primal Scream viewing as opposed to what all my other friends will be doing which is jumping around and drinking lots of beer."
Barry Fish and Fields is running from 1pm-3pm on Saturday 26 and Sunday 27 August at Connect Festival priced at £65 for four courses, £12 for wine by the glass and £40 for a paired bottle of wine.