Scotland's hospitality scene has had a bit of a battering in recent years, with Covid, Brexit and the threat of new legislation such as the deposit return scheme and the proposed alcohol marketing ban.
But thankfully the sector continues to thrive and diversify – and 2023 saw two new Michelin Stars awarded to two restaurants in Edinburgh, as well as recognition from the guide to xx other restaurants across the country.
And while we have lost some restaurants, there's also some new openings that have caught the eye, as well as new appointments. Two of these newly-appointed chefs are Adam Maddock, who is now head chef at Braemar's Fife Arms, and Colin Anderson, chef director at Brett in Glasgow. Both these chefs have Michelin credentials and are set to shake up menus at these popular venues.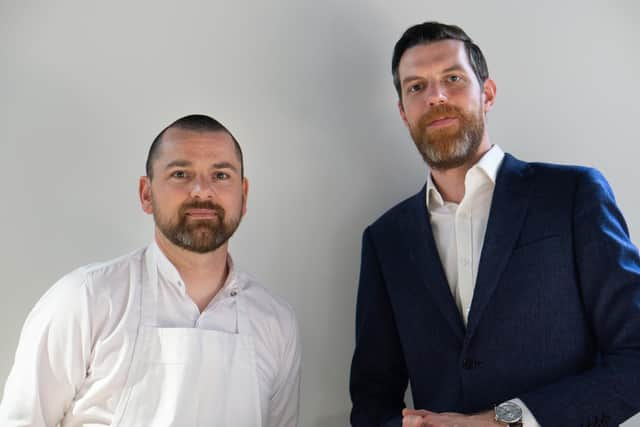 Devonshire born and raised, Mr Maddock developed a passion for the culinary scene from a young age. After an apprenticeship with the Tanner brothers aged only 18, he started his career at Gidleigh Park working with Michael Caines MBE, continuing to refine his craft with Martin Burge at Whatley Manor.
It was his experience and passion that soon led Mr Maddock to hold senior positions in Michelin-starred restaurants around the country. Although his new role is, as he said, is "a long way from Devonshire", the chef is enjoying the experience and taking inspiration from the location of the hotel. Mr Maddock said: "Being surrounded by the dramatic Highlands is incredible and a great inspiration for my dishes. It was such a unique opportunity, and I was very excited to work alongside such a great team delivering such fantastic experiences to our guests."
His culinary philosophy focuses on 'less is more', and Mr Maddock said he believed supporting local business and gamekeepers, whilst letting the changing seasons dictate his dishes, was fundamental to a menu.
Since joining the team, the chef has already put his own stamp on the menus, introducing a number of new dishes whilst honouring the classic favourites with the locals. Some of the highlights include wood pigeon served with fire-roasted leek, winter truffle and hazelnut, or a personal favourite – the Invercauld Estate Venison, served with smoked shallot, red cabbage and ember beetroot – a great winter dish.
But when it comes to his favourite dishes, Mr Maddock has one in mind, telling The Scotsman he's most proud of a scallop dish with grapefruit molasses, beurre blanc and baby gem lettuce. This has been very popular with guests and it is, he said, "a great seasonal dish and utilises some of the finest Scottish shellfish". "Cooking these over the open fire pit also adds a lovely flavour and texture, bringing new and old cooking techniques together," he said.
Over in Glasgow, Mr Anderson is making his mark on Brett, the sister restaurant of Michelin Starred Cail Bruich. Formerly general manager, this new opportunity will showcase Mr Anderson's strong pedigree as a chef. He has held senior roles at Michelin-starred City Social and three-Michelin starred restaurant Gordan Ramsay in London, alongside acclaimed restaurants in Australia. The team have also been joined by head chef Rory Wyemes, previously head chef at the one Michelin starred Unalome by Graham Cheevers and Alchemilla in Glasgow. Conor McGeady joins the team as restaurant manager, having formerly worked in the corresponding role at Glasgow's The Gannet.
Mr Anderson, who grew up cooking and from a young age knew he had a connection to food, explained Brett's evolution and what he's bringing to plates.
He said: "I think Brett has gone through three different phases and I think I'd say we're in phase three at the moment, which is where we're really knuckling down on how good the food is and how talented the team are in the kitchen. And I think people are really starting to trust us as they are coming back and telling their friends and families about the food here. I think we are serving some of the best food in Glasgow." Mr Anderson said his cooking style was rooted in France, but he will also bring Asian influences from his time in restaurants in Australia.
Restaurants to look out for
MasterChef winner Jamie Scott has opened a New Broughty Ferry brasserie with his wife, Kelly. The Sandbanks Brasserie opened on May 12 and it gives the couple, who run The Newport Restaurant, several bakeries across Tayside and Fife, and Shipwrecked Seafood, the chance to introduce a more casual style of dining. This is in contrast to the fine dining experience of The Newport, which was awarded the AA Restaurant of the Year Award 2018/19.
Mr Scott said: "We are extremely excited to offer a more casual dining style, while still delivering the delicious flavours, exceptionally fresh and local produce, and attention to detail that we've hung our hat on across everything we do – from the tasting menus at the Newport to all four of our bakeries. Customers can expect a more relaxed feel from The Sandbanks Brasserie as they enjoy dishes full of flavour made with the best ingredients, including slow cooked pork belly and pancetta sausage, Fife Buffalo Farm buratta and Loch Etvie sea trout."
Eòrna (the Gaelic word for barley) is a new Edinburgh restaurant from chef Brian Grigor and sommelier Glen Montgomery, and will open on the city's Hamilton Place in Stockbridge on May 31. The pair have a wealth of experience gathered from some of Scotland's finest restaurants, including two Michelin star restaurant Andrew Fairlie, and working with Michel Roux Jnr. They will oversee all aspects of the restaurant as a duo – there will be no other chefs or front-of-house staff creating a pared back, intimate, yet sophisticated dining experience. The focus of the restaurant is a 12-cover countertop "chef's table" overlooking the kitchen, with the duo cooking and hosting. Diners will be served an ever evolving tasting menu using the very best seasonal ingredients and classic old-world wines.