Apples for Jam, Melrose, review - we visit this popular cafe for lunch and cake
This cafe has a second branch at Earlston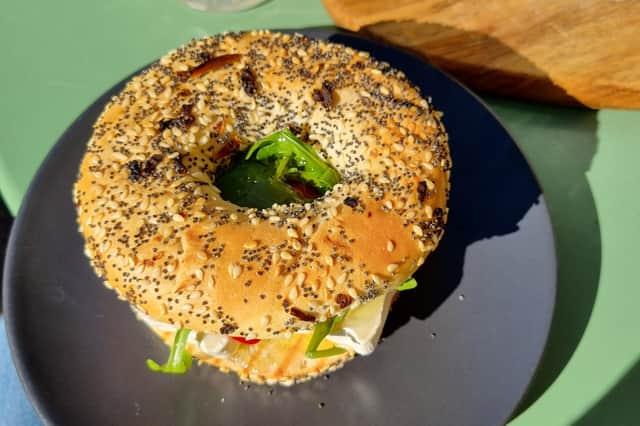 The word scrump is thought to be derivative of scrimp, or have come from a mid 19th-century term for a withered apple.
In contrast, the ones in the orchard at the National Trust for Scotland's beautiful Priorwood Garden, beside Melrose Abbey, are at their peak.
Perfect for scrumping. I would have stuffed a few up my jumper or into my bra - in the style of every six-year-old child, when mucking about with their mum's undies. (Or was that just me?). Anyway, I was very tempted, when it came to the shiny red orbs that had plonked onto the grass. Some of the most beautiful ones had fallen from the oldest-looking tree, which was on its side and subsumed in feathery dusty green lichen.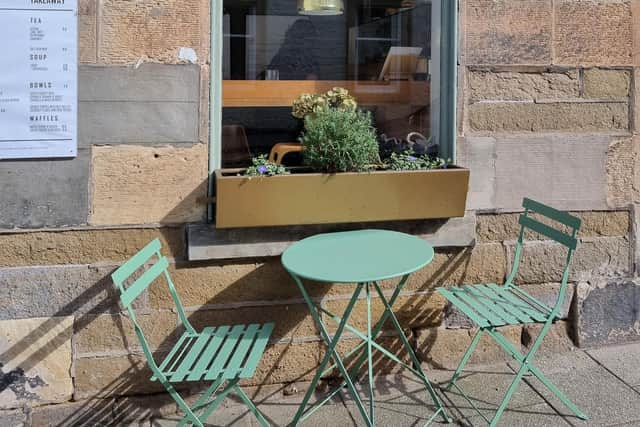 I'd take a big crunching bite from one of those pommes, then nap, like Sleeping Ugly, waiting for a smooch from my Frog Prince, not that he'd notice, as he was distracted by the huge butterflies that were flitting around this space, as if it was still summer.
However, you're not allowed to just help yourself. There's a stall, where you can BUY a bag of their organic and heritage apple varieties. They're in baskets and boxes and have evocative names that sound a bit like boats or fairground horses. There's Ingrid Marie and Ribston Pippin, as well as the more Gothic sounding Bloody Ploughman or Falstaff.
We procured a few. Then, to continue the theme, we visited this nearby cafe.
They're popular enough to have opened a pre-lockdown second branch in nearby Earlston, where they're currently holding the occasional dinner event. However, we overshot our destination, and ended up in the original, after a browse in next door shops, The Bookroom and a florist.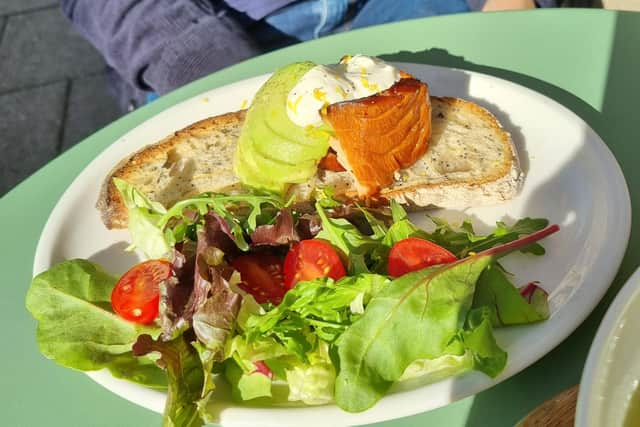 Although the tiny space was already full, we bagged one of their two alfresco tables.
They're big on brunch, but there's also an After 12 menu. I planned to try the flatbread with whipped feta, lemon and garlic that was on this list, but I was too slow and they'd already sold out. Instead, I went for a filled bagel (£8.50, with soup, £5 without). It was an excellent version, coated in a shingle of poppy-seeds and dried onion.
Bross Bagels better watch out, I thought, but when I asked the waiting staff, it turns out that it's this very Edinburgh business that supplies them with their holey bread. There was a good amount of stuff packed into its interior too, including tiles of waxy goat's cheese, soft roasted red peppers and a spoonful of honey, which made my fingers tacky.
Their soup of the day was a classic pea and mint affair. It was a hearty potato-based soup, which was thick enough that the Owl and the Pussycat would have to do some heavy-duty rowing and end up with overdeveloped muscles in their wings and paws.
Our other main of topped sourdough (£8) was a little perfunctory. This was a single raft of toast, but with no butter, a fist-sized chunk of robust-tasting hot smoked salmon, a fan of soft avocado, a blob of creme fraiche with a few bits of lemon zest on top and an undressed salad of mixed leaves and cherry tomatoes. If they'd added a touch of seasoning, we would've been much happier.
We shared a glass of Left Field No.2 Sencha Green Kombucha (£3) for instant fizzy fortitude.
The cakes here are behind the counter, along with the toilets (it's a really tiny space), and I suppose to continue the theme, we should have gone for the apple pecan cake. Instead, feeling under pressure from the queue that had swiftly built up behind me, I went for a piece of tiffin (£3.50) - a chunky paving slab of an isosceles that was stuffed with fat glace cherries and topped by an inch thick layer of chocolate, and a comparatively neat sliver of pear and frangipane tart (£3.50). Both were decent, and I was impressed by our iced latte (£3.10) and cortado (£2.50), both made from the Eildon blend from Selkirk roasters, Three Hills Coffee.
It seems that there's no need to scrump, while there's this cafe to visit for an affordable lunch.
I will remove the Bloody Ploughmans from my bra and return them immediately.
How much? Lunch for two, excluding drinks, £23.50
Comments
Want to join the conversation? Please or to comment on this article.