Halloween Dog Treat Recipes: Here are 5 homemade treats for your adorable dog this spooky season 🐶
It's nearly Halloween - and there's no need for our four-legged friends to miss out on the frightful fun.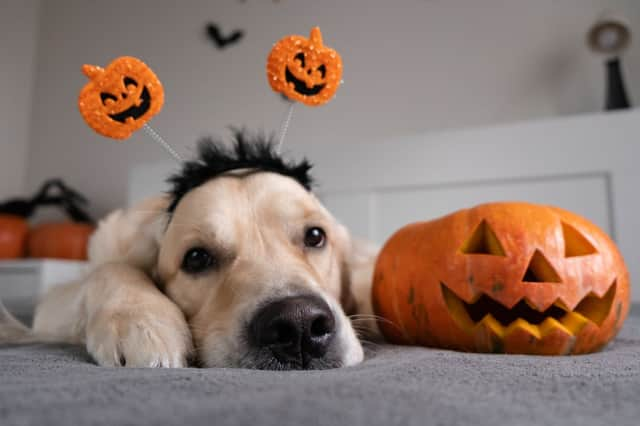 It's been reported that over two-thirds of dog owners say they are thinking about dressing up their pups this Halloween.
Pet costumes have become increasingly popular over the last several years, meaning it's no longer unusual to see four-legged friends taking to the streets dressed as everything from Star Wars characters to giant spiders.
It can be fun for both dogs and owners, although it's important to remember that our pets can be very easily stressed by costumes – if your pet is a little anxious, it's best to skip outfits all together.
What all dogs can enjoy this Halloween is an extra-special treat - and there are several great options you can make at home that are as cheap and easy as they are tasty.
Here are five great ideas, courtesy of the experts at Puppy Hero.
Pumpkin flavoured dog treats
100g pumpkin puree - £1.60 
65g brown rice flour - £2.25
Frozen green peas - 95p
From PSL to pumpkin pie, the season of pumpkin-flavoured treats is certainly upon us, and your furry friend should also be able to get involved in the autumnal fun!  
Start by preheating your oven to 180C. Next, mix the pumpkin puree with flour gradually to work into a dough, if your mixture is too dry add some water to adjust the consistency. Once your dough is formed, roll your dough into small balls, place on a lined baking sheet and flatten gently with your hand. 
Use the flat side of a fork to create the lines of a pumpkin and top with a frozen green pea to create the pumpkin stem. Bake for 10-15 minutes, and allow time to cool before you serve your pooch. 
Pumpkin ice lollies
100g Greek yoghurt: £1.10
50g cantaloupe melon £1.89
1 tbsp honey: 75p
This delicious doggy delicacy is easy to prepare, by simply removing the skin and seeds from a melon and chop into small cubes. 
Add all of your ingredients to a blender and blend until the mixture is combined. To give your furry friend the ultimate Halloween treat, fill pumpkin-shaped moulds with the mixture and freeze for 4 hours or until frozen, let them stand for a few minutes, and serve!
Spooky frozen skulls and bones pupsicles
250g plain yoghurt: 35p 
70g kale leaves: 79p 
55g blueberries: 99p
These spooky pup treats take just 15 minutes to make, and are a hauntingly healthy treat for your dog! 
Simply blend together half of your chosen yoghurt with blueberries, and then the remaining yoghurt and kale. Pour both of your mixtures into some skull and bone moulds to make the perfect spooky surprise. Freeze the 'pupsicles' for 2-3 hours until solid, before giving them to your dog. 
Halloween pupcakes
2 ripe bananas: 26p
2 tbsp peanut butter (xylitol-free): £2.49
80g honey: 75p
2 eggs: £1.35
200g wholewheat flour: £1.25
1.5 tsp baking powder: 65p
60ml olive oil: £2.75
150ml water 
50g peanut butter: £2.49
70g Greek yoghurt: £1.10
This dog-friendly Halloween treat is a great way to include your dog in the spooky festivities. 
Simply mash the bananas until smooth, add peanut butter, honey and eggs and mix thoroughly. Add the flour, baking powder, olive oil and water and mix into a batter. Line your baking tray with cupcake cases and spoon your mixture into the cases. Bake for 15-20 minutes at 180C / 160C fan.  
While cooking, melt your peanut butter in a microwave for 30 seconds and mix with Greek yoghurt. Once the cakes are out and cool - top them with your 'icing'. 
'Boneyard' bites
250g Pumpkin puree (100% pumpkin): £1.60 
250g plain yoghurt: 35p
Bone biscuits: £1.65
To make these delicious spooktastic treats, simply mix together your pumpkin and yoghurt until well blended. Scoop your mixture into a muffin tin and then decorate with bone shaped dog biscuits to create a spooky boneyard perfect for Halloween celebrations. Place these in the freezer for at least four hours before serving to your pooch. 
Comments
 0 comments
Want to join the conversation? Please or to comment on this article.