When is Good Friday 2021? The Christian holiday explained - and whether you can attend church for Easter celebrations
Could Good Friday mark the beginning of the end of lockdown?
Although Easter Sunday is the most significant of all Holy Week celebrations, Good Friday is also a prominent event in the Christian calendar.
As lockdown eases across Scotland, there is now the possibility that church goers could enjoy the first in-person mass of 2021, in late March.
So, what is Good Friday a celebration of and will there be a celebration in churches this year? This is what you need to know.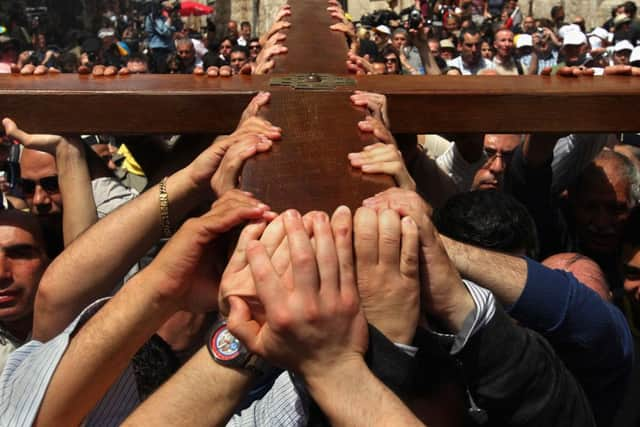 When is Good Friday 2021?
What is the story of Good Friday?
Good Friday signifies the day Jesus, son of God, was crucified in Calvary, just outside of Jerusalem.
The New Testament tells how Jesus spent the previous night, Holy Thursday, at the Last Supper, during which he broke unleavened bread and drank wine with his apostles.
He told his apostles the bread represented his body, the wine represented his blood - the reason why Christians distribute 'the body of Christ' sacramental bread at mass and drink blessed wine.
On the Friday of his crucifixion, Jesus gave up his body as a sacrifice so as people's relationship with God could be restored - known as the Atonement.
He was forced to carry a crucifix on his back, and a crown of thorns were placed on his head.
Jesus fell three times during his journey to the top of the hill in Calvary, with his mother Mary wiping his face upon one of these falls.
Jesus was then nailed to the cross by Roman soldiers, under the orders of Pontius Pilate.
Two days following the crucifixion, according to the Apostles' Creed, Jesus rose from the dead and was ascended into heaven to be seated at the right hand of God.
Why is it called Good Friday?
With the death of Jesus, people may wonder why this day would be described as 'good'.
In the Catholic faith, 'Good' is often used to describe something Holy - as evident in the saying "good tide" at Christmas or Shrove Tuesday.
This is explained by Fiona MacPherson, senior editor at the Oxford English Dictionary, who stated the adjective traditionally "designates a day on (or sometimes a season in) which religious observance is held."
Some have speculated that it could be derived from 'God's Friday', but this seems unlikely as it was not labelled as such by any Christian or Catholic scripture.
How is Good Friday celebrated?
Christians usually observe this holy day by attending mass at their parish church.
At mass, the story of Christ's crucifixion will be read out by a member of the clergy or volunteer.
Churches will display a series of 14 pictures or carvings portraying events from the Holy Week, from his condemnation by Pontius Pilate to his entombment.
Some Christians may also choose to fast from food and drinks on this day, as a mark of respect for the pain and sacrifice Jesus suffered.
Good Friday is a Bank Holiday across the UK, at the beginning of the long weekend for Easter.
Will it be celebrated this year?
Nicola Sturgeon has outlined Scotland's routemap out of lockdown, including when churches can reopen for group prayer.
Although these will be limited to 50 people, church attendees can congregate at mass from 26 March.
This means the last week of Easter celebrations – including Holy Thursday, Good Friday and Easter Sunday could all be celebrated with a mass.
However, it will be for individual parishes to decide whether mass goes ahead, in line with guidelines from their leaders and Scottish Government restrictions.