First Minister Nicola Sturgeon has confirmed the next phase of lockdown easing will go ahead as planned – including changes in the number of guests allowed at weddings.
Big family events such as weddings and civil partnerships have been put on hold for the best part of a year for some people, amid the coronavirus pandemic.
Restrictions around social gatherings and special occasions have never been so keenly felt as they are now, with hope of a return to some sort of normal life by the summer.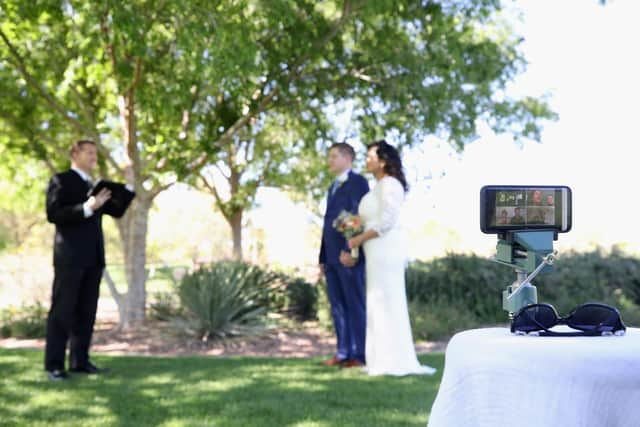 Scotland's First Minister has said the country will move from Level 4 to Level 3 of the Scottish Government's five tiers of restrictions to limit the spread of Covid.
Weddings in Scotland are currently permitted, however, the ceremony may look a little different to what the bride and groom initially had hoped for from their special day.
Current Covid rules put restrictions on the number of people allowed to attend a wedding ceremony or civil partnership in Scotland.
Scottish Government guidance outlines that no more than five people (or six if an interpreter is required) can attend a ceremony.
Restrictions mean that the ceremony can only take place provided the venue's capacity allows for two-metre social distancing.
Wedding and civil partnerships receptions are not permitted from to take place.
"Face coverings must be worn by those attending a wedding or civil partnership, except for the couple and the person conducting the ceremony," its guidance states.
"Face coverings do not need to be worn by the person leading a funeral service or by the person providing the eulogy.
"Christenings, bar mitzvahs and other life events apart from weddings, civil partnerships or funerals should not take place."
When will the limit on numbers at weddings and civil partnerships change?
First Minister Nicola Sturgeon has confirmed that wedding ceremonies and receptions can resume for up to 50 people from 26 April in Scotland.
It is part of the government's wider plan to progressively ease lockdown rules in the hope of "much greater freedoms" in the summer, Ms Sturgeon said.
As well as changes to wedding numbers, up to 50 people will also be allowed to attend funerals, while beer gardens, cafes, shops and gyms are set to reopen.
What are the factors involved in the decision?
She said at the time: "So while our watchwords at this stage continue to be caution and patience, there is little doubt that we now have much firmer grounds for optimism that vaccination, and the other tools at our disposal offer us a route back to greater normality.
"However, it is by being cautious, careful and patient for the next period - while the vaccination programme progresses - that we will make that route as safe and sustainable as possible.
"Taking the brakes off too quickly will allow the virus to get ahead of us again and put our progress out of lockdown into reverse.
"I appreciate that this can be a frustrating message - but it is an essential one."