Retired biker's bucket list comes true – Edwin hits the road again after selling bike to fund his wedding in 1969
For petrol-heads the love of bikes never goes away, as this septuagenarian proved, with help from the thanks to the biker community.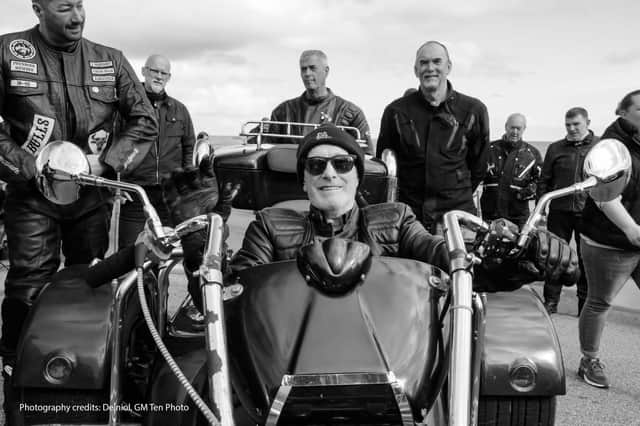 A care home which believes in living life to the full has helped make dreams come true for a retired biker.
It has been 54 years since Edwin Murray, then just 18 years old, sold his BSA bike to help pay for his wedding to Alison. Now widowed, the 72-year-old former shop owner, lives in Jesmond Care Home in Bridge of Don, thought his days of getting back on a motorbike were a pipe dream.
But a chat at the home about fulfilling dreams, and being able to reclaim things they thought was lost, turned into an epic motorbike cavalcade along Aberdeen esplanade, with more than 60 bikers rallying to help make Edwin's wish a reality.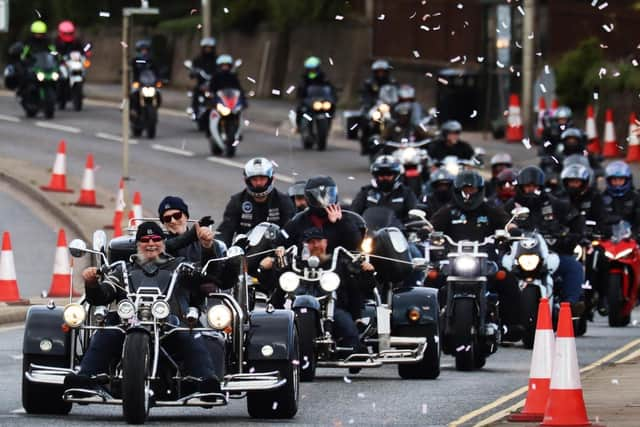 The care home manager had put out an appeal on Facebook, and one of the first to respond was Glasgow man Tam Johnston (62), who works in the haulage industry, and has been a biker for 45 years. He realised his VW engine-powered Rewaco trike would allow wheelchair-user Edwin a safe route back on the road. He then rallied other online friends to join him, and got a huge response.
Tam said: "It was brilliant meeting Edwin, hearing his story and just chatting motorbikes. You tend to find that once you get your first bike, it stays with you for the rest of your life.
"I've been a bit of a 'petrol head' myself since I was a young guy from seeing Barry Sheene and Evel Knievel on the telly. I've been out on the road throughout my career driving trucks, but nothing beats the bike and when I saw the message about Edwin, I thought, that's the job for me.
"People have a lot of misconceptions about bikers, but the community is like nothing else. They're so generous with their time, always helping charities and good causes – partly because we never miss an opportunity to get out on the road – but also because we all have this shared belief that if we can do something that helps others, we should."
Another 60 bikers joined the drive to the esplanade, where Edwin, kitted out in leathers courtesy of Breaking Point bike shop Aberdeen, enjoyed an ice cream by the sea.
He said: "I couldn't believe it when I got out the door at Jesmond. We had a meeting at the home where we chatted about things we loved when we were younger. I talked about my old BSA bike and how I'd love another go on a motorcycle.
"I knew the home had organised something for me and I was obviously grateful, but I'd no idea it would turn out like this. It was perfect."
Renaissance Care has 17 homes across Scotland, and says its wellbeing strategy is key to keeping residents happy and healthy.
Jesmond manager, Dawn Gardiner, explained: "The quality of care is a given at Renaissance Care. Your health and wellbeing is our number one priority, but we're much more than just a care provider.
"Our residents are our family, and, like your own family, you do everything you can to maintain their lifestyle and wellbeing.
"We're all so happy Edwin got to make his wish come true and we're incredibly grateful to everyone who helped make that possible."
The person-centre approach, where residents are treated as extended family members, is there for both long-term residents, and those staying for shorter respite care visits.
Yvonne Richardson, Operations Director said: "People are often hesitant about leaving their family home, or placing a loved one in a care home, however this can be a positive experience for the full family. We often find that people want to try short respite visits as an introduction to a care setting. This can offer important rest and recuperation for both the individual and the carer.
"There is a real sense of community and inclusion felt by short stay residents in a Renaissance Care home. Any previous feelings of loneliness and isolation are eliminated, as residents meet new people and enjoy a fresh perspective on life.
"At times, this leads to more permanent care, however, it also provides a regular and welcomed opportunity for much needed time out for family members. We treat our residents as we would our family, and it shows."