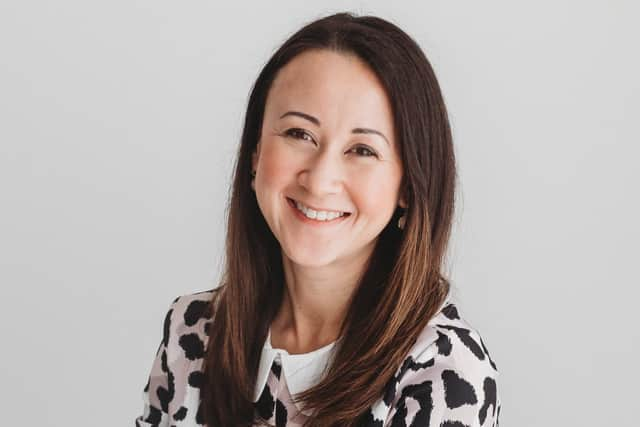 Johanna Basford Pic: Hayley Hadden
A few years ago, some people started picking up felt tip pens for the first time since they were children.
The colouring in trend was part of the mindfulness movement and Aberdeenshire-based Johanna Basford, 39, was one of the most popular pioneers. To date, she's sold an incredible 21 million copies of her books, which include Enchanted Forest and Magical Jungle, worldwide.
Now, there's her newest release, Rooms of Wonder.
Rooms of Wonder book jacket
Basford designed this book during stressful times in her own life, as she divorced her husband, James Watt, CEO of Brewdog, in 2020, and is also dealing with the recent death of her father. As part of her own recovery and to mark the end of lockdown, she has recently returned to her hobby of visiting National Trust Properties. This is significant, as Basford's grandfather was head gardener at Brodick Castle on the Isle of Arran. The new book, like Enchanted Forest, was inspired by this place and other historic locations.
Was it harder doing a book featuring interiors?
It's always tricky working outside of your comfort zone, but that's where the most exciting work happens. Flora and fauna are my safe, happy genres. So to tackle rooms, interiors and manmade objects is different, but I approached the project in the same way I do all my drawings. I imagine what the final result may look like, grab a pencil and start. As someone who champions hand drawing over computer generated art I see mistakes as part of the intrinsic character of a piece of artwork, something to be celebrated.
How were your book sales affected during lockdown?
Johanna Basford in studio
We saw a huge spike in demand. It was a stressful time and so many people, myself included, were looking for coping mechanisms that would ease those anxieties. Colouring is naturally soothing, the simple act of being creative, can allow you to fall into a flow state, a headspace where you aren't chewing over the day's news.
Why has the popularity of colouring books continued?
Colouring has moved from being a trend to a category. It has developed from being this cool new thing, to becoming a staple creative practice alongside established activities like papercraft, watercolour painting and calligraphy. We have our own section in the art stores, our category on Amazon, our community online and our pro-colourists that lead the way and inspire others.
We're all born creative (you never see a toddler holding a crayon, wracked with self doubt, they are too busy drawing on the wall) but as we get older we get in our own way. We tell ourselves we aren't good enough, we don't have the right kit and a thousand other excuses. Well colouring is for everyone. There's no blank page to fear – the outlines are all there, all you need to do is bring the colour. You don't need hours to dedicate – even 10 minutes whilst the pasta boils or the baby naps is plenty.
How have you got through recent hard times?
Self care. For me, that includes time outside in nature, hillwalking, wild swimming, pottering about in my garden. It's also creating – drawing and colouring or writing, sometimes even painting. Creative time always means digital detox away from a screen for me, so it allows my mind a reset from the on-going barrage of emails and alerts. Also a multitude of other things: training at the gym, baking banana bread, reading a great book, laughing with friends, cups of tea, walks at the beach, dancing round the kitchen with my kids. I think the 'do more of what makes you happy' mantra is a good way to approach life at the best of times, but becomes a survival skill during tricky chapters.
Are your children creative?
Absolutely. We have a whole room they have commandeered for arts and crafts. The girls love to draw their own books and masterpieces and I adore the wall in our kitchen which is crammed with their artwork – easily the best creations in the house. For Rooms of Wonder, my daughters and their friends would give me suggestions. Every morning at school and nursery drop off, they would give me creative direction. I'd head to the studio and try my best to draw these fantastic ideas. I printed off these pages as soon as they were complete and passed them to my little co-creators so they could give their feedback and be the first people to colour those pages.
Have you been to Arran recently?
We're just back from a week there. My daughters hadn't been before, so I took them over on the ferry and we explored the island. It was lovely to take them to the places I visited on my summer holidays as a wee girl and experience them as a mum this time.
I don't tend to take direct inspiration from places, more that I try to capture a feeling or to highlight a small aspect of what I see there. This might be the clutter of a lost property office or the delicate patterns on a tea set. I have memories of wandering around Brodick Castle with my gran and her pointing out engravings on wooden furniture or the patterns on a silver vase – all these details that I find charming.
Might your drawing career have taken you elsewhere?
I went through phases of wanting to be an interior designer (mainly due to the TV show Changing Rooms), an architect, a fashion designer, a cartoonist, a tattooist, a graphic designer, a florist, a photographer and an animator. I always loved drawing though and enjoyed how simply you could make something pretty - all I needed was a pencil, a scrap of paper and my imagination, to me, that's magic.
Rooms of Wonder: Step Inside This Magical Colouring Book by Johanna Basford, Ebury, £14.99