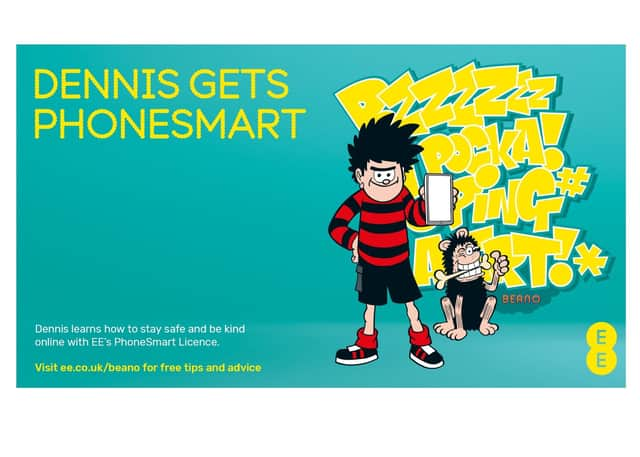 Beano favourite Dennis is a smartphone mischief-maker– but now his antics are helping protect kids online
With instant access to the internet and social media such as WhatsApp, Snapchat and TikTok young people can be exposed to a constant stream of messages, links and information at the touch of a button or swipe of a screen. But just how much of it should be trusted and how can they, and those with parental responsibility, help identify and minimise the risks?
Mobile network provider EE has teamed up with the Beano to put together a campaign to help kids and parents be more savvy about staying safe online - as Dennis gets into mischief with his new phone.
Comic character favourite helps kids – and parents – get PhoneSmart
We asked Ryan, a dad from Hampshire who has three children aged 13, nine and three, about his experiences.
"I've really tried to be proactive with both my daughters using the internet in a safe way by making the most of parental controls on Google, Apple and individual apps.
"I get the impression that parents often get overwhelmed or possibly don't know these safeguards are available. Apps have age limits just like films and as long as a child's account has the correct age entered, that's half the work done for you.
"My daughter has heard of people being bullied via apps which she doesn't have access to because of some simple measures we have put in place which shows they really do work."
How the Beano is helping kids
Like many parents, he found the challenges became more difficult once children became teenagers, like his eldest daughter.
"Lots of her peers seem to have unrestricted access to apps stores on their devices, social media especially. In my opinion, some adults get overwhelmed by the comments, likes and the whole facade of social media vs. real life. That's not something I want my child to be worrying about in their early teens."
But how could the PhoneSmart resource help and reassure parents? Ryan explained: "When my girls used PhoneSmart it was one of the few occasions which was reinforcing what their parents have told them about apps, sites, cyber bullying, virus, data breaches etc., but in a way that wasn't preaching to them, they enjoyed it.
"Their perception of the internet is just how you watch films, TV shows and online shop. It really felt like an ally when keeping them safe online and I wish more parents and guardians used or knew about it. If I can figure out parental controls, anyone can. The chance of winning a prize didn't hurt either."
According to research from Ofcom published earlier this year, almost all children aged 3-15 go online (98 per cent) and nearly two-thirds (58 per cent) use social media.
Sixty per cent of children aged 8-15 say that using social media and messaging platforms makes them feel closer to their friends. More than three-quarters of children aged 12-15 said that being online can help with their school/ homework, while half said it can be used to learn a new skill.
But a third of children aged 8-15 who go online have seen worrying or upsetting content online in the past 12 months. Over six in 10 (63 per cent) children aged 8-15 who go online said they would always tell someone if they saw something 'worrying or nasty' online; 88 per cent of these said they would tell a parent.
The specially-created Beano comic strip shows iconic characters Mrs Menace and Dennis showcasing the potential perils of the online world, and provides parents with actionable tips to ensure their kids stay safe and are kind online.
The comic strip shows Dennis picking up his first phone at an EE store before getting into some characteristic scrapes by making prank calls, uploading a video of his cousin Minnie without her consent and downloading age-inappropriate apps – all of which can occur without the correct guidance.
As well as the comic strip japes, the Beano content also provides parents with useful tips and advice to help parents support their children to be a responsible online citizen and to use their phone safely. [RR1]
The comic also encourages parents to sign their kids up to PhoneSmart. The EE PhoneSmart Licence provides a solution in educating young people about how to stay safe and be kind online – it's free and is available online to everyone, not just EE customers. PhoneSmart takes approximately one hour to complete and features a range of engaging storylines, interactive quizzes and activities.
Although three-quarters of mums and dads have tried to educate their children, according to EE research, more than half admit that if their child saw something unsuitable online they wouldn't know how to stop them seeing it again.
The PhoneSmart Licence is an online course educating children from all mobile network providers on how to stay safe and be kind online. It was created in partnership with experts from Internet Matters to give parents that additional peace of mind as their children enter the online world.
Mat Sears, Director of Corporate Affairs, Consumer Division, said: "As a lifelong Beano fan it's a real joy to see characters I've loved grapple with the same challenges every parent faces when their kids explore the online world. From learning who to trust online, through to which apps and games are safer to use - our comic strips provide parents and kids alike a fun and engaging way to learn how to safely use their phones."
Carolyn Bunting, CEO of Internet Matters said: "Resources such as EE's PhoneSmart Licence are helping to address the need for educational resources for young people and their parents. Even in an environment where the internet is second nature, campaigns such as this are vital in helping to increase understanding of the risks of the digital world and how to overcome them."
To find out more about the EE and Beano campaign and see the comic strip, visit ee.co.uk/beano