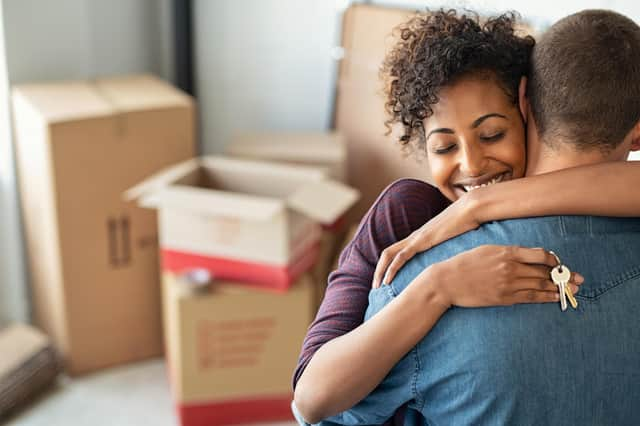 Buying a home together? This Scottish law firm explains the benefits of a co-habitation agreement
When a couple are planning to buy their first home together, there are so many things to discuss. The right neighbourhood, how you want to decorate, potential renovations… it's an exciting time. But more and more couples are also discussing cohabitation agreements. Yes, it's perhaps not the most exciting part of planning your new home, but for many couples, it's an important consideration and it can give real peace of mind.
What's a cohabitation agreement?
Despite its name, a cohabitation agreement doesn't set out who does the dishes or mows the lawn. It's a legally binding agreement that states how your assets will be divided if you separate in the future. Essentially, it's like a pre-nup, but without the wedding. It might not be the most romantic conversation for couples to have, but we're finding more clients are seeing the potential benefits.
Say you and your partner buy a property and ask your solicitor to put it in joint names. This legally means that you own the property jointly. Therefore, if it were to be sold you would both be entitled to 50% of the proceeds. However - as can often be the case - if one of you has contributed more money, or even all the money for the purchase, a 50% split can be unfair and these situations can cause a great deal of distress for couples.
This is especially true for unmarried couples (although it also applies to spouses) and it's advisable that you think about how you will deal with this situation should it arise in the future. With no legal agreement in place, if you separate and sell the property, a person who may have paid 90% of the purchase price may be left with only 50% of the proceeds.
These legal agreements can also set out who gets what in terms of joint assets, (contents of the home, cars, finances, even pets). They give couples the freedom to set out how they intend to split their property and assets if they decide to separate, but they can also be helpful in a more positive way to record how the relationship will work, such as which partner will pay the mortgage or fund renovations. It can also cover whether life insurance or wills will be put in place.
Speaking of wills, this is also something that unmarried cohabiting couples should take into consideration. Should one of you die without making a will (to die intestate), the surviving partner is not automatically entitled to inherit anything from the deceased's estate. In that scenario, they would need to make a claim to the court to ask for an award from the estate, which can be an emotional and expensive process. The only guaranteed way for an unmarried partner to inherit is by being named in a will. So while again, it's not an easy or fun discussion to have, it can be very beneficial to look at making a will when you purchase a property together.
We're speaking to more and more clients who are finding themselves in this situation. We always advise that some open discussion, careful reflection and a comparatively modest commitment to legal fees at the time of purchase can avoid a lot of stress, heartache and considerable expense later on if things do not work out.
Our experienced team of Family Law solicitors can help advise you in this matter and put a cohabitation agreement in place quickly and smoothly, while our Personal Law team are on hand to help you arrange wills. And our Property Team are also experts at navigating the tricky house sale and purchase market in Edinburgh.
So if you're planning on buying a property together and want to get peace of mind and a friendly, personal service, all under one roof, get in touch with Gibson Kerr. To talk to one of our experienced and friendly family law solicitors to discuss cohabitation agreements, please contact at [email protected] or by telephone on 0131 226 9161.