Don't be taken in by fraudulent 'help' – Gareth Shaw
Scammers are taking advantage of worried people during the pandemic – don't be taken in – there have been more than 500 scams related to coronavirus, with victims losing £1.6 million in just a matter of weeks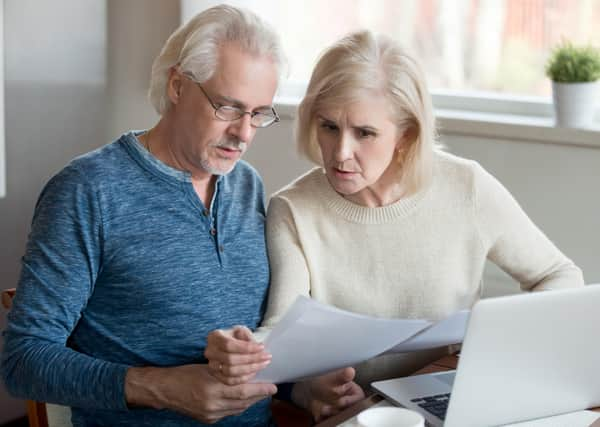 AThe coronavirus pandemic has caused an explosion of scams and fraud, and I am afraid this is one of hundreds of examples of attempts to defraud people. According to the City of London Police, which oversees Action Fraud and the National Fraud Intelligence Bureau, there have been more than 500 scams related to coronavirus, with victims losing £1.6m in just a matter of weeks.
The email you received follows a similar thread to other scams – official government bodies such as HM Revenue and Customs and the Department for Education, offering you financial support during the crisis.
In one email, the Department for Education purportedly is offering free school meals now that schools have closed. It asks for bank details so that the money can be paid into your account. This is a scam.
Another text message scam comes from an entity called 'UK Gov' warning people that their movements have been monitored during the lockdown and that they need to pay a fine. The message contains links which, if clicked, will attempt to get sensitive information from you.
We've seen emails that appear as though they have been sent by the World Health Organisation (WHO), with a link to a document offering advice on the coronavirus disease. You're then taken to a website which looks just like WHO's, which requests your email address and password, but doesn't send you any material.
Combine this with fake news circulating across social media platforms – such as 5G causing coronavirus and or doom-laden warnings about there being no vaccine for the disease – and you can see why people can get hooked into a scam when there is so much confusion. Indeed, just this week messaging application WhatsApp set stricter limits on message forwarding in a bid to spot the spread of disinformation.
I can see why you fell for this. The government and banking industry are genuinely offering all sorts of schemes to support people financially during the crisis. The government is offering to pay the salaries of employees and eligible self-employed people if they cannot work at the moment. Banks are offering mortgage payment holidays and debt relief, as well as loans to businesses, while local authorities are offering grants to the worst off. All of these schemes are to be welcome, but they are sadly all fodder for scammers to target.
So, what should you do? Not only have you clicked on what could be a malicious link in your email, you have also given over some sensitive details. Thankfully, this did not include your banking details, but you will now need to be on your guard, as the fraudster that targeted you has some ammunition to try and extract more information from you.
I would suggest changing passwords to your email account and perhaps social media, if you have any accounts, as a precautionary step, and then report the incident to Action Fraud (actionfraud.police.uk). It might be helpful to contact your bank as well, and you could consider paying £25 for 'Protective Registration' with fraud monitoring service Cifas, which flags to companies you apply for goods and services with (such as a bank account or credit card) that you may have been a victim of identity fraud, so that they make more stringent application checks.
I would expect that, if the scammer has your landline number, it will be trying to contact you. It could be impersonating your bank, a government body, or a service provider, such as your broadband provider. If you have call blocking technology on your phone, consider activating. This forces callers to state who they are before you answer – if you don't recognise the person, you don't have to answer.
Remember, no bank or government institution will call you out of the blue urging you to make a transfer or that you have to hand over any details. If you're asked this, it's very likely to be a scam.
Gareth Shaw is Head of Money at Which?