Outdoor Christmas decorations: best lights, wreaths and outdoor reindeer for your garden - from Argos, to The Range and B&Q
Light up your garden this Christmas with snowmen, sausage dogs and stunning festive wreaths
It's unlikely we'll have public Christmas lights display and festive markets this year, so bringing your own garden to life with great quality Christmas decorations will be more important than ever.
From wreaths to silhouettes and icicle illusion lights, here is everything you need to make your own winter wonderland.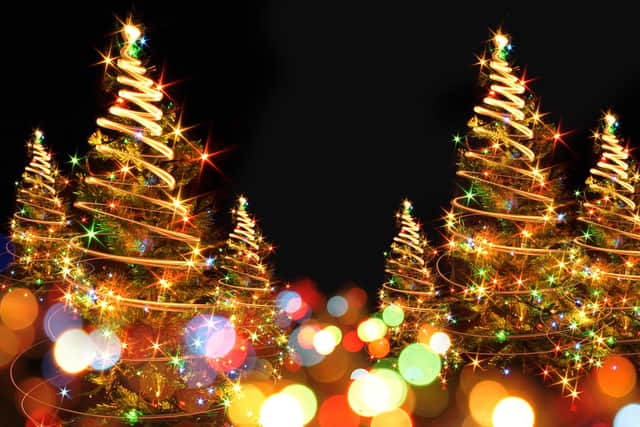 Decorated with red berries and pine cones, the frosted leaves of this beautiful wreath give a wintery feel.
Pre-lit Nordic Spruce Wreath 60cm
A soft white glow of lights laced through the winter leaves makes this a stunning design.
Poinsettia Wreath in Red and Gold 60cm
The floral design and gold baubles offer something a bit different.
Large Bow and pine cone Wreath
Forget berries and baubles, this wreath is decorated with seasonal cinnamon sticks and topped with a bow for a modern twist.
Light up outdoor characters and silhouettes
Rudolph Rattan Effect LED Reindeer
Bring Christmas to life with Rudolph to greet guests in your garden.
Light up Santa with Lantern
This super fun acrylic Santa holding a lantern beams the bright traditional colours of Father Christmas..
Christmas Brown Sausage Antler Dog Light
'Dachshund' through the snow with this light-up Rudolph-themed sausage dog.
White Christmas Waving Yeti Light
Kids will love this cartoon Yeti dressed in a string of multicoloured lights.
Red LED Present trio Silhouette, Set of 3
Light up your garden with LED christmas presents in a red design, wrapped with large white bows
Multicolour LED Pyramid Silhouette
This modern take on Christmas trees features multicoloured lights wrapped around wire Christmas tree silhouettes
200 Multicolour LED Garland String lights
Perfect for decorating outdoor trees or windows.
300 Cold white & blue LED Icicle String lights
These lights give the effect of falling snow or icicles.
60 red berry cable lights
Weave through garland or decorate your garden trees with soft glow berry lights.
10 Wooden Star String Lights
These battery-operated string of star lights are perfect for outdoor festive decoration.
Snowing Icicle Christmas LED Lights 360pk - Cool White/Warm White
Hang around your patio or roof soffit to give the illusion of a winter wonderland.
Inflatable Christmas Characters
Homebase has an array of different inflatable decorations, from typical Santa to 6ft disco light bears for £40.