How many reindeer does Santa have? Names of Rudolph and her friends - and why they are female
The traditional tale of the reindeer leading Father Christmas' sleigh dates back to 1823
It's nearly time to hear those sleigh bells jingling, ring tingle tingling too. When Santa comes to town, kids will be ready to leave out a carrot for Rudolph - but what about the other reindeer?
That's right - there is a whole sleigh-full of reindeer working night shift on Christmas Eve.
Here is what you need to know about Rudolph's crowd.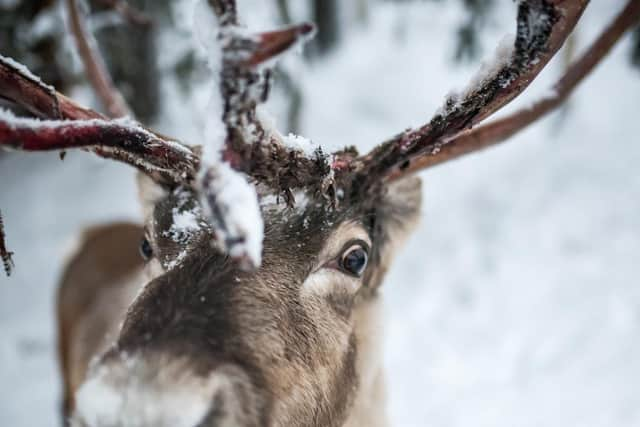 How many reindeer does Santa have?
In 1823, the original eight reindeer were named in Clement Clarke Moore's famous poem 'A visit from St Nicholas', better known as 'Twas the night before Christmas'.
Clarke Moore's poem goes: "Now, Dasher! now, Dancer! now, Prancer and Vixen!
On, Comet! On, Cupid! on, Donner and Blitzen!"
However, there is now an argument that Henry Livingston, Jr. - a Dutch poet, was the writer of the famous song.
The names of Blitzen and Donner were originally Blixem and Dunder, but changed in a republished version in 1844.
However, nearly a century later, Chicago-based copywriter Robert L. May added Rudolph, the most famous reindeer of all, in 1939.
He wrote of the left-out shiny-nosed reindeer in a child's colouring book titled 'Rudolph the red-nosed reindeer', which was handed out during the festive period to over 2.4million children at department stores, Montgomery Ward.
Rudolph became the icon he is today thanks to the 1949 song of the same name, which shot to Christmas number one in the US.
The lyrics follow on from 'A visit from Saint Nicholas", as if to add to the story.
It names the first eight reindeer, before asking "But do you recall, The most famous reindeer of all -Rudolph the Red-Nosed Reindeer".
What do their names mean?
Donder and Blixem translate to Thunder and Lightning in Dutch, respectively - one of the reasons scholars now believe the original poem was written by Livingston.
They were later changed to Blitzen to rhyme with Vixen and Donner in May's Christmas book.
Vixen is the name of a female fox, often associated with strong and powerful women.
Rudolph was almost named Rollo or Reginald, before being scripted as Rudolph, meaning 'famed wolf' in German.
Dasher, dancer and prancer most likely refer to how the reindeer moved through the sky, though we can't be sure.
What do their antlers tell us about them?
The antlers of Santa's reindeer mean that the fleet must all be female.
Reindeer are the deer species where both males and females grow antlers, however, males shed their antlers in November.
Meanwhile, female reindeer keep theirs until May, therefore Rudolph and her crowd are girls..
What else is different about reindeer?
Here are some facts you might want to include in your Christmas Quiz:
1. In America, wild reindeer are known as caribou
2. Reindeer antlers grow to the biggest and heaviest in proportion to their bodies, than any other breed. Male antlers can reach to 51 inches, while female antlers can grow up to 20 inches.
3. Reindeer are the only deer species to have hair completely cover their nose.T They use their noses to find food hidden under snow, locate danger, and recognise direction (although their noses aren't really red).
4. In the winter, herds will travel up to 1,000 miles south in the search for food.
5. Reindeer are widely domesticated and used for their meat, milk and hooves (maybe don't tell the kids that one).