Here's how some of your favourite Edinburgh celebrities are spending Christmas
In households across Edinburgh, people will be opening up presents from Santa, stuffing their faces with mince pies and enjoying a glass or five of bubbly as they celebrate Christmas Day.
And the famous faces, they're gearing up for the big day just like us mere mortals, and won't be exempt of government guidelines either.
We caught up with some well-known Capital celebrities to find out how they'll be spending Christmas Day this year.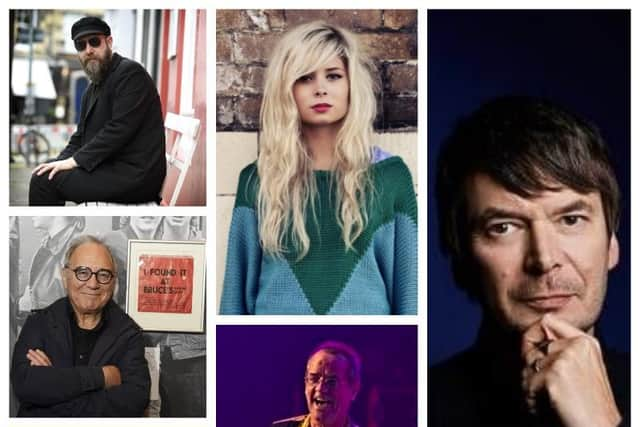 "It's going to be a quiet one. We hope we can visit our disabled son at his facility – it'll (at best) be us one side of the gate or fence and him the other. But it'll be better than nothing!
"Our other son will be with us. Turkey for lunch in our flat. We'll maybe start a new jigsaw after.
"And if the weather is fine it would be great to take a walk to a quiet Princes Street."
Stuart 'Woody' Wood, Bay City Roller
"Covid got my dad earlier this year, so Christmas will be a wee bit quieter.
"I'm looking forward to having turkey and all the trimmings with my beautiful wife Denise and our wee dug, Elvis.
"Hopefully, 2021 will have me back on tour with the current Bay City Rollers and finishing our new album."
"It'll be a quiet Christmas this year in the countryside. Will definitely be cooking a lot and binge-eating on the sofa whilst watching multiple Netflix shows.
"We do a Swedish Christmas on the 24th, which is when they have their meal, and then a Scottish Christmas on the 25th.
"Purely an excuse to long it out and have as much food as possible!"
Bruce Findlay, former Simple Minds manager
"On Christmas day, because I left it too late to get a goose or turkey or bird, we've ordered a special Christmas dinner, for two.
"So, dinner for just the two of us on Christmas day, lots of TV – and if it's dry, maybe a walk on the Water of Leith walkway to Saughton Park.
"Normally, on Boxing Day, we'd have a family get together at our place, around 20 of us, but this year we'll be having a 'Zoom' get-together. Thank heavens for technology!
"That's it... Christmas dinner for two on Christmas day and a family 'Zoom' catch up on Boxing Day.
"I hope everyone plays by the rules this 'festive period', and if we all stick to that we can knock this thing on the head.
"Hopefully, everyone might get the vaccine by summer and the world will slowly recover."
Martin Metcalfe, musician
"My Christmas will be so uneventful it would send everyone to sleep. I'm a bah-humbug type of old rocker.
"I'll be drinking virgin drinks and eating mock meats as I'm 'aff' all 'o' that. I haven't eaten a chicken since 1991 and I haven't touched a glass of mulled wine since 1996.
"I would love to tell you about the orgy we usually have with the neighbours, but Covid-19 has put an end to that!"
"I get up early, hopeful for a blue sky. I don't care how cold it is – I'll even take a white sky, or stormy. What I don't want is that oppressive grey sky we sometimes get in Scotland that feels like a blanket deadening everything.
"Usually, we get fairly lucky but morning is the time to seize they day before our mercurial weather shifts.
"I might have some salmon, sourdough, hot tea. I don't drink in the morning even at Christmas, because it makes me feel gross for the rest of the day.
"I'll do gifts, with my partner, later, my little boy even later as he is going to the other side of his family this year, first time ever – it seems very grown up.
"I like to go to the beach for a long walk after breakfast. There is something special about being on the beach on Christmas day."
"I luckily came up last week from London, so just missed the lockdown down south.
"It's not a great time as friends of mine haven't managed to get home for Christmas and will be spending it alone.
"I guess we just have to remember we're doing it for the greater good."
"With a Swedish mum and a Scottish dad there are plenty of traditions to be enjoyed by the young Kitchins, not least the celebration of Christmas twice – once Swedish-style on the 24th and again the next day.
"Christmas in our house is always a big occasion and there's a lot of excitement already."
"This Christmas will be very different from last year, that's for sure. This time, last year I was packing my bags and getting ready to head to Tucson, Arizona to start making my record there with the guys from Calexico.
"Like most people, I will be home this year – just me, my wife and daughter. We'll have a lazy morning doing breakfast and sharing presents, followed by a nice walk up one of the local hills before dinner.
"We'd usually head down to Leith in the morning to visit my parents, but sadly not this year due to Covid.
"I'll have a few days to chill before looking towards 2021 and my first online gigs of the year, and the release of my Desert Trilogy EPs."
A message from the Editor:
Thank you for reading this article. We're more reliant on your support than ever as the shift in consumer habits brought about by coronavirus impacts our advertisers.
If you haven't already, please consider supporting our trusted, fact-checked journalism by taking out a digital subscription.
Comments
 0 comments
Want to join the conversation? Please or to comment on this article.