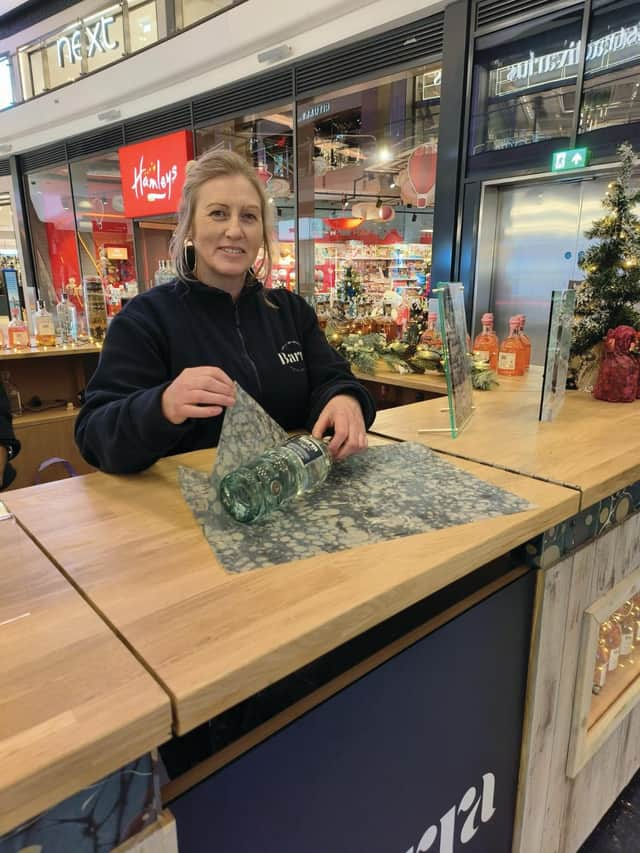 Another sale wrapped up at the Isle of Barra Distillers' pop-up outlet at the St James Quarter in Edinburgh
However, one perhaps suprising thing Barra lacked until recent years was a – legal – distillery.
Isle of Barra Distillers started as the dream of husband-and-wife team Michael and Katie Morrison. Their vision was to build a future for their family and generations to come with the foundation of Scotland's most westerly distillery in August of 2017.
Inspired by the adventurous spirit of the people of their island home, Michael and Katie created Barra Atlantic Gin, a crisp, bracing spirit distilled from 17 specially selected local botanicals, including the signature carragen seaweed which is hand-foraged from the shores of the Atlantic close to where the couple live.
It's a distinctive gin with a refreshing maritime snap to it and, while it boasts a not-to-be-trifled-with ABV of 46 per cent, it's clearly been distilled with flavour rather than potency in mind. For those who prefer a lighter, fruitier tipple the family distillery also offers two gin liquers, Rhubarb & Heather and Strawberry & Ginger, at a more temperate 20 per cent.
Earlier this month, Isle of Barra Distillers launched a new vessel for its signature spirit that celebrates the gin's relationship to the sea. Their new bottles are now made from 78 per cent recycled glass and, as such, each one is slightly unique. In addition, the bottle weight has been reduced significantly as has the distance from their new glass suppliers to the distillers.
Now Michael and Katie have decided to bring the taste of Barra to a pop-up outlet on the ground floor of the St James Quarter in Edinburgh for the festive season.
"The Isle of Barra's remoteness makes it truly unique but it's not always easy to take time out to visit," the couple says. "Bringing our pop-up to the city of Edinburgh, we hope will allow you to experience a little piece of Barra this Christmas."
Open now, the outlet will trade until Wednesday, 21 December and offers a chance to sample the family distillery's entire range as well as some special festive release products, such as their Barra Atlantic Gin Christmas Crackers.