Charity Christmas cards 2020: Cancer Research UK, British Heart Foundation and more have released their designs - where to buy them online
Your seasons greetings can help vulnerable people in the UK and around the world this Christmas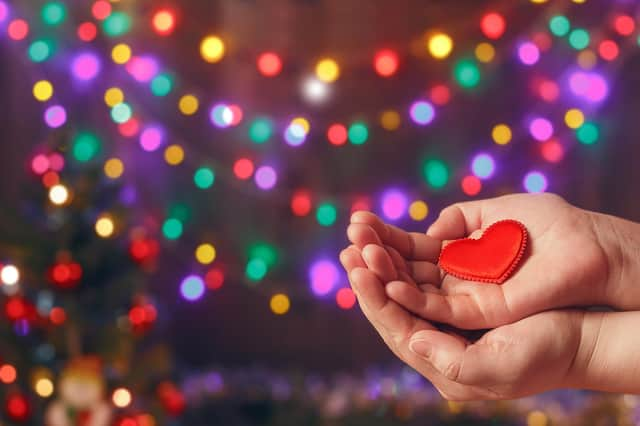 UK charities have released their Christmas cards for 2020
Charities such as Oxfam, Save the Children and Marie Curie have released designs for their Christmas cards this year.
Meanwhile ASDA, Sainsburys, Marks and Spencer and Waitrose will also donate profits to their chosen charities from the sale of their Christmas cards.
While many festivities have been cancelled this year, the simple act of sending a card may put a smile on the face of your loved ones - and many other people around the world.
What charities are selling Christmas cards?
Alzheimer's societyThe dementia charity supports people with dementia and their families in the UK.
Their christmas card designs range from herds of cartoon sheep to a nativity scene and Bah Hum Pugs.
Cards come in a pack of 10 and cost £4.99
The charity supports 368,648 children, young people and families in the UK every year through their projects in communities and schools.
They sell their cards through charitycardsonline.com and this year's cards include Christian designs as well as nature landscapes and robins.
Cards come in a pack of 10 and cost £3.50.
100% of the profit from the charity's cards go towards protecting and supporting 368,648 children, young people and families in the UK every year.
The charity has a range of fun, traditional and Christian cards,with scenes of Bethlehem, the twelve days of Christmas and cartoon reindeers.
The UK charity support the installation of defibrillators, blood pressure monitors and CPR training, as well as much more.
Their card ranges from contemporary cards, traditional and religious cards, to fun and cute animal cards.
A pack of 10 costs between £3.49 and £3.99.
All profits from the Christmas card sales will be used by the British Red Cross to 'help people in crisis, no matter who or where they are'.
Their cards have themes of Christmas campers, festive foraging and snowy pups.
Each pack of 10 costs between £3.50 and £3.99.
The UK's biggest cancer research charity have a range of temporary, traditional and fun cards this Christmas.
Designs include a snowy Westminster Parliament scene, The Queen's guards, more traditional reindeers and even a festive sloth.
A 10 pack of cards costs £2.99, some cards are available in packs of 20 for various prices.
The charity supports people suffering from Cystic Fibrosis through research and treatment.
75 pence of each sale of their christmas cards will go directly to supporting their UK-wide projects.
Card designs include a Christmas angel, Christmas veg and Mary and Jesus.
Cards come in a pack of 10 for £3.75
The charity may be best known for their coffee morning fundraisers and compelling work supporting cancer patients and their families - now you can support them at Christmas too.
Their 42 card designs include a dachshund reindog to nativity scenes and frosted landscapes. All profits go directly to supporting cancer patients.
Marie CurieThe cancer support charity has paid tribute to the NHS in some of their festive designs for 2020.
Other designs include christmas hedgehogs, pigs and fairies.
A pack of 10 costs £3.99-£4.99 and all profits go directly to the charity.
National Autistic Society
Supporting adults and children affected by autism to engage in work, education and wider society, the charity also raises awareness of the impact of autism.
Their cards include playful cartoon robins, polar bears and snowmen.
A 10 pack costs £3.95 - £4.25 and all profits go towards supporting their UK projects.
Buying Christmas cards help support the charity's aim to end homelessness in the UK.
Their cards range from a Highland Cow to the star of Bethlehem and roaring winter fires.
The charity has asked for the support of the public to 'Help rebuild thousands of lives, and be the difference.'
A 10 pack ranges from £1.99 to £3.99.
If you are more of an animal lover and wish to support action against cruelty and the general protection of animals around the world then these cards are perfect.
All of their cards showcase a number of photographs of winter species - including Arctic Fox and Polar bear cubs.
A pack of 10 costs £3.99.
What supermarkets have sponsored Christmas cards?
ASDAThe chain is supporting two charities this year - Tickled Pink and Children in Need.
Purchasing one of their 14 charity designs will allow for £60,000 from the sale of Asda participating boxed Christmas cards to be divided equally between BBC Children in Need and Asda Tickled Pink.
A 20 pack of cards costs £3.
The luxury and deluxe Christmas card range will be dedicated to supporting a host of the supermarket's affiliated charities.
When you purchase a pack of deluxe range cards you will be helping Sainsbury's donate £400,000 split evenly between The Royal British Legion and Comic Relief.
The Royal British Legion gives its taxable profits to The Royal British Legion and Poppyscotland.
A pack of 5 luxury cards costs £4, a pack of 4 deluxe cards costs £5.
Waitrose have chosen a selection of charities this year.
10% of proceeds from the sale of their Christmas cards is split equally between The Salvation Army, Marine Conservation Society and Samaritans.
The retailer has designed four Christmas card selections for shoppers to choose from.
By purchasing one of their designs, you will help M&S donate £200,000 to Together for Short Lives in the UK (96%), Marie Keating Foundation in Ireland (4%).
A four pack of cards costs £5-£6.