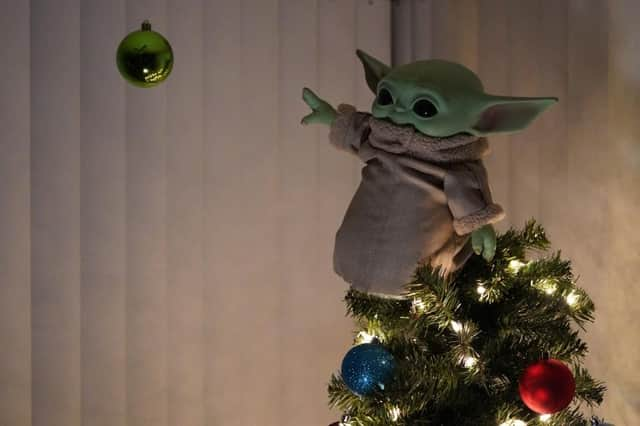 Baby Yoda toy is being used as a Christmas tree topper this year. (Pic: @ntbone / Twitter)
Star Wars fans have found a quirky alternative to placing a star or an angel on the tops of their Christmas trees in the form of a Baby Yoda toy.
Baby Yoda - otherwise known as The Child in Star Wars spin off The Mandalorian - has been the breakout star of the Disney+ series so far.
And it looks like fans of the show have had a lot of fun including the character among their Christmas decorations this year, taking centre stage once more.
Why is Baby Yoda being used as a Christmas tree topper?
A tweet can turn heads and spark a trend for others to follow - and it looks like Twitter user Nick Taylor's post has done both.
His post shows Baby Yoda on the top of his Christmas tree pointing towards a 'floating' bauble, with the words: "Our tree topper this year".
The post has received hundreds of retweets, comments and thousands of likes.
It hasn't taken long for others to share their efforts of The Mandalorian character, nicknamed Baby Yoda, for his resemblance to the well known Star Wars icon, on the tops of their trees.
@Dale_MUFC_ posted two pictures of his Baby Yoda dressed up in a Christmas t-shirt and Santa hat with the wording "Nothing quite says Christmas like a Yoda tree topper".
@WARSTAR93 also shared a picture of their Christmas tree with Baby Yoda on top, saying "Baby Yoda has a purpose this year! He was chosen to become the Christmas tree topper".
While @erin789's dad showed the Dark Side was still prevalent by putting Darth Vadar's mask, gown and lightsaber over his Christmas tree.
What is a Baby Yoda Christmas tree topper?
It's technically not a tree topper but Star Wars fans are using Baby Yoda toys to top their Christmas trees this year.
The Child's toy is highly sought after this festive season following the breakout series of The Mandalorian on Disney +.
Viewers of the Star Wars spin off discover his name is Grogu - an infant member of the same unnamed alien species as Yoda from the films.
Grogu also shares Yoda's ability to use the Force and fans of the show have pointed towards his gifts in the phenomenon sweeping the internet.
Where can I buy a Baby Yoda toy?
Baby Yoda toys have long been predicted to be a big seller this Christmas and are listed in many online must-haves of 2020.
The Child even has its very own edition of Monopoly.