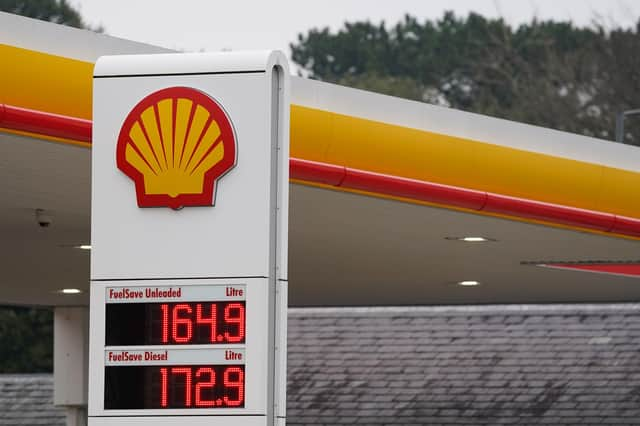 Average petrol prices are continuing to climb higher in line with an overall increased cost of living in the UK. The average cost of filling a typical family car with petrol could exceed £100 for the first time on Wednesday.
Data firm Experian Catalist said a litre of petrol cost an average of 180.7p on Tuesday. That was an increase of 2.2p compared with the previous day.
This was the largest daily jump on 17 years, according to the RAC. A similar increase on Wednesday will take the average cost of a full tank for a 55-litre family car to more than £100 for the first time.
Here's the reason why petrol prices are so high in the UK right now, how much they have gone up by in the last month and what's causing the expense of fuel.
What is the average cost of petrol in the UK today?
According to data collected from petrol forecourts across the UK by Experian Catalist, petrol prices have soared once again to an average of 180.7p per litre, with a litre of diesel reaching 186.6p a litre as of Tuesday June 7th. Similar increases are expected both today and tomorrow (Thursday June 9th).
Why are petrol prices so high in the UK?
Petrol prices are spiking in accordance with rising fuel and oil prices worldwide, with the impact of Russia's initial invasion and continued bombardment of Ukraine sending oil prices higher in March 2022.
Crude oil rose to more than $105 a barrel in the early days of President Vladimir Putin's invasion of Ukraine, with benchmark Brent crude climbing to almost $139 per. barrel on Monday March 7 as new sanctions targeted Russian oil exports.
With much of Europe relying on Russia's copious oil and gas reserves for its own supply, Western leaders' pledge to cut off their supplies of oil from Russia and turn to other sources sent oil prices skyrocketing due to increased demand.
The price of oil has a direct impact on the price of petrol and diesel, as well as wholesale fuel prices overall, because crude oil is used to produce petrol and diesel. Oil prices per barrel returned to more stable prices after their price hike in early March, but the cost of petrol remains high at the pump – and can vary wildly across different areas and forecourts in the UK.
How much has petrol gone up by in the last month?
Both diesel and petrol prices have increased by roughly 10p in the last month, a worrying trend that is being closely watched by experts.
RAC fuel spokesman Simon Williams said: "A full tank of unleaded has now shot up to £99.40, moving us ever closer to the milestone £100 petrol fill-up - an unfortunate landmark we may reach as soon as today. Asda hiked its average petrol price nearly 5p a litre in a single day, which is unheard of. These are unprecedented times in terms of the accelerating cost of forecourt fuel."
He added that "we are still some way from the peak" as it will take several days for an unexpected fall in wholesale costs on Tuesday to be reflected in pump prices.
AA spokesman Luke Bosdet said: "Yesterday's more than 2p-a-litre leap in average UK petrol prices is a huge shock, and fuels concern that speculation of a £2 litre just gives the fuel trade licence to pile on extra cost and misery. The Government needs to act fast to rein in these excesses. The example of fuel price transparency in Northern Ireland, where petrol and diesel two days ago averaged 6p a litre cheaper than the UK average, shows a way forward that will revive competition and can be implemented in a matter of weeks."
Additional reporting by PA.