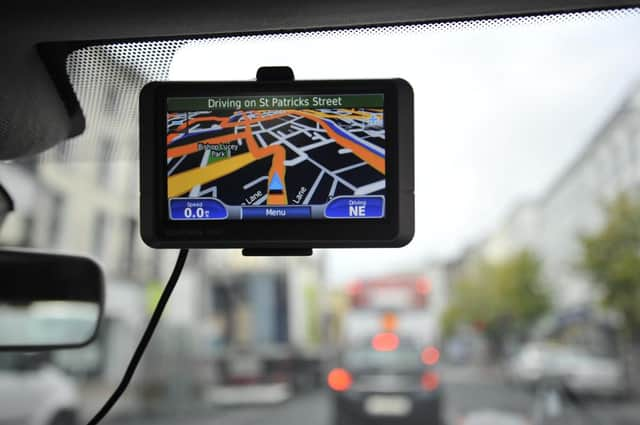 A badly positioned sat nav can significantly obscure your view
While many modern cars come with satellite navigation built-in, owners of older or lower-specifications cars have to rely on after-market systems for navigation assistance.
These inevitably have to be mounted to the windscreen or dashboard, raising questions over where it is safe and legal to position them.
Recent warnings have highlighted the risk to other road users posed by a sat nav that obstructs a driver's view. There's also the fact that a badly positioned unit could see your licence endorsed and you fined up to £1,000, so it's worth making sure you place yours correctly.
Low down on the right-hand side is the best place for a sat nav unit
Where should I place my sat nav?
There is no specific law regarding the placement of a sat nav or phone holder but, as mentioned above, road traffic laws make it an offence to drive in a position where your view of the road or traffic ahead is obstructed.
The best place to mount your sat nav is in the bottom right-hand corner of your windscreen. The lower and further over it is, the less likely it is to obstruct your view.
Using a handheld phone while driving is illegal
If there isn't space in the right-hand corner, you should aim to locate the unit as low down as possible towards the centre of the windscreen.
You should never mount a sat nav or phone directly under your rear view mirror or in the middle of your windscreen. Located this high up it will significantly block your view of the road ahead, causing particular problems at junctions and on corners, as well as making it harder to spot cyclists and pedestrians.
You should also never place it anywhere that it could injure the driver or passenger in the event of a crash, for instance, in front of an air bag zone on the dashboard.
Also, before you set up your sat nav, make sure you have your driving position sorted with seat and mirrors correctly adjusted.
Using a sat nav while driving
As with positioning, there is no specific law related to using a screen-mounted sat nav when driving but various other laws can be used to ensure you're not endangering yourself or others through its use.
If police think you are distracted by fiddling with a sat nav or phone-based navigation app, they can stop you for not being in proper control of your vehicle. This also carries three penalty points, with the potential for a driving ban and £1,000 fine. In serious cases where your actions are thought to amount to careless driving you can be hit with an unlimited fine and up to nine points.
So it's best to set the route before you start driving and use the unit's voice directions rather than relying on looking at the screen.
The law is clearer on handheld devices, with government guidance stating that it is illegal to hold a phone or sat nav system while driving. That includes when you are stopped at traffic lights, queuing in traffic and if you're supervising a learner driver.
Using a handheld phone carries a minimum fine of £200 and six penalty points.