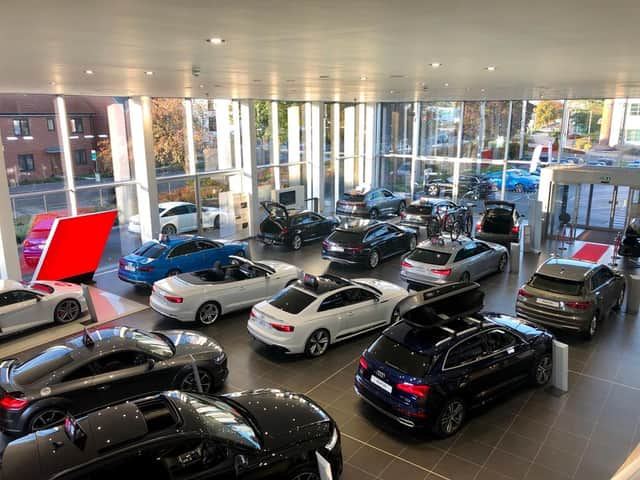 Dealers in Scotland will soon be able to open showrooms to the public
The coronavirus lockdown has had a catastrophic effect on the UK car industry. Industry figures show that new vehicle were registrations down 97 per cent in April and nearly 90 per cent in May as dealerships around the UK were forced to shut their showrooms.
Dealers have been able to deal with customers and even complete sales via the phone or internet, but their physical showrooms have been closed to the public since March, meaning motorists have been unable to view cars in person or test drive them.
However, as authorities around the UK begin to relax restrictions on movements and businesses, showrooms have begun to reopen.
Customers will be asked to make appointments and to take solo test drives in most cases
The Scottish Government has now confirmed its plans for the reopening of non-essential retailers such as car dealers.
This means that from June 29, showrooms can open to the public, with certain new measures in place.
The move follows the reopening of dealerships in other parts of the UK. England's were the first to reopen, on June 1, followed by Northern Ireland on June 8 and Wales on June 22.
While showrooms have now reopened in Scotland, in order to follow government guidance on reducing the spread of coronavirus dealerships have had to introduce a number of new measures and change how their showrooms operate.
Social distancing reminders are among the new measures customers can expect
Appointments and unaccompanied test drives
Among the most obvious changes at all showrooms are social distancing measures. Dealerships have had to put in clear guidance, including signs or floor stickers reminding customers and staff to observe a 2m distance from other people at all times.
To help with this dealers have introduced one-way systems for entry and exit and around showrooms and spacing in their car parks to leave gaps between customer vehicles.
Sanitiser stations have been placed around showrooms and non-essential elements such as tea and coffee facilities, magazines and children's toys have been removed. Even brochures have been replaced with digital versions.
Customers are also being asked to make appointments to visit rather than just turning up. By booking appointments dealers can control the number of people on site at any time, limiting the risk of spreading the virus.
Another major difference is that dealers are now offering unaccompanied test drives, in accordance with guidance on social distancing. Test cars will be thoroughly cleaned between drives. Show cars are also being left locked and will be opened on request then cleaned and locked again between customers.
Online viewings and contactless handovers
Dealers have also moved many of their services online. Customers can arrange video chats with sales staff to discuss new cars, hold video viewings of models and be talked through their new car's features. Many brands have also introduced entirely online buying processes where customers can avoid showrooms completely.
For customers who have ordered a new car, dealers have developed contactless handovers or handovers with minimal interaction between staff and customers. For most dealers this means having a specific area set aside for new vehicle handovers where staff can leave the car and customers can collect it without coming into contact with each other. The area is then thoroughly cleaned between each handover.
Many dealerships are also offering secure home delivery services for customers who have ordered a car but prefer not to visit the showroom to collect it. These are also carried out with the minimum of face-to-face interaction but with measures to ensure the car is handed over safely to the buyer.
In place of the in-person walkthrough of a car's features that dealers would normally offer, many are now conducting online video chats once the customer has taken delivery of the vehicle, explaining the car's features and functions.