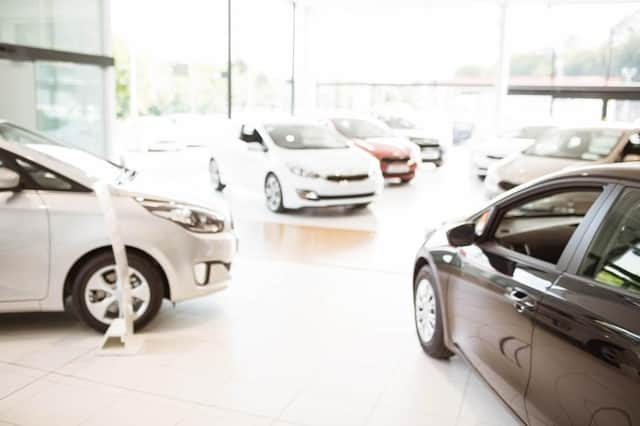 Car dealerships have been closed since March
Since June 1 the rules around car dealerships opening for business have changed in some parts of the UK.
The Prime Minister confirmed on May 25 that car showrooms would be among the first retailers allowed to reopen from June 1 as long as there was progress in controlling the spread of the virus.
Industry observers predict a spike in sales once restrictions are lifted
When can car dealers reopen?
In his speech, Mr Johnson confirmed that car showrooms would be allowed to reopen from June 1, but only in England.
He had previously said that the reopening of non-essential retailers would happen in phases from June 1, as long as infection rates were falling and the businesses could meet coronavirus safety criteria.
He said: "It is our intention to allow outdoor markets to open from June 1, subject to all premises being made Covid secure, as well as car showrooms, which often have significant outdoor space and where it is generally easier to apply social distancing.
"We know that the transmission of the virus is lower outdoors and it is easier to follow Covid secure guideline in open spaces."
Other non-essential retailers in England will be able to reopen from June 15.
The announcement only applies to car dealerships in England.
In Northern Ireland, authorities have said that dealerships should be able to reopen under similar restrictions on June 8 but Scotland and Wales have yet to set firm dates for a similar easing of restrictions. The Scottish Government has said that some large non-essential retailers will be able to reopen under phase 2 of its "route map" to recovery. There is no fixed date for this but the current phase is due to be reviewed on June 18, meaning dealerships may be able to reopen after that. In Wales, non-essential retailers have been told to prepare to reopen in the next three weeks – a similar timetable to Scotland.
The UK Government previously said it would work with the Scottish and Welsh governments and authorities in Northern Ireland to apply the same timetable across the UK. However, it warned that different measures, such as restrictions on retailers, may be lifted at different times depending on the transmissions rates around the UK.
Click and collect and home delivery
Before showrooms in England reopened they were permitted to operate a remote ordering and delivery service.
The government rules allowed for contactless "click and collect" services in England to operate before June 1 and many dealers are still offering this at their showrooms, or a home delivery service for customers who don't want to visit showrooms.
Dealers have been able to take orders for cars during lockdown but the new rules mean they will be able to complete these orders as long as they observe social distancing and safety guidance.
For a car sale, such a method involves the vehicle being fully sanitised and left in an outdoor area at a pre-arranged time for collection, with the keys left in a sanitised package so there is no contact between staff and customers.
Pent-up demand
The UK saw a 97 per cent decrease in new car registrations last month as dealerships were forced to close. Just over 4,000 new cars were registered - the fewest since 1946. However, industry observers expect a spike in sales when businesses reopen.
Rachael Prasher, managing director of What Car?, said: "We know from our weekly online audience surveys that nearly one in five car buyers are preparing to purchase a new car when showrooms reopen. That pent-up demand is great news for under-pressure retailers and manufacturers."
Mike Hawes, chief executive of the SMMT, which represents manufacturers and traders in the UK said the announcement was "welcome news", following claims by the SMMT that shutting dealerships was costing the country £61 million a day in lost tax income and furlough funding. He tweeted: "Welcome news: PM confirms car showrooms to open from 1 June. As our campaign said, will help manufacturing, retail and the Exchequer and can be done whilst ensuring safety of customers, staff and other visitors. Need to get the economy moving again."
Garages remain open
Many have also been operating online and phone services for customers trying to order a new car during lockdown. Some retailers have even been offered contactless delivery of new vehicles.