Volkswagen Touareg eHybrid 4Motion review: High tech German giant full of understated elegance
Volkswagen has given its flagship model, one of the strongest and most resilient models in terms of global sales, a new facelift. The 2024 Touareg, the German giant's large SUV, now has a raft of new technology, plus a new plug-in hybrid powerplant, all aimed at fending off the strong and more expensive opposition from the likes of BMW and Porsche.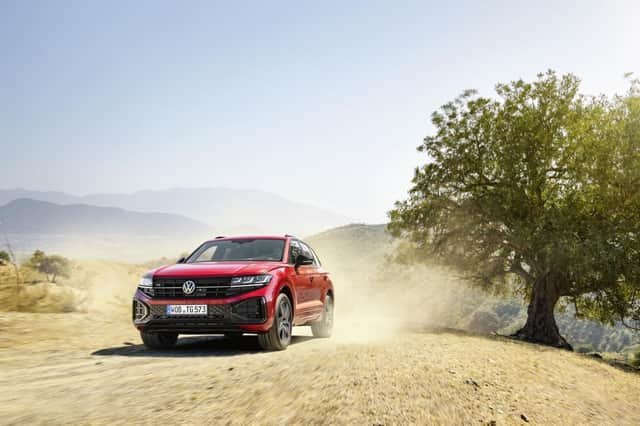 How significant is the big Touareg to VW? The answer is 'very'. It's now 21 years since it was first launched and since 2002 it's racked up worldwide sales of 1.13 million. So it's importance isn't to be sniffed at.
It's now five years since VW launched the third generation of its rather imperious SUV, so perfect timing in the Touareg's life cycle for this facelift. And while much of the technological revisions are software related, there's a new kid on the block in terms of hybrid power.
The facelifted range is available with the choice of five powertrains. There are two V6 diesels, a turbocharged V6 petrol and two plug-in hybrids. New to the range is the lower-specification 375bhp PHEV I'm driving here, and it promises to deliver an appealing balance between performance and efficiency.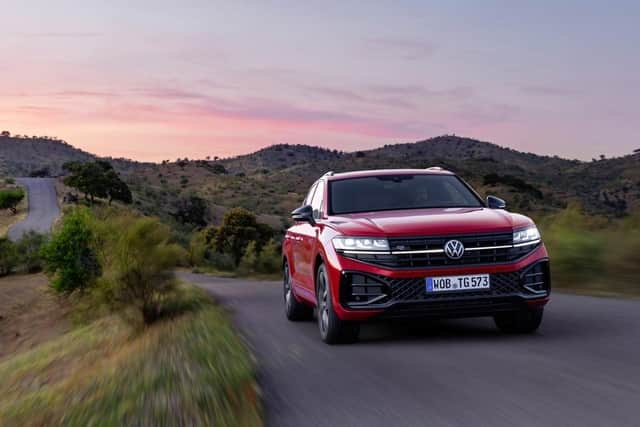 Mated to its 3.0-litre turbo-petrol, the Touareg eHybrid 4Motion houses an electric motor which draws power from what is a relatively compact 14.3kWh battery pack. To put that into perspective, hybrid rivals from both BMW and Porsche each use a battery pack which is closer to 30kWh.
The VW unit in the Touareg means the driver can enjoy 31 miles of electric-only power. That makes it perfect for the drive to the office; doing the school run; nipping to the supermarket; or taking the family out to visit relatives or to enjoy some outdoor activities. Yup, just stop and think. How many of your daily return journeys from home are actually ever more than 30 miles?
Plugging in at home on a 7kW charger will see the battery pack topped up from empty in around 2.5 hours. Clever use of recharging and maximising the all-electric range means VW can quote fuel economy of 128mpg, plus emissions of 51g/km.
Now I know there will be those amongst you who will argue the fact the Porsche Cayenne E-Hybrid and BMW X5 xDrive50e can deliver better figures and all-electric range. But important to stress here that the Touareg eHybrid undercuts its two main rivals by around £10,000. That said, the VW still isn't cheap: in this form it'll set you back £68,050. The Touareg is also comparable with the others when it comes to performance, hitting 62mph from standstill in 5.9secs. And if you need to tow anything it's excellent, with a 3500kg rating.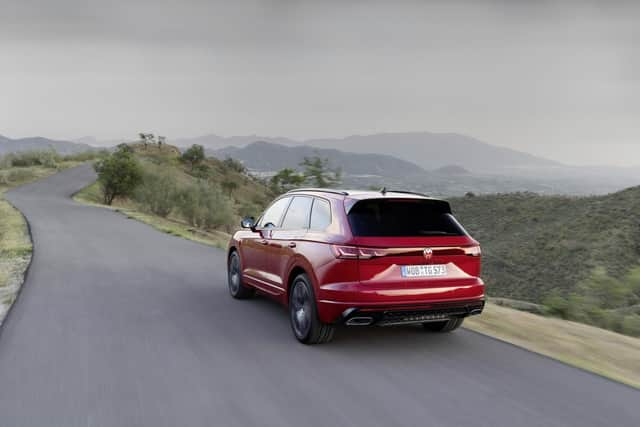 Don't think it's simply a 'pretty SUV' for gobbling up motorway miles. Thanks to more clever tech, the Touareg is impressive when it ventures offroad — not that many buyers ever will —confidently wading through deep water trenches, gliding through cloying axle-deep mud, and effortlessly climbing and descending steep muddy banks made all the more challenging by the incessant rain from Storm Ciaran on the day of my drive.
While the 2024 Touareg range is available in three trim levels — Elegance, and sportier Black Edition (from £67,780) and R (from £80,510) — this entry-level hybrid is offered exclusively as Elegance. Don't let that put you off though, as it's still packed with loads of excellent kit as standard.
Of course there's VW's impressive pair of high-end digital interfaces inside the cabin, made up from a very large high-resolution 15-inch touchscreen and a digital dial pack, but there's also leather seats, a panoramic roof and high-end matrix LED headlights.
The interior continues to enjoy the clean, sharp and easy-to-use functionality and feel of the third-gen model and tactile quality remains very impressive. As you would expect, everything feels superbly put together with a solid and robust reassurance. You never forget you're in VW's flagship.
As has always been the case with the Touareg, interior space matches that of its rivals, with good legroom front and rear, and excellent headroom for occupants of the second row of seats despite the big glass roof. It also continues to be a dedicated five-seater: there's no option of a third row of seating. For the majority of potential buyers, that's more than acceptable. The other significant advantage is it results in a deep and straight-walled 810-litre boot.
Externally the Touareg remains an imposing piece of kit. There's no getting away from its size. It's big. But it retains an attractive and reassuring combination of design and build quality. Yes certain recent VW ID. models may have been criticised, but the Touareg remains an indomitable force and illustrates Volkswagen at its best.
On the road, the lower-spec PHEV benefits from the Elegance trim's combination of standard coil-sprung suspension and 20in alloys. These result in excellent bump absorption, while not compromising road-holding, and ensures the drive for all occupants is comfortable and relaxed. It's definitely an SUV in which you could cover 300-odd miles in one go, then climb out of the car without feeling tired or stressed.
Volkswagen Touareg eHybrid 4Motion
Price: £68,050Powertrain: 3.0-litre turbo-petrol, plug-in hybridPower 375bhpTorque: 450NmTransmission: 8-speed automatic, four-wheel driveTop speed / 0-62mph: 155mph / 5.9secsEconomy: 128mpgCO2 emissions: 51g/km
In all-electric mode there's a sumptuous, luxurious delight in the near-silent driving experience. And when the transition between the electric motor and the combustion engine happens, it's a smooth transition. In hybrid mode you can sense the high-powered petrol engine quietly going about its powerful work.
Best though not to think of the Touareg eHybrid as a sports car. That would be to do it an injustice. Yes the BMW and Porsche may deliver a more engaging driving experience in the world of the large luxurious SUVs, but the VW more than holds its own in terms of sheer driving refinement.
The Touareg, and specifically the eHybrid, creates its own world of calm for driver and occupants. And it does so in its own understated way without all the flash external bells and whistles of its two principal rivals. That, in so many ways, simply makes it all the more appealing.