Toyota GR Yaris review
Toyota's rally-bred supermini is in a league of its own
Rarely does a car come along which raises the level of expectation so high as to genuinely excite the motoring press. The new Toyota GR Yaris is one such car.
"A Yaris?", I hear you mock. "A Yaris?". But believe me, this is a Yaris like no other. It's an all-wheel drive, 257bhp, 0-62mph in 5.5-seconds World Rally Championship homologation special. Prices start at under £30k.
And here's the thing. By rights it shouldn't even exist. Why? Because, having been originally conceived to form the basis of Toyota's 2021 WRC campaign, the world changed. Covid appeared and forced the championship organisers to change the rules for next year. In a bid to save money, the WRC will use the same cars as 2020. The new hybrid-era cars will appear in 2022.
So, Toyota had developed a road-going homologation version of its 2021 WRC car for nothing. It could have binned it. Instead, thankfully it went ahead and built the 25,000 road versions required for homologation purposes.Homologation? The strict WRC rules stipulate the competition car must not deviate too significantly from its road-going equivalent. Hence the reason manufacturers build "homologation specials" to form the platform for the competition car.
There's no denying this Yaris is completely different from the standard hybrid version we drove earlier this year. The GR Yaris — the GR stands for Gazoo Racing, Toyota's works motorsport department — is a three-door rather than five, the result of a direct request from Toyota WRC team boss Tommi Makinen.
It's also built on a unique platform — part Yaris, part C-HR/Corolla — which has resulted in a steeply raked roofline which sits a whopping 95mm lower at the rear. The reason? To allow the rally team to fit their humungous aerodynamic rear wing to the WRC car. Worth also highlighting the roof is made from a specially designed compound of carbonfibre.
Look carefully and you'll also see a sharp crease line running along the front wing, along the doors and into the rear panel. This isn't just aesthetic. It's part of the homologation requirements too. Why? Because the additional width it created would have allowed Toyota to fit a lighter, and more rounded rollcage inside the rally car.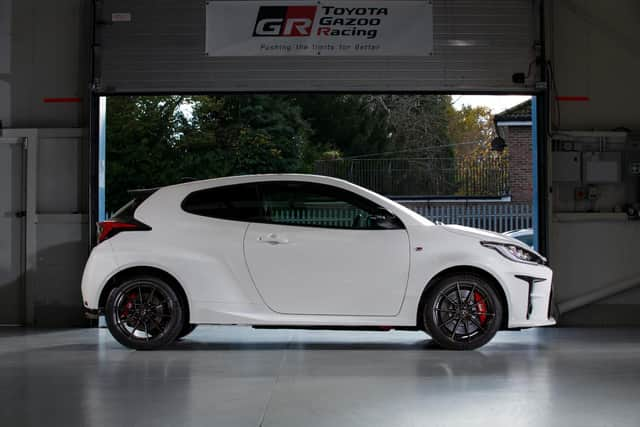 And then there's the engine. It's a three-cylinder petrol. I know what you're thinking. "Isn't a three-cylinder engine only good for pottering around town?" Not this one.
Having lobbied the WRC to allow them to create the three-cylinder engine, Toyota engineers set to work. Now the 1.6-litre, three-cylinder turbocharged engine, mated to a slick six-speed manual gearbox, develops 257bhp and produces 267lb ft of torque between 3,000 and 4,600rpm. That all combines to deliver 0-62mph in 5.5 seconds, and on to an electronically limited top speed of 143mph.
Plus of course, the GR Yaris gets four-wheel drive. It's the first bespoke 4WD car from Toyota which isn't an SUV in more than 20 years. The last? The Celica GT4 which, by no coincidence, was also a road-going WRC special.
In the GR Yaris, the four-wheel-drive system can vary the torque split between front and rear axle electronically on the move between 60/40 in Normal mode, to 30/70 in Sport mode. Flick to Track mode and the balance is 50/50. The car also sits on stunning-looking 18-inch BBS alloys, each shod with Michelin Pilot 4S tyres.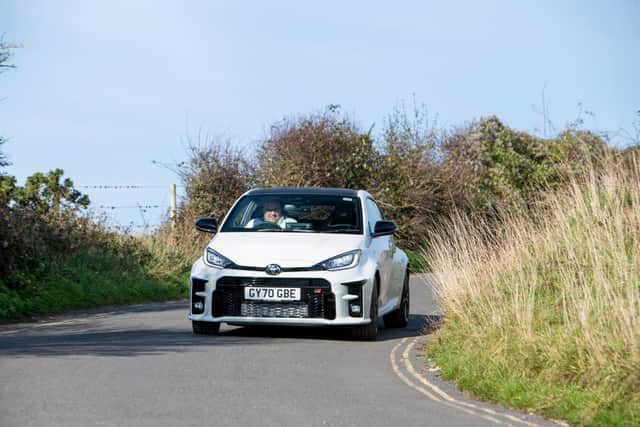 Package all this together and you begin to understand why, already, there's such demand for this little blockbusting powerhouse. Prices start at £29,995, and rise to £33,495 with the Circuit Pack fitted. This is the car I drove, and comes with red brake callipers, a slightly firmer suspension, and an even more focused pair of Torsen locking differentials.
There's also a £32,175 version which includes a Convenience Pack. But it's the Circuit Pack version Toyota predicts will account for 65 per cent of its sales in the UK. And at £299/month at 0 per cent interest, I can understand why. Given the level of development and technology investment which has gone into the GR Yaris, it's difficult to comprehend how Toyota can break even with these figures. But their loss is our gain.
Around 750 units will come to the UK this year, with more than 600 already sold. An additional 1,000 will arrive in 2021.
Right. Let's get the car fired up and get on the move. Opening the door, the first thing you realise is how light it feels. Like the bonnet and tailgate, the doors are made from aluminium. Settling down into the figure-hugging bucket seats, the cabin isn't the stripped-out rally-specced interior you might imagine.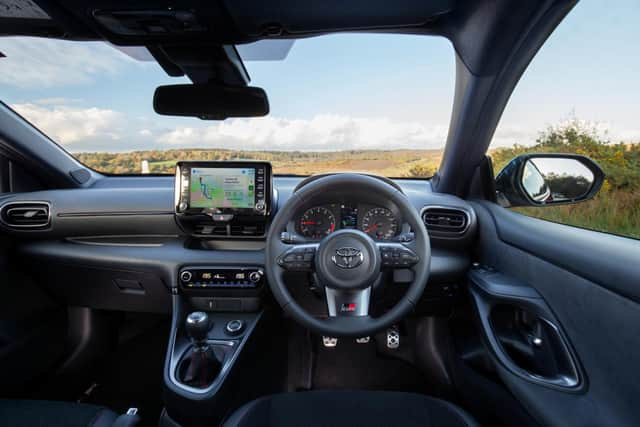 Instead it's high quality like the standard Yaris. There's a slightly thick, sporty steering wheel with two clear, plain but beautifully functional dials behind; the rev counter red lines at 7,000rpm, while the speedometer goes all the way round to 180mph. I know … in a Yaris! There's also air con, sat nav, a blind spot monitor, lane departure, and a premium JBL sound system.
Push the Start button and the engines sparks into life. From cold — and it was a cold day — there's a lovely mechanical clatter as the engines wakes. There's a reassuring sporty rawness to it. You immediately know your right foot has direct access to something special under the bonnet.
That measured rawness never leaves, even an hour later as I find myself on a long stretch of narrow, open road which twisted its way uphill through the sunny English countryside near the Devil's Dyke on the South Downs. This car is bonkers quick.
Maximum torque is available from 3,000rpm, but even from lower down it pulls mightily. There's a lovely crispness which follows the slightest pressure from my right foot to the throttle. Maximum power arrives at 6,500rpm, but while you'll occasionally — and why wouldn't you — stretch it to the limit, more often than not you'll still cover B-road distances quickly, but at far lower revs.
You don't even need to blip the throttle between downshifts. Down on the centre console sits a button marked IMT — that's Intelligent Manual Transmission — and, once engaged, the system will do it for you.
Even with the country roads strewn with wet, slippery autumnal leaves which might have threatened the progress of a train, the Toyota's four-wheel-drive system ensured swift and surefooted progress could be maintained.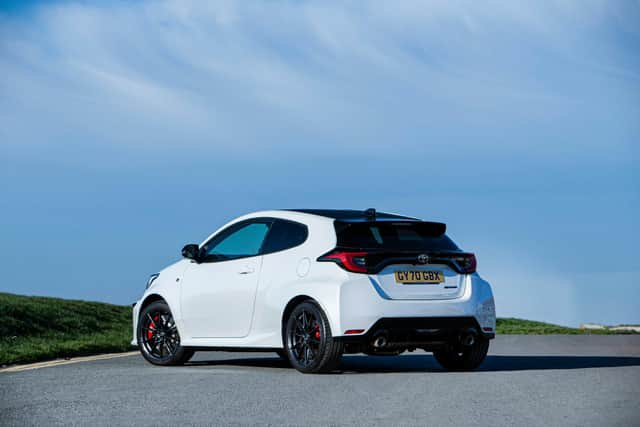 Ride, probably as you would expect, is firm. It's a setup that I'm always happy with and personally prefer. On poorly surfaced UK B-roads, some people might prefer a slightly softer setting. But hey, that's not the reason you would buy a GR Yaris. The engineers have set the car up to maximise its body control and that, in tandem with the purity of its steering and brakes, ensures a potent package.
This is no ordinary supermini. Sure it'll be compared to the likes of the Honda Civic Type R and Hyundai i30N, even the Ford Fiesta ST, but in reality the GR Yaris is in a league of its own.
Toyota labels it the 'World Rally Car for the road'. And I, for one, wouldn't argue with that statement.
Price: £33,495; Engine: 1.6-litre three-cylinder, turbo, petrol; Power: 257bhp; Torque: 267lb ft; Transmission: Six-speed manual, four-wheel-drive; Top speed: 143mph; 0-62mph: 5.5 seconds; Economy: 34.3mpg; CO2 emissions: 186g/km