Review: Nissan Juke and Qashqai
Nissan is closing its Sunderland factory because of the coronavirus, a weakening in demand, and difficulty getting imported components. Other UK factory closures include Mini, Rolls-Royce and BMW's engine plant in the Midlands. Toyota is closing its Corolla factory near Derby and its engine works on Deeside. Honda has halted production of its Civic at Swindon. Vauxhall's Astra production at Ellesmere Port and Vivaro at Luton is stopping. It is not known how long the factories will be closed.
Let's motor on. Nissan is arguably the most important UK producer. Last year it made one in four of British cars. It employs 7,000 peoples making the two cars tested here, the Juke and Qashqai, and the electric LEAF. It is making an investment of £400 million* to build the third generation Qashqai SUV which is scheduled for later this year.
The new larger Juke brings five main trim levels but, so far, one engine with manual or automatic gears. My previous drive in the Juke was at its Press launch last autumn on Spanish roads which were wonderfully surfaced and the ride was comfortable on the 19-inch wheels. On home ground the ride quality was rather firm and at times rigorous. Some roads generated an excessive howl from the Hankook tyres. The upside is positive handling, making the most of the small engine, pending a more powerful hybrid petrol engine – about which Nissan is being coy. A diesel engine is not in the current Juke plan. Diesel is also unlikely for the new Qashqai, which will rely on two hybrid petrol engines, one a plug-in unit from Mitsubishi.
I've just spent a week with the outgoing Qashqai and it's still a contender, holding fifth spot in the UK sales chart this year. The demo car had a 148bhp 1.7 diesel engine. It pulled well but noisily through a CVT gearbox coupled to on-demand four-wheel-drive.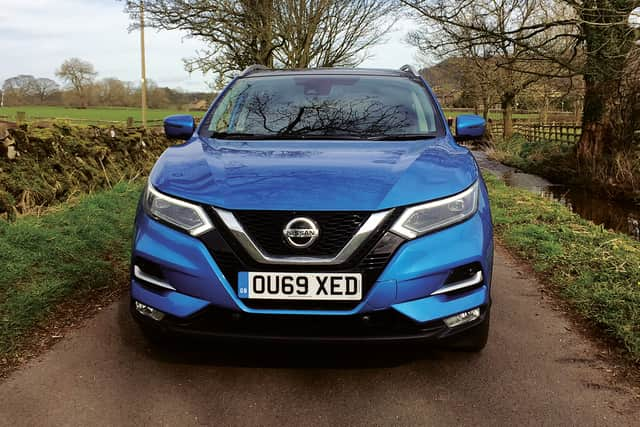 The car needs a kick to get moving from standstill but can reach 60-mph in 11 seconds. Official economy is rated at around 41mpg and 154g of CO2. On a regular 40-mile mixed rural and city route it was nudging 39mpg.
The new Qashqai has a sleeker new body which removes the wheel arch bulges and brings in a deeper face. It will update the instrumentation which is not quick to navigate. It also needs more USBs. In Tekna trim the Qashqai looks expensive at £33,515. The bigger Kia Sportage is cheaper. The bottom line is the Qashqai has been a major success for Nissan and its proud British workers.
 Verdict: a sound second-hand buy if you don't wait for the new one.
The Juke sent for evaluation was the range-topping Tekna+ costing £23,895 plus a modest £170 for the two-tone paint, striking pearl black over Fuji sunset red.
The entry model is the Visia at £17,395 which includes cruise control, a speed limiter and traffic sign recognition. However, pay £18,995 for the Acenta and upgrades include 16-inch alloys, a rear camera and smartphone integration. In-house navigation comes in at N-Connecta for £20,995. Move to the £22,495 Tekna for 19-inch wheels, Bose audio in the front headrests and a raft of proximity warnings.
The Tekna+ brings leather seats with suedette Alcantara bolsters and more Alcantara on the door panels and along the dashboard. It is plush and plastic-free. Mood lights add a sense of importance, with illumination around the gearshift. The instruments include a large touchscreen in the centre which required a significant fingertip pressure to operate.
Storage is good with a false floor in the boot but nothing to keep it raised when loading. The standard set-up is a puncture sealant underneath the lower luggage floor but serious tourists off the beaten track may want a proper spare.
The six-speed gearbox gave 70mph at around 2,500rpm. The shift effort is acceptable. An auto-hold on the parking brake takes some of the stress out of stop-start driving but for an additional £1,400 (bar the Visia) there is a seven-speed dual clutch automatic.
So, what of this Juke engine? It comes from the brilliant Micra, produced at the Renault factory in Flins, up river from Cléon. Economy is promising. On our Juke Tekna+ it has an official combined economy of 45.6mpg (low, 38mpg to high, 53mpg) and 118g of CO2. The 0-60mph time is 10 seconds. In our hands, half-loaded, it recorded 40mpg on a country run with some hills, 42mpg on a typical 50-mile mixed route commute, and a mile or two more per gallon on a 200-mile motorway trip.