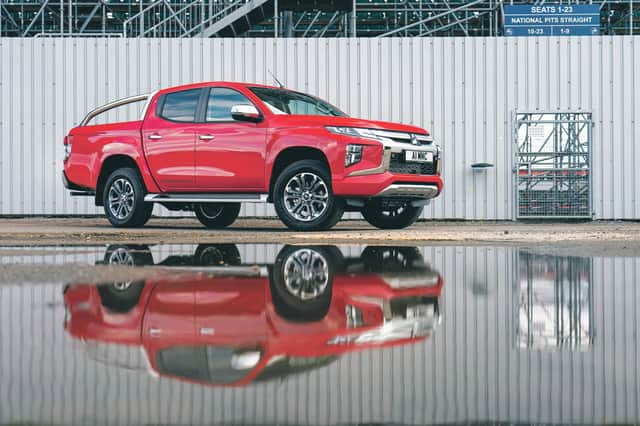 The L200's shortcomings are more apparent when the load bed is empty
Time with the azure blue beast was going be tighter than normal and so a good long drive was needed after a few short shopping trips – which is what many owners of lifestyle pick-ups use them for. They aren't hard to spot in a carpark – just don't go to the wrong one or you could be trying the door of a Ford Ranger, an Isuzu D-Max, a Nissan Navarra, the Mercedes-Benz X-Class, a VW Amarok or a Toyota HiLux.
Each has its fans and all will do your shopping, farm work, carry a cement mixer and so on. Fit a canopy at the back and you can take a sheep or two to market or have an estate car extension to the separate cabin.
The popular layout is the double cab – four doors, seats for five, a rear window. All L200s have a new 2.2-litre diesel engine and four-wheel-drive, with a choice of manual or automatic gears. The entry model is the Club Cab, which has less rear legroom and a longer load bed and manual gears.
Anyway, I was considerably upmarket from the Club Cab, by about £13,000. I hope people noticed. Any L200 will do "the business" but the more you spend the more you get. The only thing I noticed absent at first on the Barbarian X was a sunroof. I could have waved at people.
To the road, to Barnard Castle, always an interesting drive from the north through Teesdale or from the south through the Yorkshire Dales, from the west through the Lake District or east through County Durham. I did a bit of all of them, mainly because "Barney" wasn't quite where I thought it was. How careless to misplace it. Also, this £39,000 juggernaut didn't have wired-in navigation, which I'd taken for granted.
I did have a Philip's Navigator map and a smart-phone link and eventually found the market town, which lies on the Tees, a mile or so from the howl of the A66.
The roads were quiet and the only disruption came from the L200. We are told that the sixth generation model is setting new segment standards for style, refinement, safety, efficiency and all-round capability. I'd take issue with the R word. The chassis kicks up a fuss when coping with anything much but a nice smooth road. Hit a bad rut and the empty seats rattle and the structure shudders. It's all a bit too much crash, bang, bouncy, clatter wallop. The lusty turbo diesel cackles and chortles and crackles setting off and stays rowdy until you get to a cruising pace – preferably on a half-decent road.
I will not go on about that. You can try one and see how you feel. In the L200's mitigation: these lifestyle trucks are designed and engineered to work, and work hard. Most of them, including the L200, have a solid rear axle on leaf springs. This heavy-duty system is for durability and big loads. Ride refinement and comfort are adversely affected. In further mitigation, if there was some weight in the load bed the ride would have been calmer.
The latest L200 is rated to carry 1,080kg and tow a 3,500kg braked trailer – up with the class best. The latest L200 has a bolder face under a higher bonnet line. Squared shoulders suggest a serious intent. It looks tougher, to match the Isuzu and Ranger.
My first drive in a Mitsubishi was in the early 1980s, when they were sold here by the Colt Car Company. That Celeste was a hatchback cum coupé and a bit tail-happy. I had mentioned this to the company's PR chief. She said she carried a bag of potatoes as ballast in the boot.
The driver delivering the L200 volunteered the comment: "I like them; they are honest vehicles." It struck me that this was faint praise, almost a back-handed compliment for the world-famous L200.
The first L200 dates from 1978 as a one-ton two-door pick-up called the Forte. A 4x4 version followed in 1980. More than 4.7 million have been sold. It is made in Brazil and in Thailand.
You get a rear step and a continuous side steps with grab handles in each doorway to help keep you steady on entry and exit. The 4x4 system can be selected to run just the rear wheels, all four wheels and for slo-mo stuff, low ratio gearing and 4x4 with a differential lock, hill descent control and terrain response.