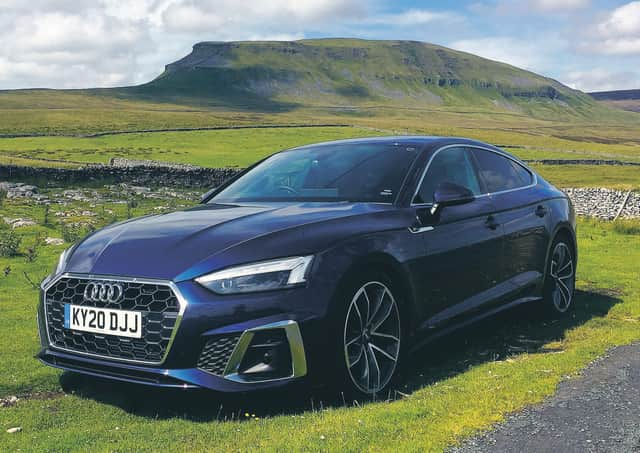 As on all such contracts, read the small print and see where else you may borrow money at a better rate. For an A5 Sportback, tested here, the terms start at £512.45 a month. It is, of course, very tempting, almost a one-stop-shop between no car, or old car, and the delight of waking up to this every morning – albeit for the next three years. When the allure of the new has gone, go back to the nice staff at Audi who will gladly help you into a new car and adjust the monthly payments. Or, you can pay a lump sum and keep it.
My grandsons loved the A5. As adults many of us take "things" for granted. Car nuts know what's on offer. Most A to B drivers are maybe not much bothered. The boys (four and eight), were dazzled by Audi technology. The mapping from VW Group is the best in the business. In the A5 it can be duplicated on the main instrument panel, with the option to minimise the size of the rev counter and speedometer. You will find these switchable digital displays in many VW Group cars and in their peers at BMW, Mercedes-Benz and so on.
I recall when I was young and inquisitive, being mildly admonished by my granny for repeatedly winding up and down the window in her new Ford Anglia – worried I may wear it out. Children give you a fresh view on things taken for granted. They also make good robot testers of equipment. Their mother, Vipona, and my "bubbled" friend, Josefina, were smitten by the shape of the A5.
Yep, I'd been blasé. It is graceful and gorgeous. The face, that familiar Audi glare, has been given detail changes on the grille, small things which catch the eye and may even affect how the car slips through the air. Subtle side vents direct air into the wheel arches, helpful to cool brakes on those hard-driving days.
The mechanical refinement is excellent. This post-diesel climate (with VW Group implicated in its downfall) has seen the focus on pure petrol power, or petrol/electric hybrids, or total electric. The A5 sent for testing was the Sportback 40 TFSI S tronic. Sportback signifies a lifting tailgate while 40 TSI translates to a 2-litre turbocharged petrol engine giving 140kW. The familiar PS reading is 190, or 187bhp. S tronic is the 7-speed twin clutch automatic transmission
So, it'll be thirsty then? Once upon a time yes. Today you can expect an official 42mpg and 152g/km of CO2. The top speed is nudging 150mph, a meaningless figure. More significant is its very flexible accelerative powers, with a 0-60mph time well under eight seconds.
Our testing validated the fuel economy. A brisk, flat run into the valleys returned 36mpg. My up-and-down route from dale to dale showed 35mpg. My regular urban commute improved to 38mpg, with an even better 42mpg on a rural alternative with a good stretch of motorway and a couple of town centres. The overall figures from a week and several hundred miles was 38mpg. So, all good? Well, not as good as I'd like. The A5 has now gone to touchscreen and voice control for navigation and information and services on the screen. Touching a screen is hazardous if you are driving and more distracting than using a control wheel or pad on the central tunnel, still used on the latest Audi Q5.
The voice command system was hampered by misheard instructions. Asking for Radio 2 kept rewarding me with Radio Lancashire. It referred me to a list, headed by several entries for Absolute Radio. The invitation was to scroll down but, again, distracting. I settled for Radio 3. And some navigation addresses were not accepted.
There are higher marks for the speed control system which can be set to adjust your speed relative to other traffic, the speed limit, and road hazards or bends. It will bring the car to a safe halt, too. In heavy rain it warned of restricted visibility.
As a five-seater family car it is practical, with a long boot under the fastback tailgate. It looks good enough for any occasion. However, the kith and kin have SUVs which with their upright seating, big rear door and raised roofline make practical family transport. Audi does those too, in several sizes.