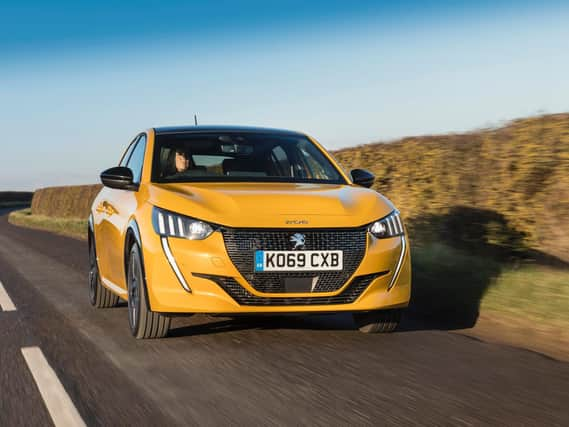 The last few years have seen the French brand enjoy a renaissance as its selection of bland also-rans has been gradually replaced by appealing new models that blend sharp styling with high-tech equipment and a material move upmarket.
While everything from the 2008 to the 508 have been completely overhauled, the 208 - Peugeot's rival to the all-conquering Ford Fiesta, Vauxhall Corsa and Renault Clio - has had to wait until now for its moment in the spotlight.
Built on the latest generation CMP platform - shared with the new Corsa - the new 208 is bigger but lighter than before and is designed to offer traditional combustion and all-electric powertrain options.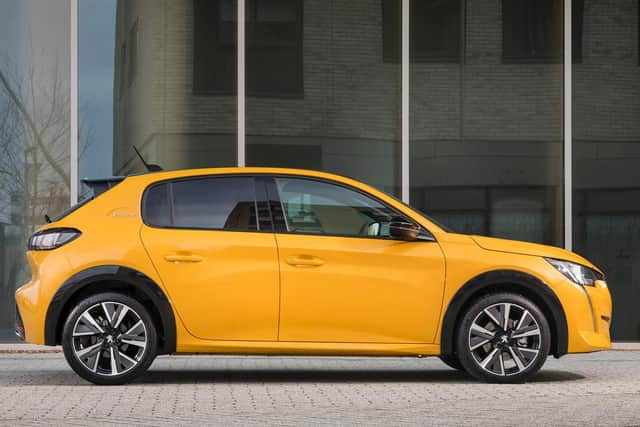 Car makers often tell us that buyers are influenced more by a car's design than any other characteristic and if that's the case Peugeot should be laughing all the way to the bank. The 208 is a stunner. From the fang-like running lights that flank the deep chrome grille back to the trademark triple claw tail lights and the GT Line's substantial roof spoiler it's a car crying out for attention. Short overhangs make it look compact and muscular even though it's longer than the old car, and while panel creases create some interesting shapes they aren't overdone. GT Line with its flashier wheels and gloss black details is the pick of bunch but even basic models are good looking.
The interior is just as stylish as the exterior. A stepped design creates two distinct dashboard segments, both of which sweep round and flow into the lines of the doors. The upper section houses the media/nav system (seven or 10-inch and angle towards the driver) and on all but basic Active trim the new 3D i-Cockpit. This uses clever projection to make key data literally stand out from lesser information on the digital instrument binnacle.
There are a couple of issues despite its attractiveness. It's the first i-Cockpit that I've found the steering wheel interfering with the view of the dials - a frequently complained about issue elsewhere. And the familiar Peugeot piano key switches have been supplemented with touch-sensitive buttons sitting flat above them. These are hard to see, awkwardly positioned and yet too easy to accidentally hit.
Overall, though, it's another winning design for the French brand and one that makes its rivals seem drab in comparison.
While the 208 leads the way in the design stakes, a bit like the Corsa with which it shares a platform, it sits somewhere between the Renault Clio and Ford Fiesta in terms of ride and handling.
The steering doesn't have the Fiesta's sharpness or feel but it's light and quick, and on faster roads it's an enjoyable steer while being easy to manoeuvre around urban settings. The ride is a mixed bag. It's softer and more forgiving than the Fiesta but there is still an occasional harshness exposed by sharp ridges and potholes.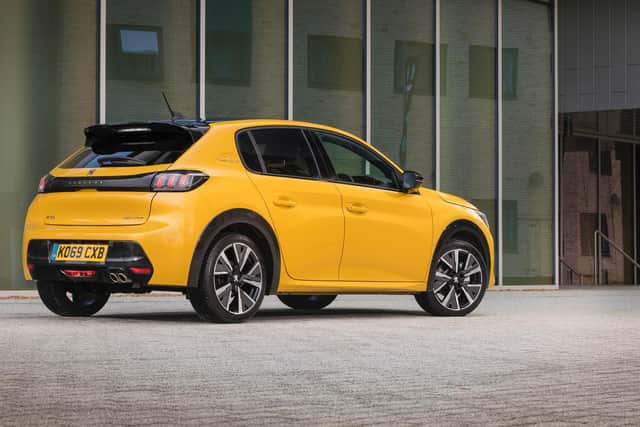 The 208 is set to be Peugeot's first all-electric model when the e-208 arrives in the coming months. That will feature a 50kWh battery and 100kW (135bhp) motor good for 217 miles. Until then the 208 has a standard line-up of petrols and a single diesel.
Best-seller is expected to be the 99bhp version of the 1.2-litre PureTech petrol paired with a six-speed gearbox. It's a multi-award-winning engine and here, as elsewhere, it suits the car perfectly. It's responsive and powerful enough, and matched to the manual gearbox feels livelier than the more powerful 128bhp with its eight-speed auto even though it's a second slower to 62mph. Beside the 99 and 128bhp versions there's also a 75bhp model with a five-speed manual, and a 99bhp 1.5 manual diesel, which virtually no-one will buy.
The new 208 starts at £16,250 for the Active trim with the 74bhp engine. The all-electric version will start at £29,050. Every combination comes with niceties such as 16-inch alloys, air con, cruise control, rear parking sensors, auto headlights and a seven-inch touchscreen with DAB and smartphone mirroring. Safety features such as lane keep assist and driver alertness warning are also standard but you have to pay more for autonomous emergency braking (AEB).
Above that sit Allure and GT Line trim, with a £29,650 GT spec only available as an EV. These all get AEB plus the full i-Cockpit digital instruments, bigger wheels, wireless phone charging, styling and material upgrades. Parking cameras, bigger touchscreens, auto-dipping headlights and adaptive cruise control are among the higher-spec goodies.
There's nothing among the specifications that you won't find on similarly priced rivals but it's a sign of the drip-down effect that so many of them now offer such "big car" features.
When the latest generation of the Ford Fiesta launched it was pretty much peerless. However, since then a brace of impressive rivals have entered the fray and the new Peugeot 208 is yet another that can go toe-to-toe with Britain's bestseller. Its styling is unbeaten in the class and there's equipment and refinement to keep most buyers happy. The range of drivetrains, including that city centre-friendly EV also mean Peugeot could be on to another winner with its latest supermini.
Price: £23,350 (£24,800 as tested)
Engine: 1.2-litre, three-cylinder, turbo, petrol
Transmission: Eight-speed automatic
CO2 emissions: 103g/km (NEDC corr)