Mazda CX-60 3.3D 254ps review: High spec SUV shows there's life in diesel yet
AWD Mazda CX-60 is a premium package with an engaging drive and a great engine, but it's not without its problems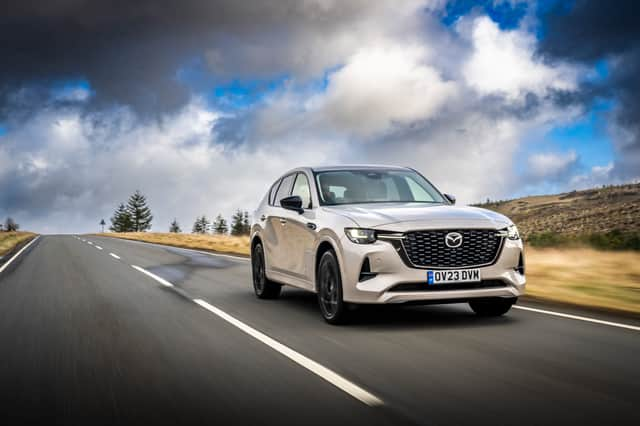 It's 2023, low emissions zones aimed at improving air quality are popping up in cities across the UK, we've had a decade-long trend of manufacturers dropping cylinders from their engine line-ups with a turbocharged petrol 'less is more' approach to displacement, new EV launches are coming thick and fast and children born after the Dieselgate scandal are old enough that they have long ditched Cbeebies and are telling their parents that 'all my friends are allowed to watch twelves and if you don't take me to the Barbie Movie I'll be the only one who hasn't seen it'.
So you'd be forgiven for raising an eyebrow at the engine line-up of Mazda's CX-60 SUV. Alongside a 2.5-litre plug-in hybrid model, sits a six cylinder, 3.3-litre diesel engine available in 197bhp, rear-wheel drive-only or 250bhp all-wheel drive variants. As against the grain as launching a line-up underpinned by a big diesel engine may seem, the CX-60's powerplant is no relic. It's absolutely low emission zone compliant, meeting Euro 6 standards and emitting 138 g/km C02 and, despite its unfashionably large size, Mazda says the e-Skyactive D engine is one of the cleanest diesel engines in the world.
The CX-60 has been developed following Mazda's philosophy of 'right-sizing'. Effectively, for a car the size and weight of the CX-60, a larger engine displacement offers better efficiency than a smaller unit due to having to work less hard. The 250bhp, all-wheel drive car I tested posted a 2,516kg gross vehicle weight and returned a fuel consumption figure in the high forties during the 10-day test, not far from the listed fuel consumption of 54.3 miles per gallon combined. During some longer drives, the longest being a 150-mile jaunt from Fife to Kennacraig with a boot full of luggage, average consumption at times touched the low sixties.
Impressive figures and, right-size rhetoric aside, not the kind of numbers one would expect to associate with a large, heavy SUV with a big diesel lump under the bonnet. The CX-60 can achieve this thanks to Mazda's Distribution-Controlled Partially Premixed Compression Ignition technology (DCPPCI), a development of PPCI - a form of low-temperature combustion that cuts nitrogen oxides and increases efficiency.
Aimed at long distance drivers who want the ability to tow, expect to see a CX-60 at the head of a NC500 convoy in the near future. While Mazda expects the PHEV model to make up the bulk of sales, the AWD diesel model out-pulls it with a 2,516kg braked trailer rating.
Mazda CX-60 3.3D 254ps AWD Homura Auto
Facts and figures
Price:£50,705 (£52,455 as driven)
Engine:3.3 e-Skyactiv D MHEV
Transmission:Eight-speed automatic
Power: 254ps at 3,750rpm
Torque: 550Nm at 1,500-2,400rpm
Acceleration: 0-62mph in 7.4 seconds
Top Speed:136mph
Emissions: 138 g/km c02
Fuel consumption: 53.3 – 54.3 mpg (combined)
Towing limit: 2,500kg
Caravaners and beyond will be weighing up the CX-60's merits against some stiff competition. With a list price North of £50,000 for the all-wheel drive model, the competitive set includes the likes of the Volvo XC60 and BMW X3. In the plus column, it can outpull them both, but without the premium badge some buyers might need convincing that it has the high-end credentials to match the high-end price.
First impressions, interior and comfort
On that front, all it's really lacking is a German or Swedish badge. The long engine bay, swooping roof line and tasteful application of chrome around the Inline Six badging on the flanks passes the premium sniff test. The leather clad interior of our Homura test car does too. Heated seats and heated leather steering wheel are standard across the range and Homura models add heated rear seats and front seat ventilation as well.
It's comfortable and well built feeling, with plenty of space for front and rear passengers. My only quibble from the cabin was a surprisingly large amount of wind noise that marred an otherwise quiet experience.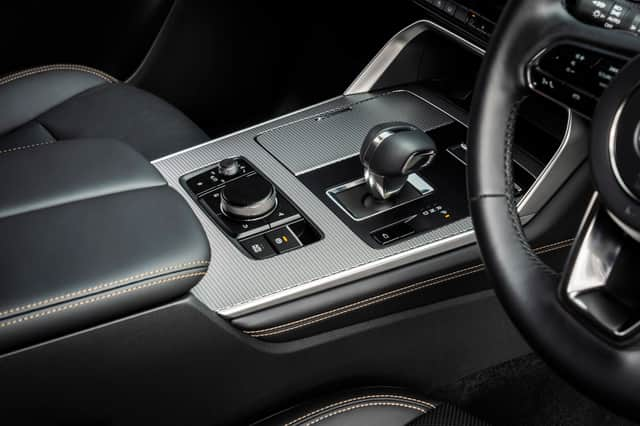 The infotainment system is controlled via a rotary dial mounted on the centre console. I've railed against these systems in the past but in this case it works well with the Mazda menu system although, less so, Apple Carplay which feels optimised for a touchscreen interface. Sound quality from the optional Bose 12-speaker sound system was excellent.
Drive, ride and refinement
A few niggles start to creep into the experience once you press the ignition. The first irritation is the delay between the car starting and the gear select actually accepting any input. If you're planning to take off in a hurry, there's a frustrating, seconds-long wait before you can dab the car into drive.
Once you get going the eight-speed automatic gearbox gives the car something of a split personality as it flicks between gears in search of the optimal efficiency. At its best you are propelled along effortlessly by a smooth wave of torque and at its worst it's as if the seas have turned a tad choppy, the issue ironing itself out at higher speeds but more prevalent in the town.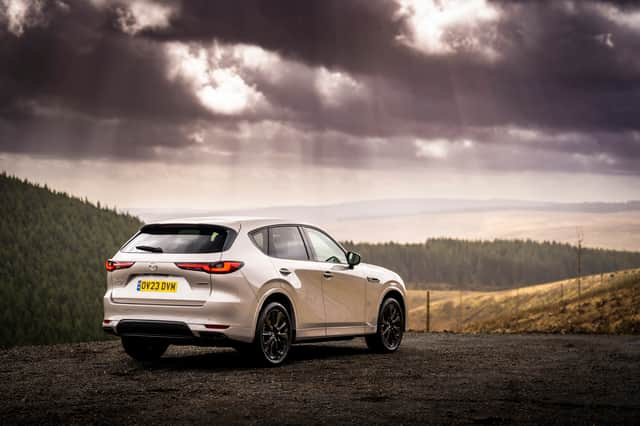 The ride is very firm indeed and, while the stiff suspension benefits cornering admirably, I can't help but wonder whether comfort should have been a higher priority for a car looking to tote its towing credentials. The CX-60 is an engaging, dare I say sporty drive, the body controlled, the steering direct. Potholes and speed bumps however are unforgiving. Like pretty much every car not designed and destined for the track, the CX-60's ride would benefit from ditching the 20-inch alloy wheels for a smaller set with thicker tyres.
Verdict
All that said, the longer I drove the CX-60, the more the big diesel engine shone, with strong performance and decent fuel economy. I began this test wondering if Mazda is mad investing development time in a large diesel engine when it feels like the rest of the world is moving on, but after ten days with the car I would question whether it's the rest of the world that's wrong by discarding a perfectly good technology before its time. The CX-60 is proof positive that there's further scope for refinement.
In mid-spec Homura the Mazda is more than competitive at the price point. The ride needs work, certainly, but with a high standard of build, a long list of equipment and an engaging drive there's a lot to commend about the CX-60 as a premium SUV for 'drivers'.
Comments
 0 comments
Want to join the conversation? Please or to comment on this article.