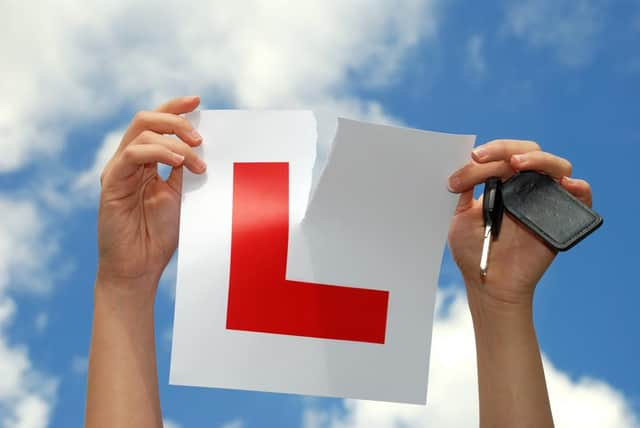 Learning to drive doesn't come cheap
Learning to drive is a major milestone for many people. It means independence and mobility and opens up work and travel opportunities.
But gaining that freedom doesn't come cheap, with the cost of lessons, tests and the licence itself adding up.
With some help from LeaseVan, we've looked at the costs involved and worked out that it costs £1,278 for the average learner to go from novice to licence-holder.
Driving lessons make up the bulk of the costs but tests can cost up to £75
Here's how that breaks down.
Provisional Licence
The provisional licence costs £34 for online applications to £43 for postal applications.
Lessons
Taking driving lessons will undoubtedly be the most costly part of learning to drive. According to the Driver and Vehicle Standards Agency, the average learner driver needs 47 lessons before they pass their test. And on average lessons cost around £24 each, making up £1,128 of the total cost.
Test costs
A theory test costs £23 for cars, and the standard practical driving test costs £62. If you sit your test in the evening or on a weekend or bank holidays, it will set you back £75.
Plus, if you're using your instructor's car, you'll need to pay for their time as well, which is the equivalent of another hour's lesson.
Extra costs
There are also costs for additional revision such as a driving test success app like the DVSA one costing £4.99, and a Highway Code book costing £2.
Although not included in the calculation, adding yourself as a named driver to a family car is a great way of gaining extra practice, and this can vary from short-term additional cover from two hours through to 90 days. This means learners can legally drive in a family or friend's car without affecting their existing policy. According to Confused.com, this can cost just £8.42 for 3 hours or £59.69 for one week's cover.
How to save money
There are some ways you can cut your costs of learning without compromising.
If you can, try practising in a family car with a suitably qualified driver (they must be over 21 and have held a full licence for at least three years). This will give you more experience without the hourly rate of a lesson.
Block book lessons and look for introductory offers. Many driving schools offer discounts when you book your first lessons or if you book a number of lessons at the same time so see what offers are available near you.
Practise your theory. There are a number of websites and apps that allow you to sit practice theory tests before the real thing, including the official DVSA website, which also includes mock hazard perception tests. Practising beforehand will help test your knowledge and ensure you're ready to sit the test
If needed, intensive driving courses are also an option where you its can learn to drive in under a week or two. This can often work out quicker and cheaper than spreading lessons over months.