Honda Jazz review - supermini is pitched just right
It's not a road tester's fantasy but the Jazz is perfectly in tune with what its buyers want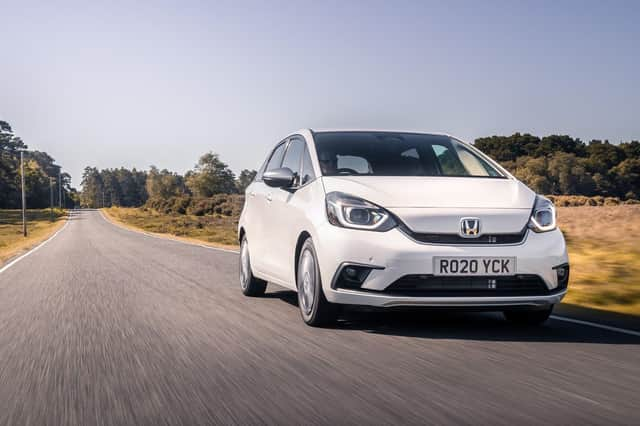 The motor industry, like most industries right now, is in turmoil as it gets to grips with the coronavirus pandemic. New models are being delayed, dealerships are closing and nobody quite knows what's going to happen as we slowly find our way through the fog.
Finally, a new car is launched to break the gloom, exciting automotive journalists and readers alike, shining a beacon of new hope that we can all come together and esca… oh, it's the Honda Jazz.
To be fair to the Jazz, whilst it doesn't rank highly for excitement, it's a hugely capable car that should be appreciated far more than it is. An extremely loyal set of customers know what they want, and the Jazz provides all of it; practicality, ease of access, comfort, reliability and frugality. Neck-snapping 0-62mph times and Nurburgring lap records don't feature.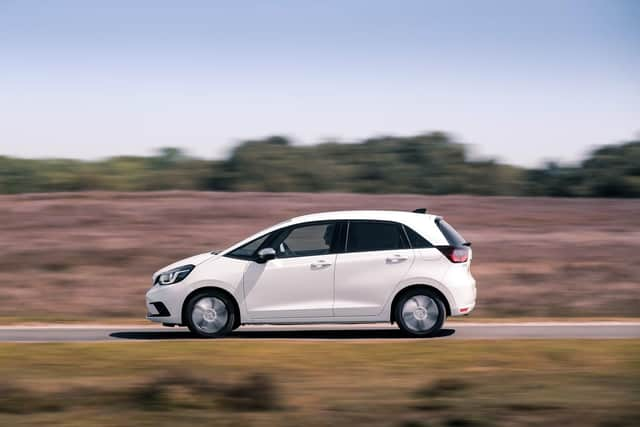 The new Jazz focuses on providing more of what Honda's customers want, and less on what automotive journalists want, which is why much is being made of the Jazz's new seats. In the front, there's a new frame with improved back support, while padding in the rear has been increased in depth by 24mm. It's not top of the list for most marketing campaigns, but it makes the Jazz particularly comfortable.
A highlight, too, is the panoramic view out of the windscreen. The thick, structural, A-pillars have been moved back, with spindly little ones in place to hold the glass and side windows together. It sounds off, but the result is a genuinely huge step forward in visibility, with vision diagonally forward being superb.
There's also an impressively uncluttered dashboard, made of one sleek horizontal beam with next to nothing breaking up the view. The instrument binnacle has been replaced by a small, incredibly clear, digital display, although there's a lot of information on it. It's possible to go through menus and reduce what's on the screen, but few will bother and instead quietly grumble that it's all a bit much to take in.
As is the hybrid powertrain. Talk of two electric motors, a 1.5-litre petrol engine, fixed-gear transmission, and such like is anathema to those that just want to know simple answers to simple questions.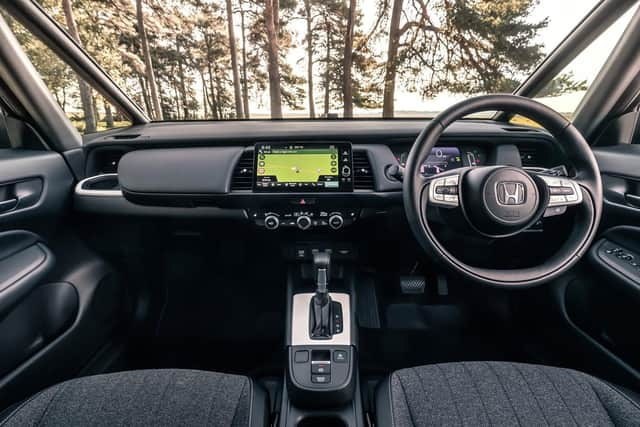 Is it quick enough to keep up with traffic? Yes, definitely. In fact, it's surprisingly sprightly off the line thanks to the instant torque from the electric motor.
Is it economical to run? Oh yes, very much so. Driving the Jazz around a variety of city streets, country roads and some motorways saw the on-board computer promise I was travelling more than 60 miles for every gallon of petrol. That could sound disappointing for a lightweight, hybrid-powered car, but I'm not known for being delicate and treated the Jazz enthusiastically at times.
Does it corner like it's on rails? Er… actually, yes. It's really rather good at speed, riding very well and having a directness that really engages for a car of this nature. The ride quality falls apart in urban areas, where it's a bit crashy and firm, which is a shame considering where most Jazzes end up. Will it go off-road? Well, no, but there's a Crosstar version that's been raised by 30mm and has some black plastic body protection stuck on. The extra suspension travel makes it slightly more comfortable, but the rest is just for show.
Existing owners won't be put off by the infotainment system, although one assumes it will be set up and then left in that state permanently. It's now sharper, quicker and easier to use, and has vastly improved voice controls (at least we were told that, but they didn't work on my car) but is still a long way from the best on the market. Happily though, Android Auto and Apple CarPlay are both installed.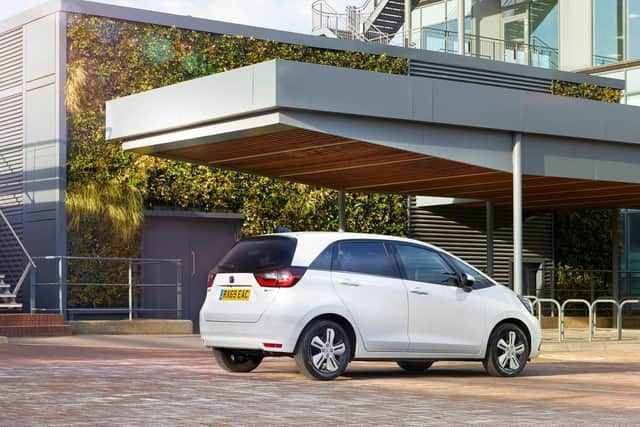 Then there are those Magic Seats. These are the rear seats that can fold, flip and twist to create a genuinely van-like flat load bay, or a thin but freakishly tall area to stand new plants or a family heirloom painting upright. It's clever, practical and serves a genuinely useful purpose.
And that sums up the Jazz nicely. It's engaging enough that you might actually want to drive it, but practical and economical enough that you'll really buy it because it's just so damn sensible. It's like sitting down in your favourite armchair to watch the news on your new 4K television, or going back to the same Spanish hotel for the 14th time, but this time upgrading the room to a suite with a view. It's familiar, reassuring and comforting, but better than before.
Price: £21,385 (£22,035 as tested); Engine: 1.5-litre petrol with twin electric motors; Power: 107 bhp; Torque: 187 lb ft; Transmission: Single fixed ratio transmission; Top speed: 108 mph; 0-62mph: 9.5 secs; Economy: 61.4mpg; CO2 emissions: 104 g/km