Ford Puma ST-Line X
Were it not for the Covid-19 virus you'd be seeing lots of this new Ford. It is the Puma, a five-door hunky development of the Fiesta hatchback.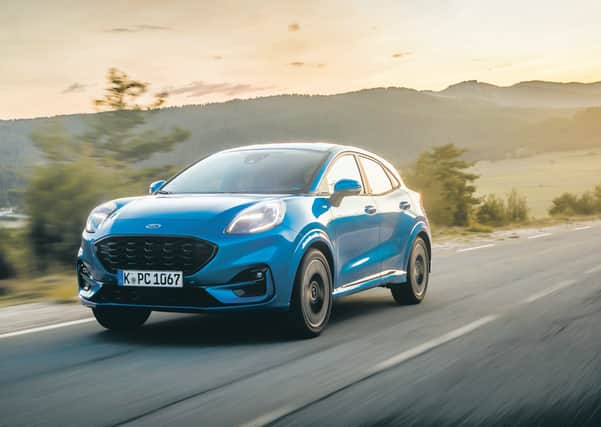 Prices start at £20,710 in Titanium trim with the 123bhp, one-litre turbo petrol engine with six manual gears. A mild hybrid electrically assisted version is £20,990, which improves economy and emissions and engine flexibility and makes the non-hybrid engine seem pointless.
Puma is a €200-million project from Ford Romania. Its task is to take sales in the trade for compact cross-overs and SUVs, such as the Nissan Juke, the only UK-built rival..
The Puma brings mild-hybrid engines to Ford UK. Other models will follow. The roadside posters proclaim its hybrid status but it's not a full hybrid like a Toyota Prius. The horse power remains the same, economy and emissions are slightly tweaked and there is more torque.
Other makers, such as Suzuki and Volvo, already have mild hybrids. An additional 48-volt battery is charged by braking energy. It gives light assistance, helping subtly with start-up and general running. At peak, the Puma gets an extra 37lb ft of torque which helps flexibility. This hybrid unit is standard on the other Puma engine, a 153bhp tune of the three-cylinder Ecoboost turbo motor. In Titanium trim it costs £21,740.
Higher trim levels are ST-Line (roughly an extra £1,000 over Titanium) and ST-Line X for hybrid-only 124bhp and 153bhp motors which lift the prices to £23,040 and £23,770.
The Puma takes its name, in vain you may say, from a 1990s Fiesta-based three-door coupé, a cute and sweet-handling thing, now quite a rare sight.
Our 2020 Puma SUV is built on a wider chassis from the latest Fiesta and has imposing looks. All versions get a waterproof storage box under the boot floor. This is 12 inches deep, 26 inches wide and 17 inches front to back – or 80 litres in volume. The weight limit is 50kg. I had intended to collect seaweed to put on the garden but the travel lock-down meant that the coast was inaccessible and I had to settle for farmyard manure – bagged of course.
You could find this "megabox" useful for sports kit, or any wet or dry stuff. You can also use this extra depth to carry, upright, say, golf clubs. I don't play the noble game but I have some ancient Donaldson Rangefinders, (made by my great-uncle in Cadogan Street, Glasgow), for assessing things like boot space.
The floppy parcel shelf is another smart detail, being attached by pivots and strings to the rear window, so that it automatically lifts out of the way when you open the tailgate.
The interior follows themes in the Fiesta but there are detail changes. The dashboard is taller and features central information screen. There is smart-phone technology, with a wireless charging pad for compatible phones. However, the USB count is poor, with just one supplied in the front and none in the back.
Ford will be piqued at the disruption in the Puma's stride. It has been getting some cheery best-small-SUV appraisal from influential magazines and websites.
The pricing is attractive and the entry Titanium brings navigation, a heated front window, 17-inch alloys and comfort suspension. Sports suspension and sporty trim are standard on ST-Line which adds air conditioning. Climate control, 18-inch wheels and B&O audio are in the ST-Line X kit. A rear-view camera is included on the special edition models and part of a £750 pack on the rest.
I haven't tried the 153bhp engine. However, the 123bhp engine gives more than adequate performance, with a 0-60mph time under 10 seconds.
It is not a quiet engine, nor as smooth as some rivals but the noise is not harsh, more like a growl. You can adjust the engine response, from normal to eco to sport to slippery to trail. The car arrived in normal and that's how it remained.
The Fiesta is a benchmark for deft handling and the Puma inherits this spirit. I would dock marks for its ride rumble and surprisingly firm suspension. The tyres were classy Continental EcoContact with a 215/50 profile on 18 inch wheels.
The Fiesta will get the mild hybrid system too. At face value, the Puma has a price premium over the current Fiesta of nearly £1,700. Its SUV design status, slightly higher ride height and some clever luggage space may sway you.
Comments
 0 comments
Want to join the conversation? Please or to comment on this article.