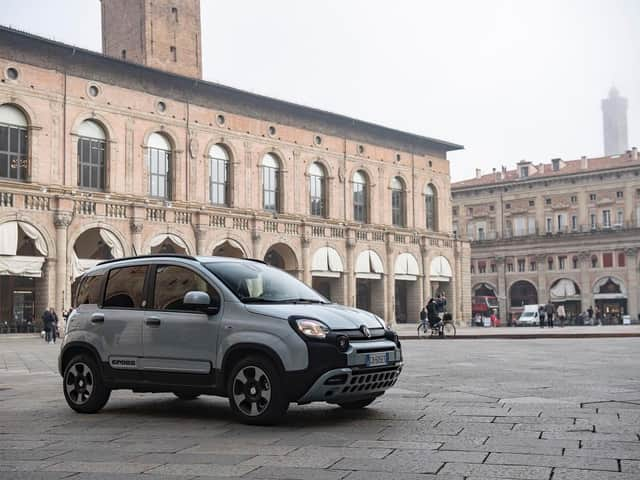 The Fiat Panda Hybrid sits alongside the 500 Hybrid in Fiat's city car range
Forty years later and the Panda is still going strong, even if it isn't quite as small or boxy as it once was.
The odd-looking city car is one of Fiat's perennial best sellers, playing on the brand's expertise for diminutive city cars that stretches all the way back to 1957's original 500.
It is, of course, joined in Fiat's current line-up by the "new" 500, another small car designed for nipping around city centres.
Fiat says the Panda Hybrid is up to 30 per cent more economical than the 1.2 petrol model
Such doubling up might seem strange but Fiat sees the two cars as complementing rather than competing with each other.
If the 500 is the head-turning little fashionista that attracts cries of "ciao, bella" wherever it goes, the Panda is the frumpy sibling in the sensible shoes.
As far as Fiat is concerned this is great news, it means it can appeal to buyers looking for something compact, stylish and distinctive and to those who need a city car that's a bit more spacious, more practical and more flexible.
For 2020 both cars have been upgraded with a hybrid drivetrain to offer better economy and lower emissions. In the Panda's case that equates to 30 per cent lower consumption than the standard 1.2-litre petrol engine and up to 30 per cent lower CO2 emissions.
The interior is beginning to show the Panda's age
The Panda's hybrid setup comprises a 1.0-litre three-cylinder naturally aspirated petrol engine with a 3.6kW electric starter generator and six-speed manual gearbox. The electric generator can harvest energy from braking and coasting that would otherwise be wasted and store it in a small battery.It then feeds it back to the motor to provide added oomph for acceleration or to reactivate the car's start/stop system. It can also be used to power all the car's functions, enabling the engine to cut out completely if the car is coasting at speeds below 18mph.
It cuts in and out unnoticed, adding a little slug of extra torque under heavy acceleration to aid with the traffic light grand prix. But the Panda isn't quick and the engine feels and sounds surprisingly unrefined compared with the same unit in the 500.
The ride, likewise, doesn't have the suppleness of the smaller 500 and it feels harsher over rough urban surfaces, although it's no worse than some city car and supermini alternatives.
To celebrate the arrival of the hybrid Panda, Fiat has created a new Launch Edition trim that includes some rather lovely Dewdrop Green paintwork, hybrid badging, automatic air con, rear parking sensors, heated seats and windscreen and black roof rails. It also includes Seaqaul Yarn seats, upholstered with a fabric made from plastic gathered from landfill and marine waste.
Fiat claims the Panda helps democratise the electrification of cars
What it doesn't have is any form of touchscreen, making do with an old-fashioned DAB radio unit and a dash-top dock for a smartphone. Although some other city cars have similarly basic arrangements, in the Panda it's one of several signs of the car's ageing design. The basic instrument cluster, strange control arrangement and some lower grade materials hint - along with that lack of refinement - that this car is getting a bit long in the tooth.
It still has charm, however, if you can get along with its bumpy "squircle" design. It's also a more practical proposition than the 500, with more space for passengers and luggage and rear legroom to rival cars in the class above, meaning it's a realistic but lower-tech alternative to something like the Suzuki Swift hybrid.
Fiat Panda Hybrid Launch Edition
Engine: 1.0-litre, three-cylinder, petrol, with 3.6kW ISG
Transmission: Six-speed manual
CO2 emissions: 89g/km (NEDC 2)