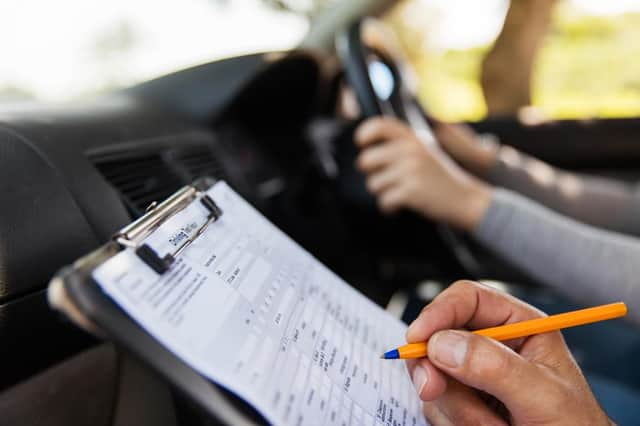 Driving tests in Scotland will restart later this month, the Driver and Vehicle Standards Agency has confirmed, with candidate soon able to book a new practical test slot.
Learners have been left waiting for the DVSA to release new test appointments after it confirmed lessons and tests could restart as lockdown restrictions were eased.
Driving lessons restarted in Scotland on August 24 – weeks behind England and Wales – ahead of the DVSA confirming a new start date for driving tests.
When will driving tests restart in Scotland?
The DVSA has confirmed that practical driving tests for a car licence will restart in Scotland on Monday, September 14.
Theory tests restarted on July 22 and motorcycle and tractor tests resumed in Scotland on August 3.
When and how to book a new driving test
This week, the DVSA confirmed that learners in Scotland will be able to book new driving tests from Monday, September 7 for tests starting on September 14.
Candidates who had a previous test date that was cancelled due to lockdown are being contacted by the DVSA and asked to make a new appointment. They are being given priority over learners looking to make a new appointment after the DVSA changed its process and abandoned plans to automatically rebook candidates' tests.
Candidates whose test was rescheduled will be contacted by email to and asked to confirm a new test date. They have been advised that any previous rescheduling should be ignored, with the DVSA advising: "If your car driving test was cancelled due to coronavirus, you were sent an email with a new date and time for your test. The new date you were given will not go ahead."
Anyone looking to rebook or book a new test via the online DVSA service should expect a lengthy wait to secure a space. Since the booking system opened to new enquiries from learners in England and Wales it has crashed and been taken offline twice due to overwhelming demand and a lack of available test slots.
The DVSA initially said it was releasing appointments on a rolling six-week basis but has now announced that it will release 375,000 slots covering the period from October 2020 to the end of January 2021.
If your theory test certificate has expired during lockdown you will have to resit the theory test before booking a practical test.
What changes are driving schools and test centres making?
When lessons and tests resume, learner drivers will face certain new measures to help protect them, their instructors and examiners from the spread of coronavirus.
Test centres will be issuing examiners with personal protective equipment (PPE) including gloves and face masks and they will be given training on cleaning equipment such as sat navs and tablets. You should also expect social distance measures to be in place at test centres and for testing capacity to be reduced.
Driving schools also say that instructors will be provided with PPE and required to thoroughly clean all touch points on their car between lessons.
Ian McIntosh from Red Driving School explains: "We will of course commence teaching using only those RED instructors who choose to resume and will make allowances for those who feel the need to self-isolate. This means that all instructors and customers can decide for themselves whether or not to participate in driving lessons.
"In terms of the precautions we'll be taking, all RED instructors will be required to follow industry best practice on PPE requirements and will be instructed to prepare the car and wipe down the steering wheel and other controls before every lesson.
"Instructors will also be trained in how to reduce viral contamination and ensure best practice for operating a safe driving lesson, and all of our customers will be asked to declare that they are symptom free before they step inside the car."