BYD Dolphin Review: Cleverly packaged and affordable EV is sure to make a splash
BYD? Most people think, "ah, new Chinese start-up". They couldn't be further from the truth. Let's put some things in perspective. The company started in 1995 as a battery manufacturer and is now the world's leading manufacturer of new energy vehicles and power batteries. It also makes half the world's iPads.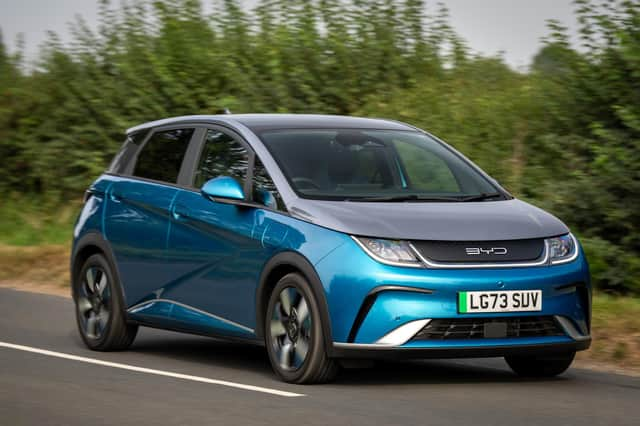 BYD also has more than 90,000 engineers — 30,000 of them have either Masters of Honours degrees — who have created 28,000 patents globally: in fact the company is granted 15 global patents every day.
And crucially in terms of the BYD Dolphin we're testing here today, having rapidly expanded into different sectors, including electronics, new energy, rail transit and obviously automobiles, it is the only manufacturer to have mastered the core technology in the new EV industrial chain. That means the power battery, electric motor, electric controller and of course, the second conductor chips, are all built in-house.
So, as UK Prime Minister Rishi Sunak confirmed he's easing back the ban on sales of new petrol and diesel cars from 2030 to 2035, I got my hands on what promises to be one of the best, most affordable all-electric cars to hit the UK market: the BYD Dolphin.
Now though we get our hands on the Dolphin; and it's an impressive package delivering a bigger-battery range, in-car tech and solid build quality. For those people who have long highlighted that EVs were either far too expensive, or the smaller, more affordable options didn't have a long enough range, the new BYD bursts those bubbles.
It's a decent size. Get the tape measure out and you'll find it's 4290mm long, 1770mm wide and 1570mm tall. That means it's more than capable of accommodating four six-footers in equal comfort.
BYD chose not to highlight specific rivals, but the reality is it'll go head-to-head with the likes of the MG4 hatchback, plus the smaller Vauxhall Corsa Electric and Peugeot e-208. And, to be honest, its size and versatility will also pitch it against the latest version of the upgraded VW ID.3.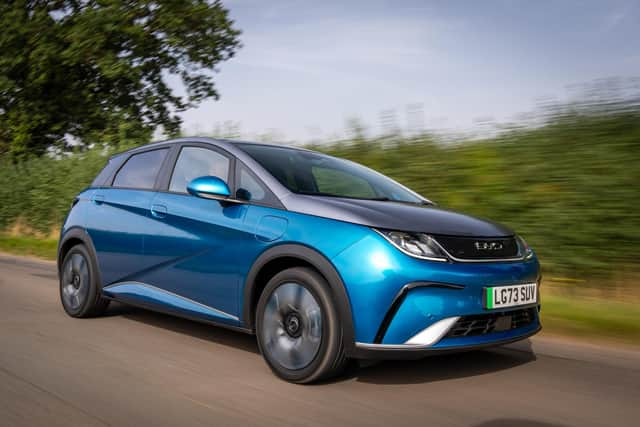 The Dolphin is available in four trim levels. The entry-level Active starts at £26,195, with the range-topping Design priced from £31,695. Sandwiched in between is the Boost, priced from £27,195 and what's likely to be the best-selling model, the Comfort which starts at £30,195.
PCP terms are available at £299 per month for Comfort and £329 for Design, each with a £3000 deposit.
Range, of course, is the benchmark by which all EV models tend to be judged. And here the Dolphin again doesn't disappoint.
The base model gets a 45kWh battery and a 93bhp electric motor that's good for 211 miles on a full charge. Next up is the Boost which keeps the same battery, but ups power to 174bhp
The Comfort and Design step up to the larger 60kWh battery and a 201bhp front-mounted motor — the same combo as that featured in all Atto 3s — and boosts the range on a single charge to 265 miles.
The 60kWh pack charges at a maximum of 88kW from a suitably powerful DC charger, with BYD claiming 30-80% in 29 minutes. Just worth highlighting here that while that sounds certainly good, main rivals claim similar times starting at 10%.
Standard charging is 11kW AC, which means that if you're charging from home or work on a three-phase supply the speeds will still be good.
If you go for the smaller 45kWh battery pack, charging speeds fall to 60kW DC or 7kW AC; but the 30-80% rapid charge improves by a minute.
Another positive is that all versions get Vehicle-To-Load. That means you can run electrical devices — laptops, hairdryers, boil kettle etc — from your car. What you can't do though is charge another EV.
Cold weather range is also boosted by the fact across the four models a heat pump is standard-fit.
As for the standard 0-62mph 'sprint': you're looking at 7.0-secs, which is swift enough for most people.
Inside it's pretty impressive. As I mentioned previously, there's loads of space both in the front and rear. Both head and legroom are better than you might expect when you view the Dolphin from the outside. It has this canny knack of actually looking smaller than it is when, in fact, it's tad longer than the ID.3.
And don't misinterpret 'affordable' for being 'cheap'. The cabin has struck this very clever balance of definitely not feeling cheap, but not quite hitting the premium quality level. It's an appealing middle ground which will meet the demands and expectations of most potential buyers.
All the switches have a solid feel to them, and the areas with which you interact have all the right levels of padding.
Design-wise, the cabin is a step up from the Atto 3. You'll notice that gone are the slightly bizarre 'guitar strings' from the door storage areas to be replaced by conventional door pockets. Progress.
Again the fascia is dominated by BYD's central 12.8-inch infotainment display. And yes, it still rotates between portrait and landscape layouts. Personally I think it's a bit of a gimmick. It works perfectly well, and more efficiently in landscape, rather than the Tesla-esque portrait where it actually slightly obstructs the view out the windscreen.
More importantly, the tech behind it is quietly efficient, outperforming what you'll find in the Peugeot, Vauxhall or, even, the VW. And things will get even better as BYD will issue over-the-air updates.
As for trim levels, even the base model gets the rotatable infotainment screen, plus 16in alloy wheels (17in across the rest of the range) and vegan-leather upholstery. Comfort adds heated front seats, front parking sensors and slightly faster charging.
But if you can stretch the extra £1500, Design is my preferred choice. Not only does it add a full-length panoramic roof, rear privacy glass, a wireless smartphone-charging pad and two-tone paint, but you get the most stunning, comfortable two-tone sports seats. That said, sports seats are standard across the range … but they do look stunning in the two-tone vegan leather.
Bootspace is a little on the small side. But that's a simple by-product of BYD maximising the cabin footprint to maximise interior space for occupants.
Luggage space is 345-litres, with the rear seats in place. In fairness, plenty big enough to accommodate a week's shopping. Bootspace rises to 1310-litres when you fold the rear seats down.
Driving it is a pleasant experience. Forget applying the barometer of 'driver involvement'. Just judge the Dolphin for what it is: a cleverly packaged EV which will do the job more than adequately for the vast majority of owners who will drive the car.
| | |
| --- | --- |
| Price | £31,695 |
| Powertrain | 60kWh battery, 1x e-motor |
| Power | 201bhp |
| Torque | 310Nm |
| Transmission | Single speed auto, front-wheel drive |
| Top speed / 0-62mph | 100mph / 7.0 secs |
| Range | 265 miles |
| Charging | 88kW (30-80% in 29min) |
| On sale | Now |
Steering is reassuringly direct and that, married to the accomplished ride ensures the cabin is a pleasurable place to be. Even if you chuck it into a corner, the Dolphin will gamely retain grip, enough, most likely, to put a smile on the driver's face.
Important also to highlight that while the launch cars were fitted with — bear with me on this — LingLong Comfort Master tyres, the first cars to be delivered to UK customers will actually be fitted with Hankook tyres. That will only further improve the grip, ride and comfort.
If ever there was a car which highlighted why you simply shouldn't write off a Chinese car manufacturer, it's the Dolphin. Not only does it have an attractive interior, but it's comfortable, handles as well as the vast majority of its drivers will ever want, delivers pace and a range which meets daily requirements … and is affordable, when compared to some of its rivals.
To put that into perspective, prices for the Peugeot e-208 only start where the Dolphin prices top-out. As for the VW ID.3? Well you'd need an extra £4000 to get the entry level.
Take a good look at the pix of the Dolphin, because I'm pretty sure you're going to start seeing a lot of them on our roads.
Comments
 0 comments
Want to join the conversation? Please or to comment on this article.