Brian Weddell: Cockenzie cruise and ferry terminal could transform Scotland's economy
Tourism is the world's biggest business and Edinburgh is Scotland's biggest tourism market. Recent surveys of cruise ship passengers in Western Europe has seen Edinburgh voted as the top destination, ahead of Rome, Barcelona, Athens and many more European tourist hot-spots.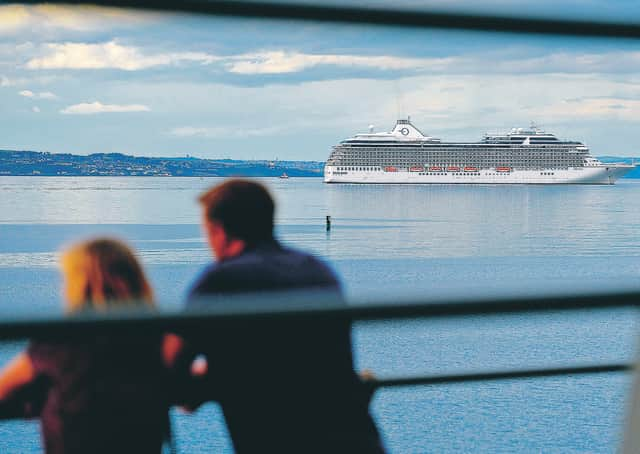 A Cockenzie port could bring more cruise liners to the Forth. Picture: Neil Hanna
But whilst Scotland's capital is a first-class tourist attraction Edinburgh has third-rate facilities for cruise ships and their passengers. The majority of the 100 cruise ships berthing on the Firth of Forth anchor offshore and transport passengers to South Queensferry or Newhaven on small tender boats. This is weather- dependent, time-consuming and can be extremely challenging for elderly and disabled passengers. It is also very costly for the cruise companies and is a major factor as to why so few cruise ships berth on the Forth.
Scotland's busiest port is in Orkney with almost 200 ships berthing at Kirkwall with the publicly owned port contributing millions of pounds to Orkney Council's coffers each year. Recently Fife Councillors have suggested that City Deal funding for Edinburgh and South East Scotland should be used to fund a new cruise port at Burntisland. I applaud the initiative of the Fife politicians but question the wisdom of putting millions of pounds of public money into a privately-owned port on the wrong side of the Forth. Like Leith, Grangemouth and Rosyth, Burntisland is owned by Forth Ports and there is nothing to stop them from investing the millions of pounds that will be needed to build a cruise port there.
Since the power station closed at Cockenzie in 2013, Prestonpans Community Council has been campaigning for the vacant brownfield site to be considered as a cruise and ferry port. East Lothian Council purchased the site from Scottish Power in 2018 and recently initiated a port engineering study to establish the feasibility of creating a port at Cockenzie that could accommodate even the largest cruise ships.
There are significant advantages to locating a port at Cockenzie. It is a 30- minute coach or taxi journey from Edinburgh city centre and has a rail spur linking it to the North Berwick-Edinburgh rail line which boasts a 12-minute train journey to Waverley from Prestonpans. A deep water pier could also accommodate North Sea ferries and open new regular sailings to Scandinavia, Holland and Belgium. Furthermore, the benefit of increasing the number of cruise ships visiting the Forth is that they provide their own accommodation, thus mitigating the pressure on hotels and guest-houses in Edinburgh which is causing so much grief to residents living in the centre of Scotland's capital.
Currently East Lothian is experiencing a housing boom throughout the county with the Scottish Government decreeing that 10,000 new homes have to be built. But existing and new residents are not seeing much in the way of new jobs or infrastructure and retail services to support the new housing and this is a major concern to local communities.
If Cockenzie was a Homeport with the necessary turnaround infrastructure where cruise passengers start and end their cruise at Cockenzie that would keep visitors in East Lothian longer, necessitating new hotels, restaurants and shops. East Lothian prides itself as Scotland's food and drink county and could significantly increase business supplying cruise ships berthing at Cockenzie. Cruise ships would also attract new businesses to the area and the county's young people could be encouraged to stay and work locally as an alternative to having to commute to Edinburgh. Furthermore, following the model of Orkney, a publicly-owned port at Cockenzie would bring significant extra revenue into East Lothian Council at a time when the council is facing difficult budget decisions.
Creating a port at Cockenzie is not a new idea. In 1994 East Lothian District Council commissioned a study for a port there and the former Council Leader Pat O'Brien contacted easyJet at the time to investigate the possibility of creating a commercial airport at East Fortune.
Almost 30 years on, it is that kind of vision, imagination and leadership that is required by East Lothian Council and the Scottish Government especially in these uncertain political and economic times following the UK's departure from the EU.
Brian Weddell is Chairperson of Prestonpans Community Council
Want to join the conversation? Please or to comment on this article.